Karishma Tanna's black glittery Manish Malhotra saree is EVERYTHING an ethnic lover desires
In the glitzy and glamorous realm of Bollywood fashion, where elegance seamlessly merges with opulence, only a handful of divas manage to carve out a distinct place for themselves at that enchanting crossroads and truly leave a lasting impact. Karishma Tanna Bangera is undoubtedly one of these remarkable individuals. The talented actress, known for her role in "The Scoop," recently graced the esteemed Busan International Film Festival 2023, embodying the essence of a true ethnic diva.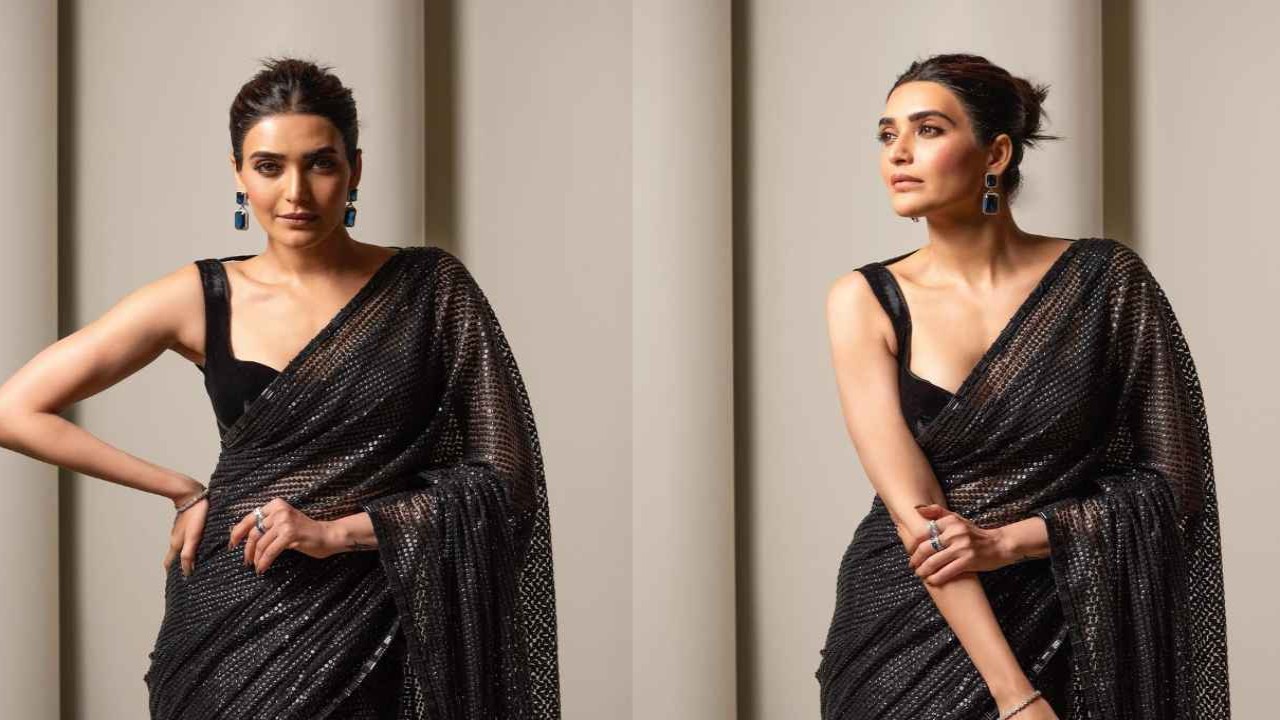 Draped in the sheer magic of a creation by the renowned designer Manish Malhotra, Karishma Tanna's presence at the festival was nothing short of a show-stopping moment. Her choice of a black saree, adorned with sequin enchantment, created a breathtaking and mesmerizing effect. The saree shimmered with the iridescence of the sequins, capturing the attention of onlookers and the world alike. It's safe to say that her striking appearance at the festival was a fashion statement that resonated with the sheer opulence and sophistication of the Bollywood fashion landscape.
Karishma Tanna Bangera's ability to effortlessly blend tradition and modernity, as exemplified by her choice of the Manish Malhotra creation, serves as a testament to her fashion sensibilities. Her presence at such a prestigious international event not only showcased her individual style but also put her in the spotlight as a fashion icon and trendsetter. In a world where fashion speaks volumes, Karishma Tanna's appearance at the Busan International Film Festival 2023 made a resounding statement that will undoubtedly inspire and influence the fashion landscape in the years to come.
Karishma Tanna made a stunning fashion statement when she was recently spotted wearing a striking black semi-sheer saree designed by none other than Bollywood's beloved fashion maestro, Manish Malhotra. The choice of Manish Malhotra for her attire underlines her fashion sensibilities, as he is renowned for his ability to infuse glamour and sophistication into every piece he creates.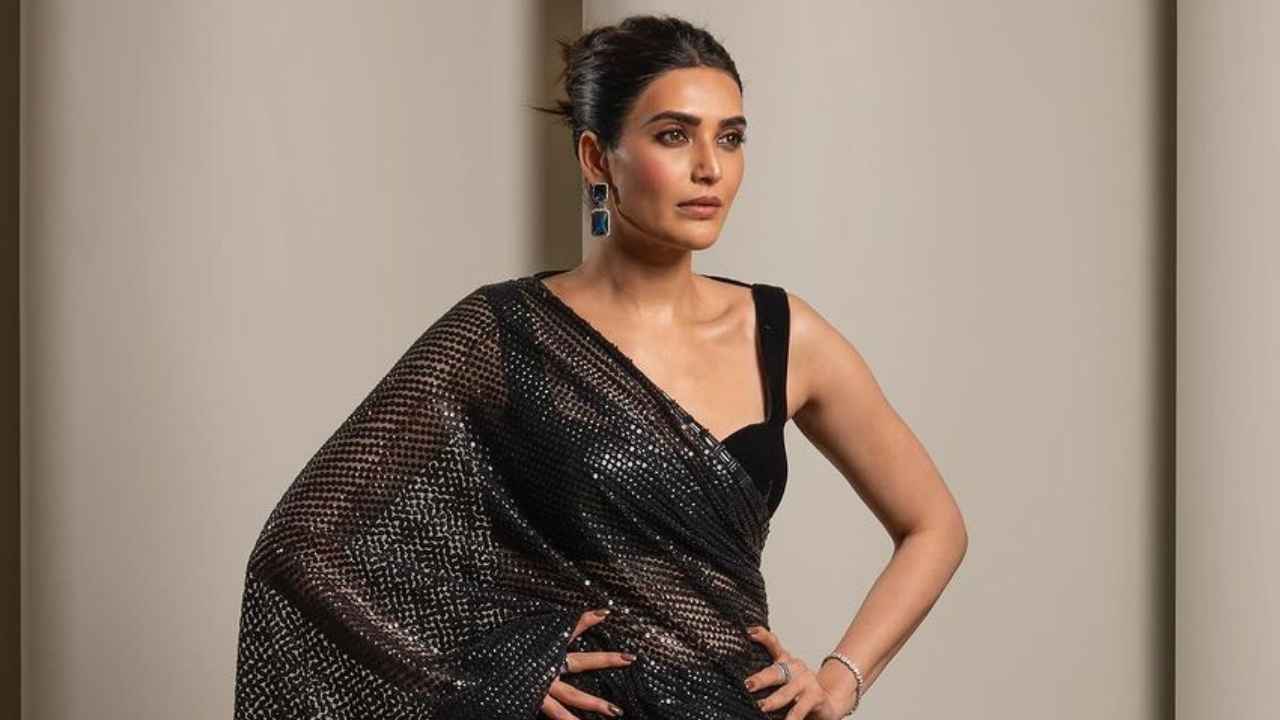 The black saree that adorned Karishma Tanna was a true work of art, with its semi-sheer fabric that added an element of allure and mystique to her look. The saree was adorned with a plethora of sequins, creating a glistening and captivating effect that caught the light and the attention of onlookers. This sequin-laden masterpiece was a perfect embodiment of the opulence and luxury often associated with Bollywood fashion.
What set this saree apart was the meticulously crafted and beautifully unique geometric and colorful embroidery that graced the edge of her pallu. This distinctive touch added a touch of vibrancy and individuality to the ensemble. It showcased the craftsmanship and attention to detail that Manish Malhotra is celebrated for, and it certainly made Karishma Tanna's saree all the more special and unforgettable.
Karishma Tanna's choice to wear this exquisite creation by Manish Malhotra was not just a fashion statement; it was a celebration of creativity, artistry, and the ability to turn a piece of fabric into a mesmerizing work of fashion. Her appearance in this captivating black semi-sheer saree demonstrated her ability to effortlessly merge tradition and modernity, while also paying tribute to the rich legacy of Bollywood fashion.
Karishma Tanna, known for her talent and style, recently donned a stunning ethnic ensemble that left everyone in awe. She opted for a beautifully draped black velvet saree, exuding elegance and grace. The rich, velvety texture of the saree lent a touch of opulence to her look, making her stand out in the crowd.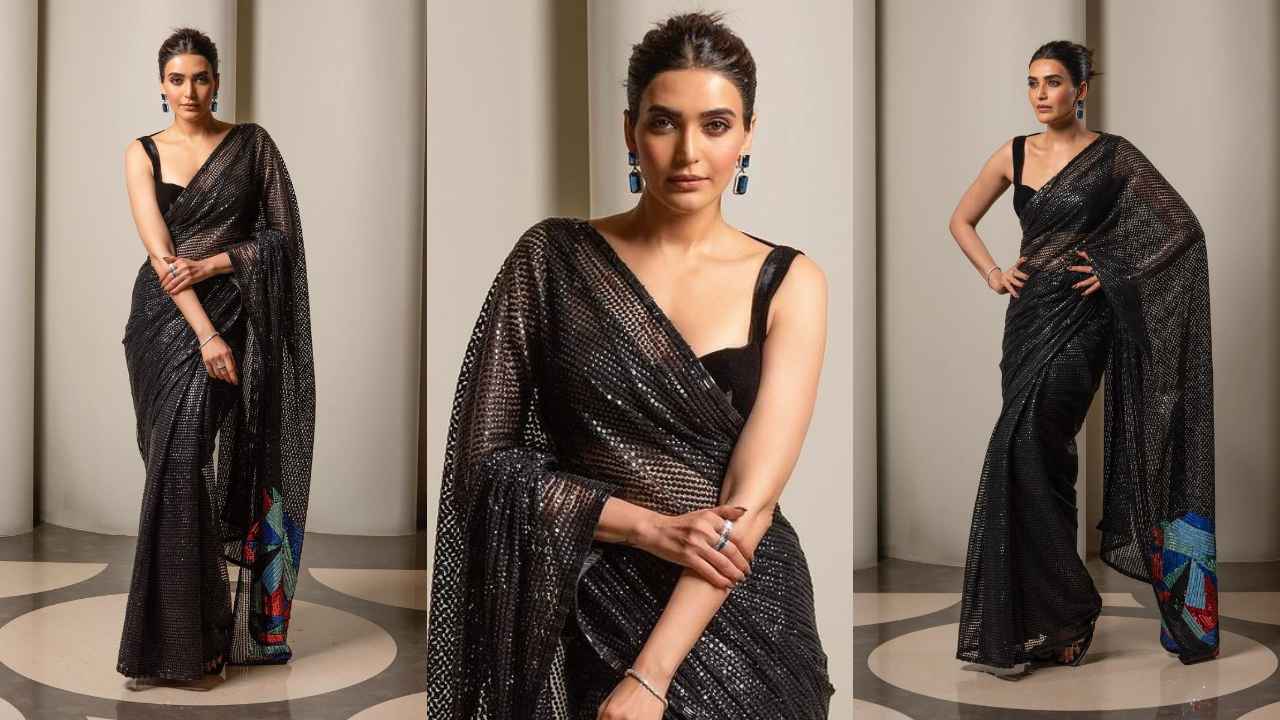 Furthermore, Karishma Tanna's attention to detail extended to her choice of accessories, where she opted for a classic and timeless approach. She adorned herself with the most exquisite diamond-encrusted bracelet that graced her wrist, accompanied by matching rings that added a touch of elegance and sophistication to her look. The diamonds' sparkle perfectly complemented the rich black velvet of her saree, enhancing her overall allure.
To further enhance her regal appearance, Karishma selected gorgeous sapphire droplet earrings, sourced from Anagha Art and Jewels. The deep blue sapphires added a pop of color to her ensemble, creating a striking contrast with the black and diamond elements of her outfit. These carefully chosen accessories highlighted her refined taste in jewelry, and their combination with the saree and blouse truly made her beauty incomparable beyond compare.
Karishma Tanna's meticulous selection of accessories, including the diamond-encrusted bracelet, matching rings, and sapphire droplet earrings, demonstrated her ability to strike the perfect balance between classic and contemporary, making her a fashion icon in every sense of the word. Her ensemble exuded sophistication, making her an incomparable beauty that left a lasting impression.
The talented Karishma Tanna, who also happens to be an ex-Big Boss contestant, paid great attention to every aspect of her appearance to complete her stunning look. Not only did she make impeccable choices with her attire and accessories, but she also took care of her hairstyle. Karishma decided to tie her hair up and skillfully styled it into a well-tied bun.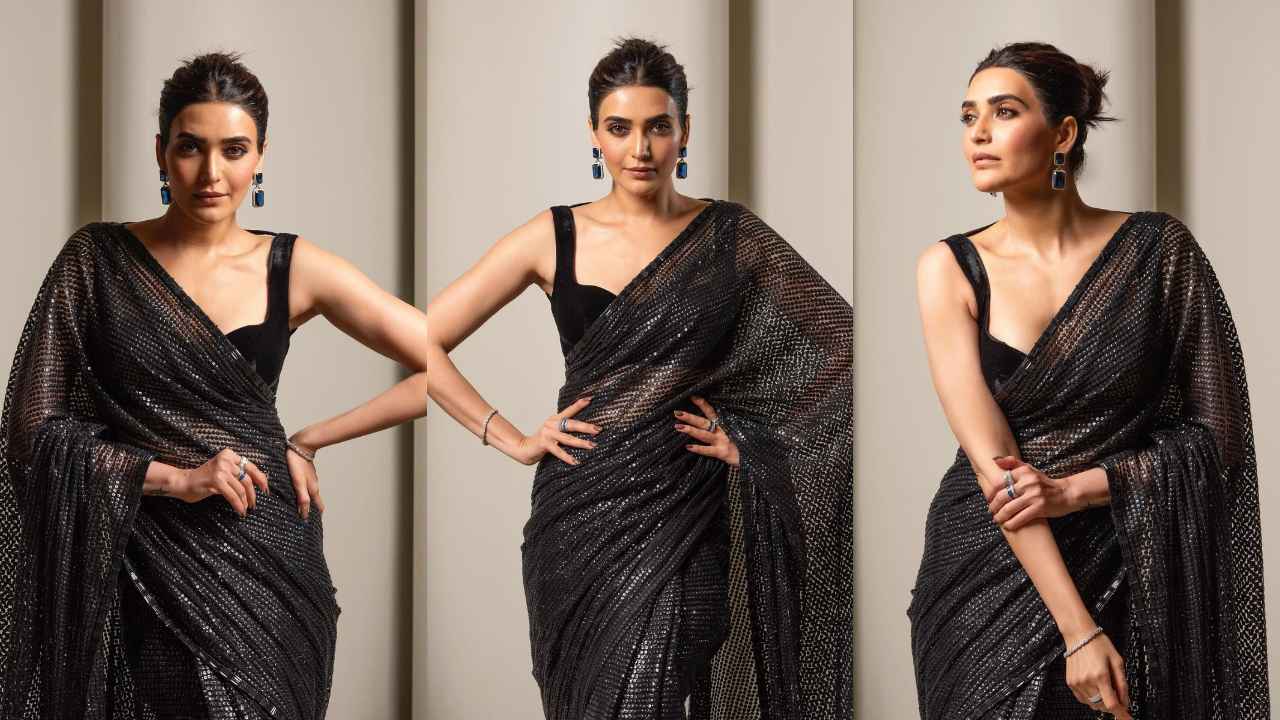 This elegant bun perfectly complemented her outfit, adding a touch of sophistication to her overall appearance. By opting for a neat and classic bun, she managed to draw attention to the details of her saree, blouse, and jewelry, allowing her entire ensemble to shine. Karishma Tanna's ability to consider every aspect of her look, from head to toe, truly showcases her fashion expertise and her ability to effortlessly blend classic and contemporary elements to create a memorable and glamorous appearnce.
In every aspect, from her attire to her accessories, hairstyle, and makeup, Karishma Tanna's attention to detail was evident. Her impeccable makeup choices reflected her commitment to achieving a polished and glamorous appearance, leaving no doubt that she is a style icon to be admired and emulated.
Indeed, the expert styling of Sukriti Grover played a pivotal role in elevating Karishma Tanna's overall allure. Every element, from the carefully draped black velvet saree to the matching blouse, the exquisite accessories, the well-tied bun, and the perfectly executed makeup, came together seamlessly to create a breathtaking ensemble.
Under Sukriti Grover's guidance, the actress underwent a remarkable transformation, evolving into an ethnic goddess. Her attire and styling choices showcased a fusion of tradition and contemporary elegance, embodying the essence of timeless beauty. Karishma Tanna's appearance left a lasting impression, capturing the hearts and imaginations of onlookers and leaving us utterly enchanted.
Sukriti Grover's expertise and the meticulous selection of the right accessories and makeup combined to create a look that was not just beautiful but also deeply captivating. Karishma Tanna's portrayal of this ethnic goddess was a testament to the power of fashion and styling, making her an inspiration for those who appreciate the art of dressing with finesse and grace.