Tamannaah Bhatia looks hotness personified in 2 intricately embellished sarees with fashion-forward bralettes
Tamannaah Bhatia, known for her ever-radiant and captivating style, has recently made a dazzling fashion statement that has taken the world by storm. Her unique fusion of the timeless elegance of sequin embellished sarees with the contemporary allure of bralettes is a testament to her innovative fashion sense. This bold fashion move not only showcases her confidence but also sets a trend that resonates with the modern fashionista, redefining the boundaries of traditional and contemporary fashion.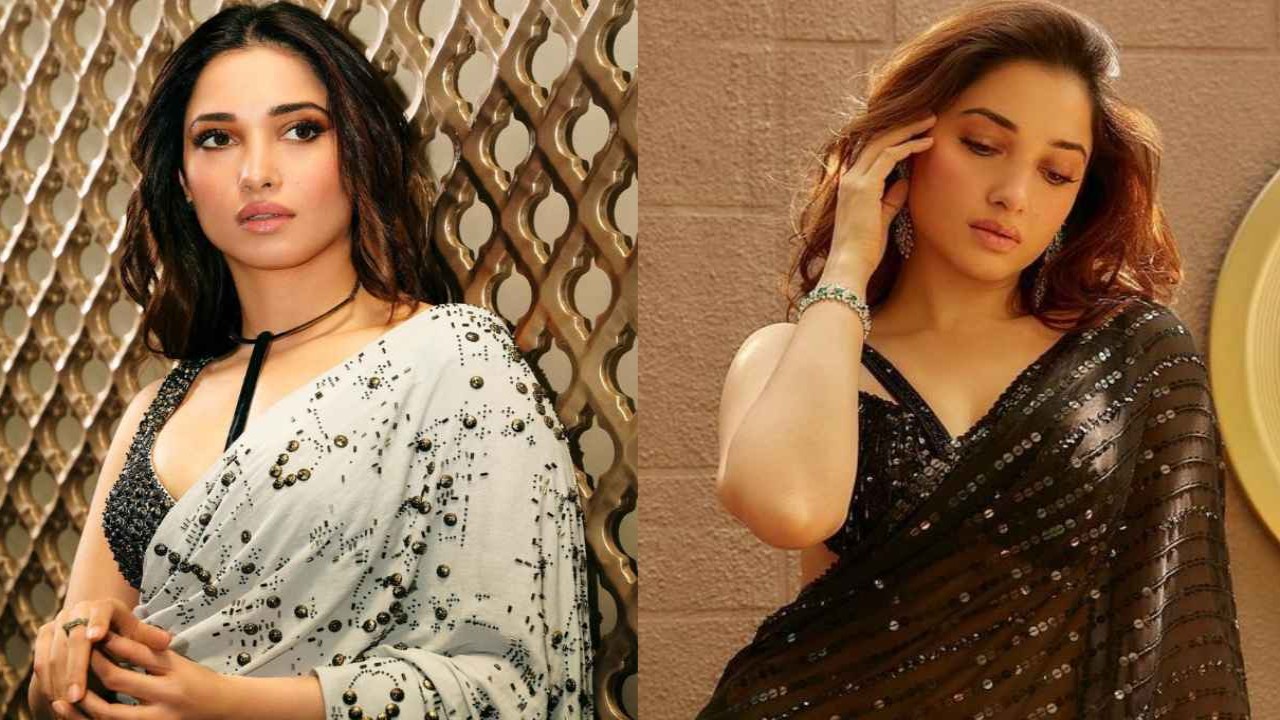 As a beloved icon in the entertainment industry, Tamannaah Bhatia consistently captivates her audience with her sartorial choices. Her ability to seamlessly blend different fashion elements, as seen in her fusion of sarees and bralettes, demonstrates her knack for pushing the boundaries of fashion. This innovation not only reflects her personal style but also her influence as a trendsetter in the fashion world.
Let's delve deeper into the sheer class and charisma of Tamannaah Bhatia's exquisite ensembles, starting with her stunning outfits in Lust Stories 2. With each new appearance and fashion choice, she continues to redefine the standards of style, making her a true fashion icon that many look up to for inspiration.
The gorgeous Tamannaah Bhatia recently made a stunning fashion statement by donning an incredible white saree that was nothing short of a work of art. The saree was adorned with a mesmerizing combination of black buttons, crystals, and sequin work, creating a visually striking and unique design. The addition of an abstract drip print further elevated the overall aesthetic of the ensemble, making it a true masterpiece of fashion.
What truly set this look apart was not only the exquisite design but also the impeccable draping. Tamannaah effortlessly wrapped the saree to perfection, creating crisp pleats and ensuring a well-spread-out pallu. Her attention to detail and the way she carried the saree showcased her sophistication and grace, making the entire ensemble a sight to behold.
Tamannaah's choice of this white saree, with its intricate embellishments and flawless draping, was a true testament to her style and fashion sensibilities. It's no wonder she continues to be a style icon, captivating the fashion world with her stunning choices and impeccable sense of design.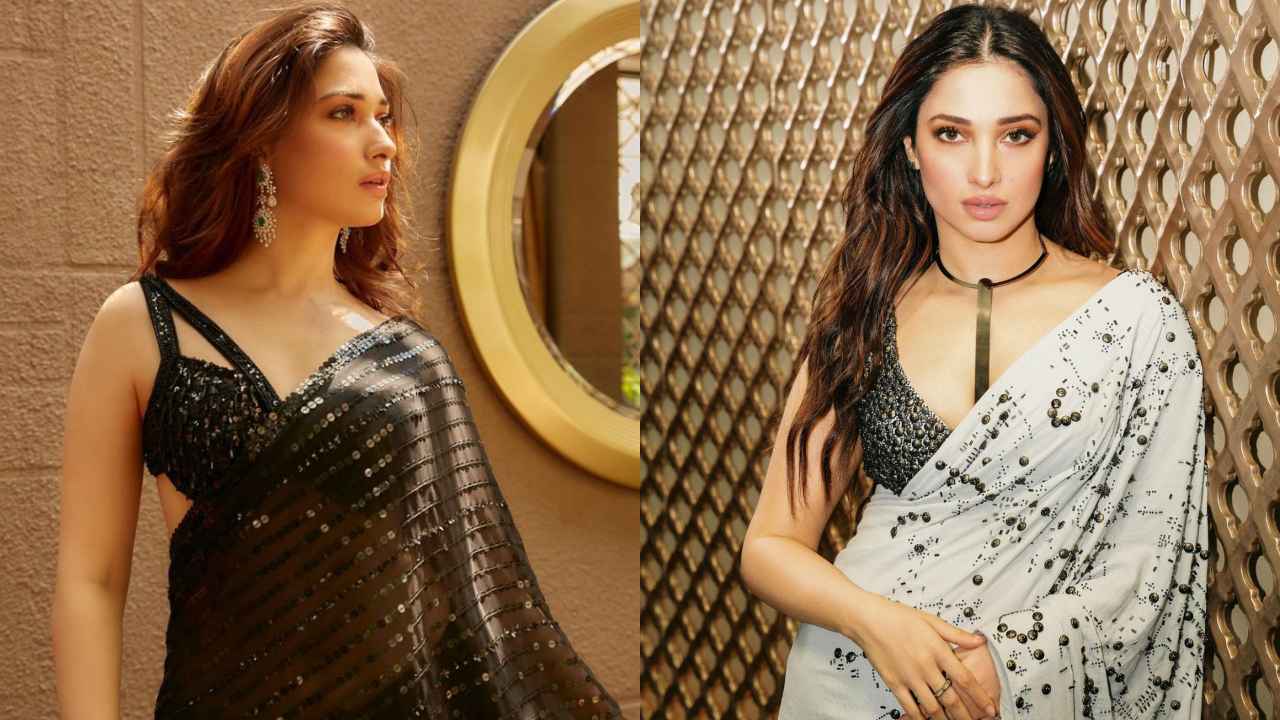 Furthermore, Tamannaah Bhatia, known for her exceptional style choices, paired her incredible white saree with a black 'the bar' bralette, showcasing her ability to seamlessly merge traditional and contemporary elements. The bralette featured a deep and sultry neckline that added a touch of sensuality to the overall look. The neckline of the bralette was adorned with intricate beadwork, highlighting her attention to detail and her commitment to bringing a modern and stylish twist to her ensemble.
What made this pairing truly unique was the modernized choker-styled extension of the bralette. This added an element of sophistication and fashion-forward thinking to the outfit. The choker-style extension not only served as a statement piece but also emphasized Tamannaah's ability to experiment with her style while maintaining a harmonious and elegant overall look.
Tamannaah's choice to combine the saree with the black bralette was a bold and innovative move, demonstrating her fearless approach to fashion. This fusion of traditional and modern elements showcased her as a trendsetter and a fashion icon, pushing the boundaries of style and leaving a lasting impact in the world of fashion. It's clear that Tamannaah Bhatia's sartorial choices are not only breathtaking but also influential.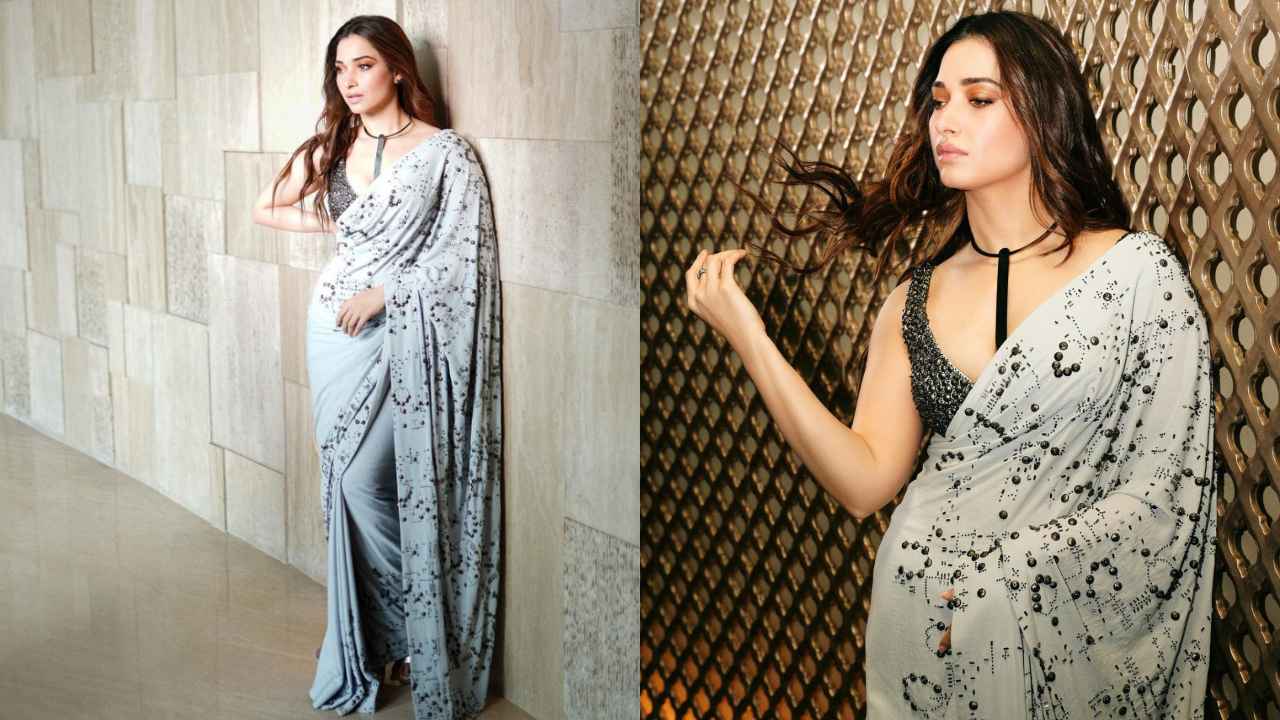 Tamannaah Bhatia, a talented actress known for her impeccable fashion choices, recently graced the fashion world in a sheer black-colored saree that left everyone in awe. The saree was a true work of art, completely laden with matching sequins meticulously arranged in straight lines. This stunning embroidery, executed to perfection, gave the Neeta Lulla creation an extravagant and formal aesthetic, making it a visual masterpiece.
What made this ensemble even more striking was Tamannaah's choice to pair the saree with a matching black sequin-laden bralette. The bralette featured a unique and modern caged design, adding a contemporary edge to the traditional attire. The shimmery bralette's deep and sultry V-shaped neckline further enhanced its charm and allure, making it a focal point of the entire look. Tamannaah's fashion choices consistently display her ability to blend tradition and modernity effortlessly, creating a style that is both timeless and contemporary.
This ensemble is a testament to Tamannaah Bhatia's remarkable fashion sense, which continues to captivate and inspire fashion enthusiasts around the world. Her daring choices and the way she flawlessly combines elements of tradition and contemporary design reflect her position as a fashion influencer and a true style icon. This look is a stunning example of how she pushes the boundaries of fashion and leaves a lasting impact on the industry.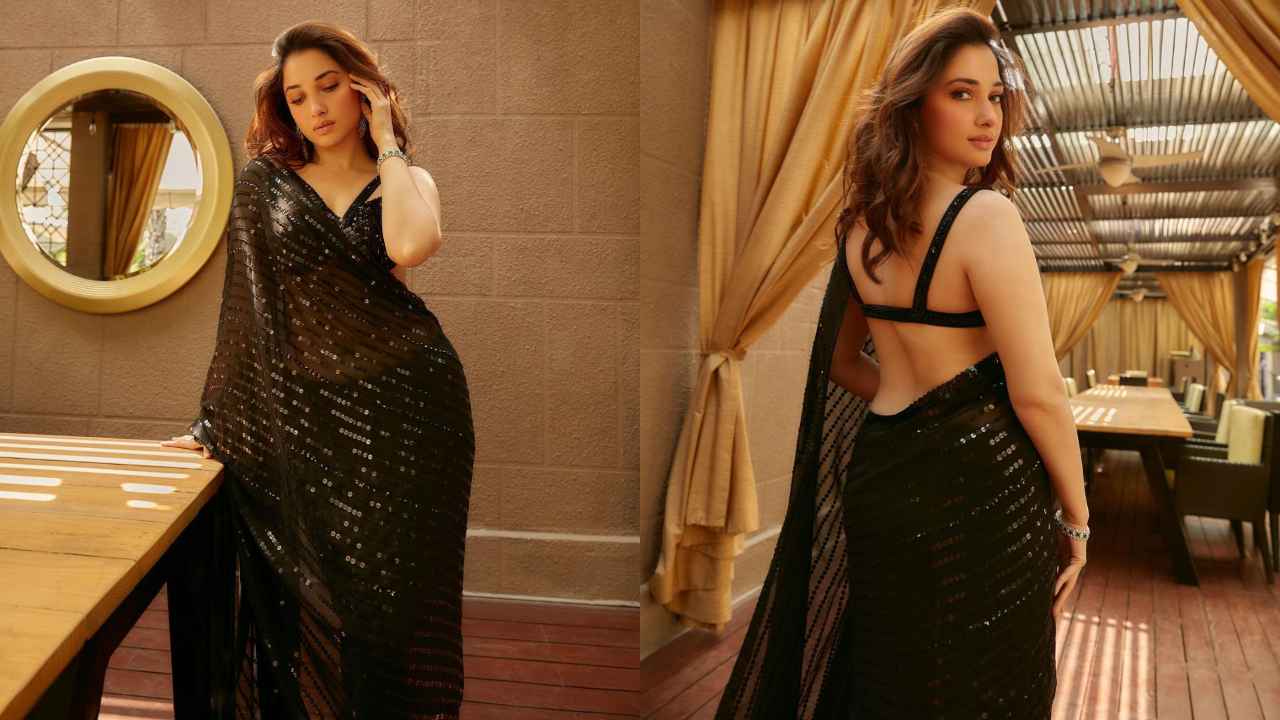 In addition to her stunning outfit, Tamannaah Bhatia paid meticulous attention to her accessories, further enhancing her fashion-forward appearance. She chose to adorn the fashion-forward ensemble with matching silver statement earrings, which were exquisitely laden with emeralds. These intricate and eye-catching earrings added a touch of elegance and a pop of color, elevating her entire outfit and complementing the saree's black and sequin details.
To complete her accessories, the "Baahubali 2: The Conclusion" actress also wore a gorgeous silver bracelet, which harmonized with her earrings and contributed to the overall finesse of her look. Her choice of jewelry showcased her knack for finding the perfect pieces to accentuate her outfit while maintaining a sense of balance and sophistication.
Tamannaah Bhatia's attention to detail didn't stop at her accessories. She chose to leave her hair open, styling it into loose curls that gracefully framed her face, adding an element of softness to her overall appearance. Her subtle makeup look was equally impressive, with brown eyeshadow, mascara-laden eyelashes, a well-contoured face, blushed cheeks, a touch of highlighter, and glossy nude-colored lipstick. This makeup choice perfectly complemented her outfit, enhancing her natural beauty and leaving her with an enchanting and flawless appearance.
Tamannaah Bhatia's commitment to detail in both her accessories and makeup, combined with her impeccable fashion sense, showcased her as a true fashion icon. Her ability to create a harmonious and captivating overall look continues to inspire and captivate fashion enthusiasts and admirers around the world. This ensemble exemplifies her talent for crafting a stunning and well-rounded appearance that leaves a lasting impression.
It's evident that Tamannaah Bhatia's fashion choices go far beyond mere clothing; they represent a bold declaration of personal style and a celebration of the ever-evolving world of fashion. Her fearless fusion of sequin-embellished sarees with contemporary bralettes stands as a testament to her artistic and sartorial prowess. Tamannaah effortlessly straddles the realms of tradition and modernity, breaking down the barriers that often confine fashion. Her choices inspire us to push the boundaries of fashion, break free from conventional norms, and wholeheartedly embrace our individuality.
Tamannaah Bhatia's fashion journey exemplifies the transformative power of style, where clothing becomes a canvas for self-expression. Her distinctive and innovative approach to fashion has opened doors for others to explore their creativity and venture into uncharted territories. By challenging the status quo and redefining fashion norms, she encourages us to embrace our unique sense of style and become our own trendsetters.
In a world where fashion is often driven by trends, Tamannaah's choices remind us that fashion should ultimately be a reflection of our inner selves. Her bold and boundary-pushing fashion choices not only make her a style icon but also an advocate for the idea that fashion is a means of self-expression and empowerment. Tamannaah Bhatia's fashion journey encourages us to confidently embrace our individuality and celebrate the artistry and freedom that fashion can provide.