Priyanka Chopra Jonas brings back the desi girl era in black and white floral saree with statement accessories!
Priyanka Chopra Jonas is a true icon in the world of glitz and glamour. Her ability to consistently stand out is a testament to her impeccable fashion choices that leave a lasting impression on everyone. Whether she's gracing the red carpet or going about her everyday life, Priyanka's style is a constant source of inspiration for fashion enthusiasts around the world.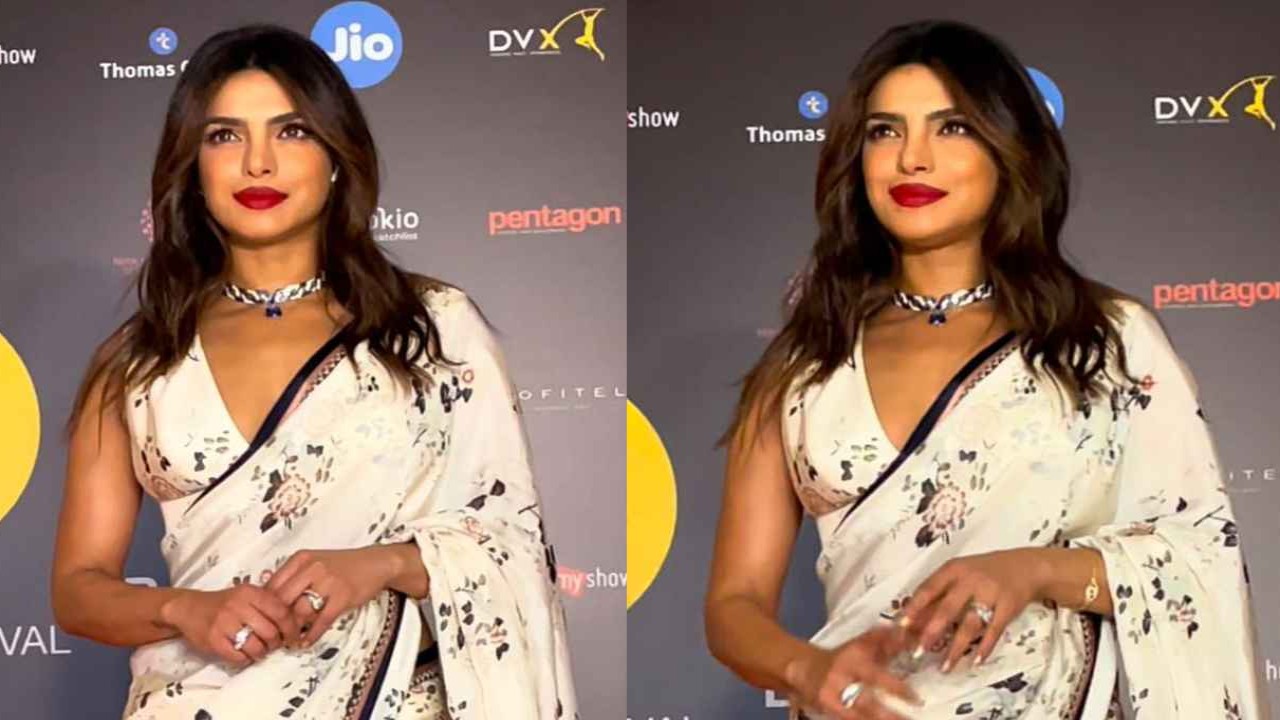 On the second day of the Jio MAMI Film Festival, the talented actress, known for her role in "Love Again," made a stunning appearance that took us back to the "desi girl" era. She donned a classic black and white floral saree, a timeless and elegant choice that beautifully echoed her Indian roots. This choice of attire made many nostalgic, reminding them of the iconic moments from her career that have left an indelible mark.
What sets Priyanka apart is not just her choice of clothing but also her ability to accessorize and carry herself with confidence. With statement accessories that complemented her saree and her charismatic presence, she once again demonstrated her innate sense of style. Priyanka Chopra Jonas has a way of making every outfit uniquely her own, and her appearance at the Jio MAMI Film Festival was no exception.
This attire not only showcased Priyanka's style and sophistication but also her respect for her Indian roots and her ability to reinterpret them in a way that resonates with the current fashion landscape. It's a testament to her fashion sensibilities and her capacity to effortlessly blend tradition with a fresh, modern outlook. In this iconic attire, Priyanka Chopra continued to be a source of inspiration for fashion enthusiasts and admirers of her unique style.
The well-wrapped saree Priyanka chose for the occasion was a true work of art. Adorned with a gorgeous floral print that graced every inch of the fabric, it exuded a captivating charm. The addition of black and metallic edges further enhanced the saree's overall aesthetics, creating a harmonious appeal that was hard to ignore. Priyanka's choice of attire not only showcased her impeccable taste but also highlighted the beauty of traditional Indian craftsmanship and design.
Priyanka Chopra paid meticulous attention to every detail when completing her ethnic ensemble, demonstrating her innate fashion prowess. To add to the outfit's overall synchronicity, she wisely chose to complement it with matching silver sandals. This thoughtful choice not only enhanced the cohesiveness of the look but also added a touch of elegance and sophistication. The silver sandals seamlessly integrated into the ensemble, contributing to its overall harmonious appeal.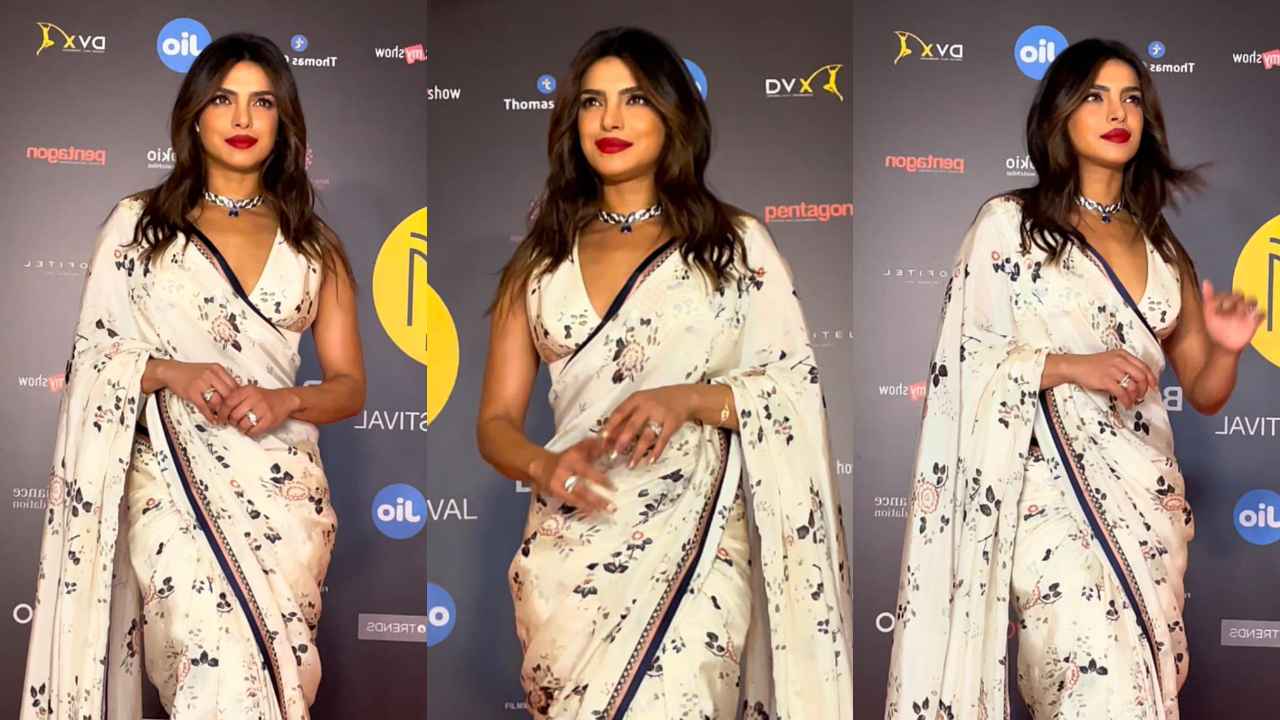 But the actress didn't stop there; she took her accessory game to the next level. Priyanka adorned herself with a statement silver choker-like necklace that drew attention and became a focal point of her look. This bold yet chic accessory not only added a touch of glamour but also highlighted her neckline and the elegant V-shaped neckline of her blouse. The necklace was a masterstroke in accessorizing, serving as the perfect finishing touch to her ensemble.
To further elevate the charm of her outfit, Priyanka chose matching silver rings that added just the right amount of bling. These rings not only added a sense of opulence but also beautifully complemented the silver accents in her saree and sandals. The attention to detail and the careful selection of accessories showcased her commitment to creating a flawless look.
In her choice of footwear and jewelry, Priyanka Chopra Jonas demonstrated a keen understanding of how accessories can elevate an outfit and make a powerful style statement. Her impeccable fashion sensibilities shone through, making her a true trendsetter and a source of inspiration for those looking to master the art of accessorizing.
Priyanka Chopra Jonas, known for her exquisite fashion choices, added a fusion of classic and modern styles to her outfit with a unique twist – white sunglasses. These sunglasses were the perfect addition to her ensemble, bringing an element of contemporary flair to the traditional attire. The white frames and sleek design added a touch of chic sophistication to her overall look, making it even more captivating.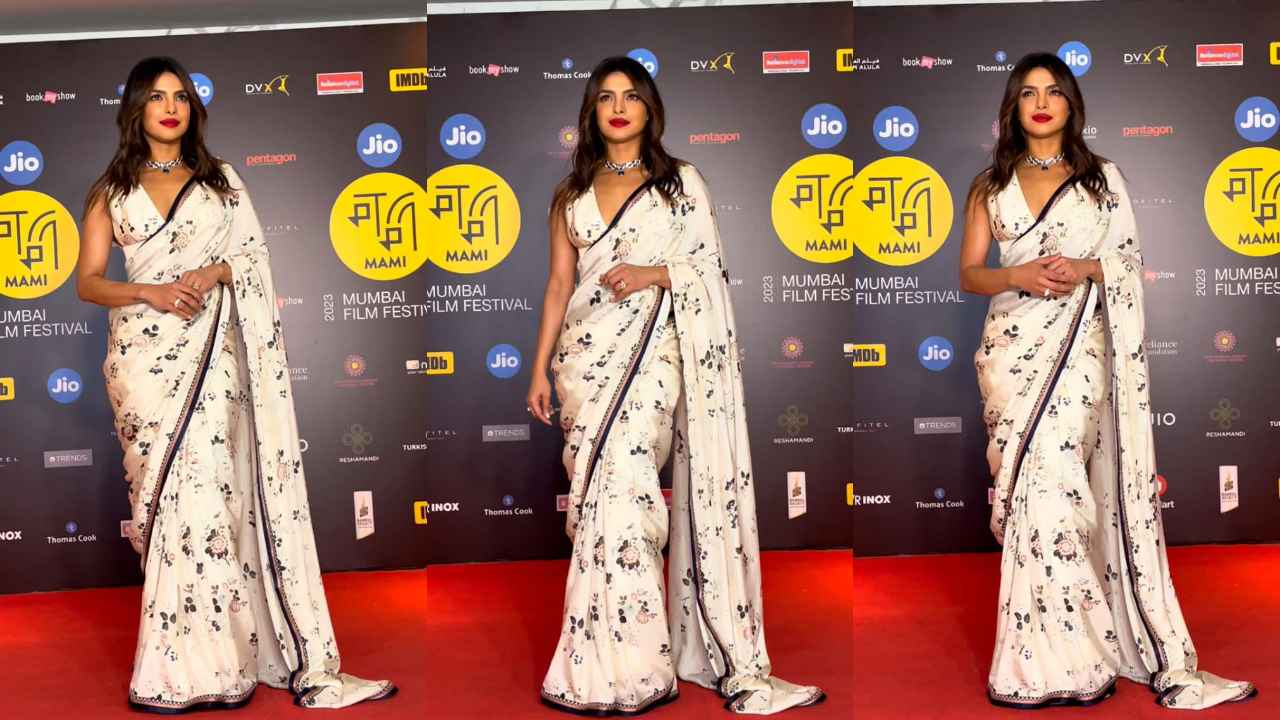 The choice of white sunglasses was a masterful decision as they perfectly complemented her black and white floral saree. They added a refreshing contrast to the ensemble, making her entire look even more intriguing. It showcased her ability to blend classic elements with a modern edge, creating a style that's both timeless and trendy.
Priyanka's fashion choices, including these stylish sunglasses, are a testament to her ability to experiment and push the boundaries of fashion while maintaining an elegant and refined appearance. Her exquisite choices left admirers in awe, further solidifying her reputation as a fashion icon and confirming that she always knows how to make a statement with her attire.
Rouged cheeks and highlighter were the finishing touches that accentuated her facial features, giving her a radiant and polished appearance. The rosy blush added a healthy flush to her cheeks, while the highlighter created a luminous glow, making her skin look flawless and radiant. It was clear that every aspect of her makeup was thoughtfully designed to complement her outfit and enhance her natural beauty.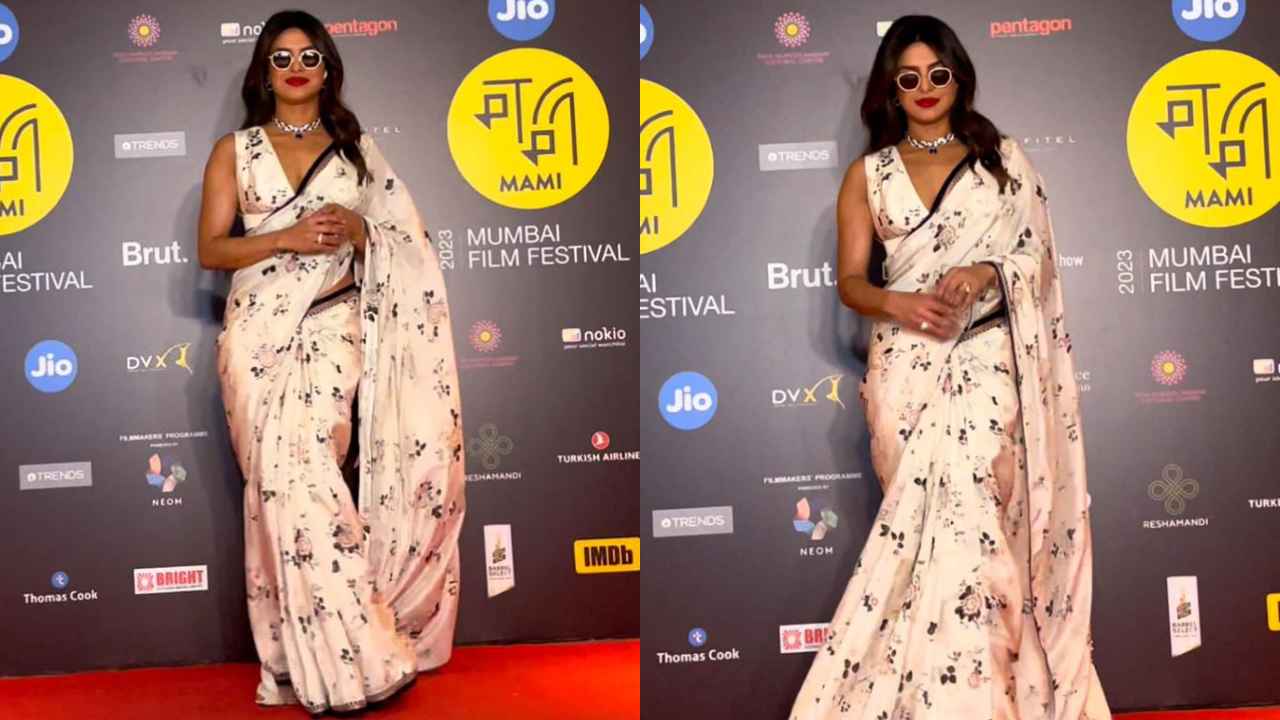 With her impeccable makeup and hair game, Priyanka Chopra Jonas once again demonstrated her prowess in the world of fashion and beauty. Her ability to strike the perfect balance between bold and elegant, and her attention to detail, made her an absolute showstopper at the Mumbai Film Festival. Her glamorous appearance left admirers in awe and reinforced her status as a style icon.