According to Hindi Literature, Navarasa are the nine basic emotions that every human has. Shringara (love),    Hasya (laughter), Karuna(sorrow), Raudra (anger), Veera (valor), Bhayanaka (fear), Bibhatsa (disgust), Adbutha (surprise), Shantha (peace). The new Netflix series named Navarasa is one of the best South Indian series. There are 9 stories of 9 emotions each in nine episodes. The star cast includes Vijay Sethupathi, Surya, Prakash Raj, Pragya Martin, Arvind Swamy, Siddharth, Aditi Balam, Yogi Babu, and Atharvaa. 
 1. Edhiti (Karuna- Compassion)
This episode in Navarasa was about the revenge of Dheena. He visits a man. Savithri, that man's wife was teaching some children. She looks at him, she also knew that he can harm her husband but still she let him enter his room and ignores his presence. The dead man's soul keeps talking with Dheena. This bothers him. He gets to know that the revenge was not justified. Just because someone has hurt you, you have the right to punish him. When Dheena and Savithri realize their mistakes they visit the temple, out of guilt. They request god to forgive them. This story urges us to evoke compassion within ourselves, as it is the essence of humanity.
2. Summer of 1992 (Haasya- Laughter)
We are so much engrossed in our work nowadays that we have forgotten to laugh. Everybody knows that laughter is the best medicine and stress buster. Yet we all forget to take the daily dose of it. In this story of Navarasa, the central character is a star comedian, Veluswamy. A student who has failed in 9th class four times. He wants him to pass 10th class to get a job. But his mischiefs do not allow him to do so. Meanwhile, his school principal is worried because his daughter is not getting married.
The problem is their rude and filthy pet dog Maharaja. After many years, the priest brings a suitable marriage proposal. The school principal asks Veluswamy to help him get rid of him. In return, Veluswamy demands good marks to pass his 9th grade. He agrees. But when he executes the plan, everything goes wrong and he fails again.
3. Project Agni (Adhbhuta- Wonder)
Vishnu is a scientist. He experiments to go in the past. But this changes his whole life. When he returns from the past he finds that his wife and son don't exist anymore. He is guilt-ridden and calls his friend Krishna. He tells him that his assistant Kalki has gained some exceptionally magical powers and is on his way to destroy the whole world. He urges him to save the world by giving him a potion-like solution. But there is a major twist in the story, the one who visited him was Kalki himself, disguised as Krishna. This story in Navarasa has a beautiful spiritual angle and engages the viewers with its phenomenal screenplay. 
4. Payasam (Bibhatsa- Disgusting)
Jealousy destroys a person's peace and compassion. Delhi Ganesha, the protagonist of this story in Navarasa is filled with envy for his nephew, Subbu. He even refused to attend his daughter's wedding. At his home, there is a young widow, who is kind-hearted. She is Ganesha's daughter. He hates Subbhu because he is wealthier and happier than him. Out of jealousy he tries to ruin the wedding and spills the vessel of the special sweet dish. He gained nothing from that, on the contrary, he lost respect in the eyes of his daughter. So we should not envy others, and start focusing on our lives rather than spending time thinking ill of others. 
5. Peace (Shantha- Peace)
This is the story of Nilavan and his three comrades. Once, they meet a young boy who says that he has been separated from his mother. He says that his younger brother, Vellaiyan is home alone. They decide to save him. In the end, Nilvana dies after saving Vellaiyan, who is a puppy.
6. Roudhram (Raudra- Anger)
A 5 minute fit of rage can ruin the whole life of a person. It is always advised to be calm. This episode of Navarasa starts with a young boy hitting a man with a hammer. The name of the boy is Arul (Sree Ram). He has a mother and younger sister in his family. His mother works very hard in order to earn a living. The situation worsens when his mother has to do something which disheartens and fills him with anger. Later, Anbu his younger sister becomes a reputed Police officer. 
7. Inmai (Bhayanaka- Fear)
In this episode of Navarasa, Waheeda is shown as a rich girl hailing from a Muslim family. On one fine morning, Farooq, who works for her husband visits her house as a charming calligrapher. He frightens her to such an extent that she kills herself. He does this because she was the reason for his father's death.
8. Thunintha Pin (Veera- Courage)
Vethri, a soldier struggles hard to save a Naxalite. He is scared of being killed by other Naxallites but still, he is courageous enough to take him to the hospital. His pregnant wife Muthulakshmi is waiting for his return. The story takes a drastic turn at the end when the Naxalite escapes and he keeps following him.
9. Guitar Kambi Mele Nindru (Shringaar- Love)
A super talented musician, Kamal falls in love with his fan Nethra in the last episode of Navarasa. He thinks that her thoughts resemble his mother's. This is what a guy, in his love interest looks for. He eagerly waits to know her feelings. He even decides to cancel his London flight tickets for her. He enjoys her company. He adores her voice, expressions, attitude, even the way she stands. But he is quite worried about the age gap between them. They live happily but then, Kamal reveals that she is no more in his life.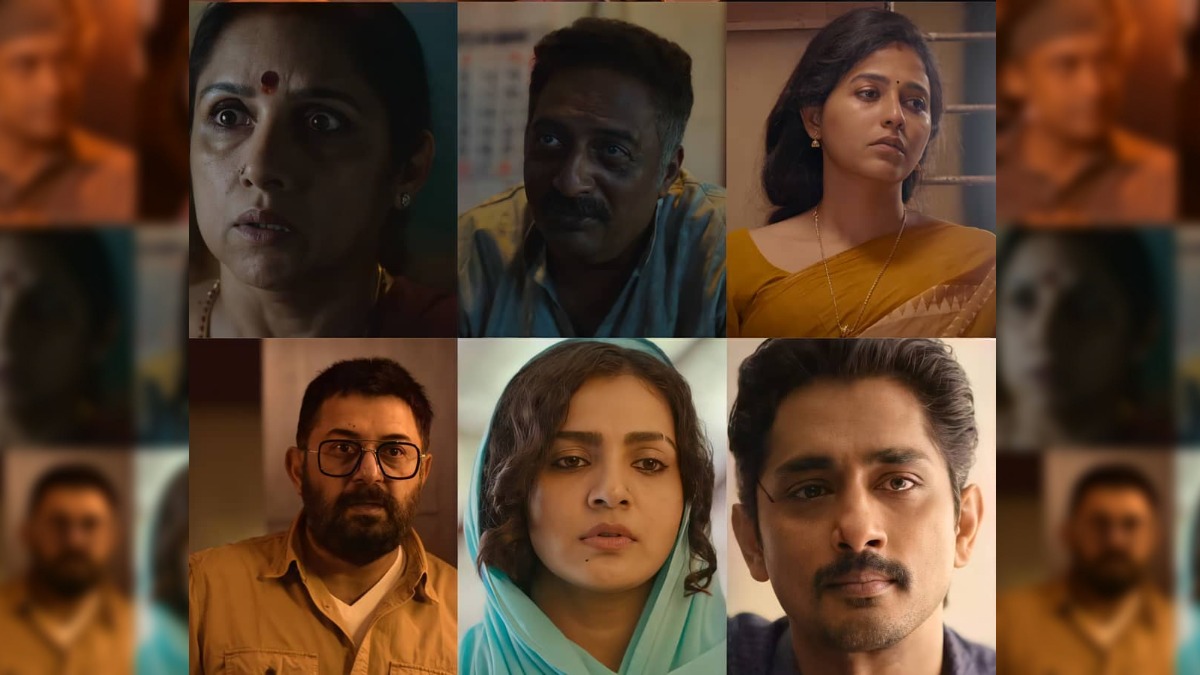 The most unique elements of the Navarasa series were the thoughts they displayed at the beginning of each episode and the soulful soundtracks by the Oscar award winner, A. R. Rahman. They created excitement to watch each episode and learn some useful lessons of life through the characters on the screen. Watching this series will make you a fan of the work done by the creators in Navarasa.
Edited by Prakriti Arora