Pakistani dramas are famous for their elegance. Their scripts and screenwriting can impress anyone. Here are some of the most loved Pakistani Dramas of Iqra Aziz, which are renowned across the globe.
1. Khuda aur Muhabbat
Khuda Aur Muhabbat, produced by Abdullah Kadwani and Asad Quereshi under 7th Sky Entertainment, is written by Hashim Nadeem Khan. It is a Pakistani spiritual, romantic drama. Farhad and Maahi are the protagonists of this TV series. This OST starring Feroze Khan (Farhad), Iqra Aziz (Maahi), Junaid Khan as Sikandar Shah, has a magical title track sung by the legend Rahat Fateh Ali Khan in his melodious voice, which touches the heart of its listeners directly.
The story of the show revolves around Farhad (Feedi), a student pursuing Arts. He gets enthralled by a beautiful girl Maahi. She hails from a very rich family and lives a life of a princess. Her father, mother, elder brother, and sister-in-law pampers her just like a child. Everybody in her house adores her, as she is the youngest among all.
On the other hand, Farhad belongs to a Pakistani middle class family. His father is a clerk, and his mother is a housewife. He has two siblings, Sajjad and Fariya. His neighbor Naheed is madly in love with him. Farhad meets Maahi at her friend's wedding. He started liking her and gradually got obsessed with her. He misunderstood her friendly behavior as love. He decided to follow her.
His obsession made him crazy, and he disguised himself as a servant and worked as one at her mansion to convince her to marry him. But when he got to know that she does not love him just because he is not wealthy, he cursed her. After this heartbreak, he left everything and became a fakeer. Meanwhile, Maahi married Taimoor, who loved her at first sight itself. But, unfortunately, he died on their wedding night.
Her mother-in-law is fond of her and wants her to marry Sikander, Taimoor's elder brother. After the death of her husband, she realized how it feels when you lose your love. She is guilt-ridden and regretful. Maahi wants to apologize to Farhaad, but she thinks that he is not alive anymore. After some days, when she sees Farhad in the mosque, she faints. She is not ready to accept that the one she killed by breaking his heart is still breathing.
Let's watch what happens after this in upcoming episodes. How will Maahi face Farhaad? How will she realize her love for him? Or will she marry Sikander?
2. Suno Chanda
Starring multi-talented Farhaan Sayeed, beautiful Iqra Aziz, and amazing Nazriya Nadeem, Suno Chanda rules over millions of hearts because of its humorous dialogues and excellent Pakistani actors. His story is about Arjiya Nazakat Ali (Iqra Aziz), Arsal Jamshed Ali (Farhaan Sayeed), and their journey from getting divorced to falling in love.
Their grandfather was on death bed, and the marriage of Jiya and Arsal was his last. So their family forced them to do the same. They married against their wish.
This Pakisani show's story is an expedition of their attempts to call off the marriage, reunite their family, and endear each other. They were each others' first cousins and knew each other very well. But they used to hate each other as spouses.
Kinza and Shehriyaar were the ones who made them realize that they love each other, and their decision to get married is not correct. Nazriya Nadeem played the role of Arsal's Ammi, Shahana Ali, in the show. Her character was hilarious.
Her Punjabi accent was enough for hooking up the audience to their TV and mobile screens. She was playing the character of an ideal Saas who was way more different from the quintessential mothers-in-law. In both the seasons of this Pakistani show, she was the center of attraction. Her proper dialogue delivery and hilarious expressions stole the limelight.
3. Ranjha Ranjha Kardi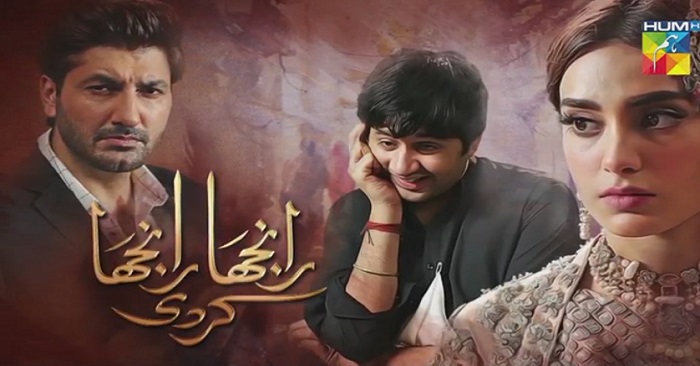 Produced by Momina Duraid Ranjha Ranjha Kardi is a Pakistani drama starring Iqra Aziz and Imran Ashraf in the central roles. They both had to put a lot of effort into playing their respective characters Noor Bano, Noori, and Mohiuddin, Bhola. They indeed were very challenging characters. He had to play a very unhygienic and innocent character, and she had to endure the filthy surrounding. 
4. Jhooti
As the name suggests, this is a story of a liar. Nirma is the main antagonist of the show. Iqra Aziz and her husband Yassir Hussain played the central roles in this Pakistani drama. Nirma has a habit of lying to acquire her favorite things and fulfill her wishes. She is a crafty and cunning girl.
She lies convincingly and is never held as a convict. This story warns us of trusting anyone blindly. Anyone can wear a mask of innocence and cheat us by gaining sympathy. We should be careful. Iqra took the risk of playing a negative role. But her phenomenal acting skills did not disappoint the fans. She impressed everyone and proved that she is a versatile Pakistani actress.
This show also had Ahmed Ali Butt as Nasir, Asma Abbas as Nirma's mother, Madiha Rizvi as Zubia, Yasir Hussain as Ali, Paras Masoor as Ahmed, Tauqeer Nasir as Akbar (Nirma's father), Mariyam Nafees as Saman, Shaista Jabin as Zubaida (Nasir's mother) and Zahid Qureshi as Zahid (Nasir's father) in important roles.
Edited by Prakriti Arora