Deepika Padukone knows exactly how to channel her inner boss girl in formal wear and this outfit is PROOF!
The ever-stunning Deepika Padukone arrived to honor the event, captivating all with her presence and yet another breathtaking attire. As she graced the event held at NMACC, she exuded her typical charm and grace, leaving everyone in awe of her beauty and style. Deepika Padukone is undoubtedly a fashion star we can't get enough of, and her incredible sense of style was on full display in this outfit.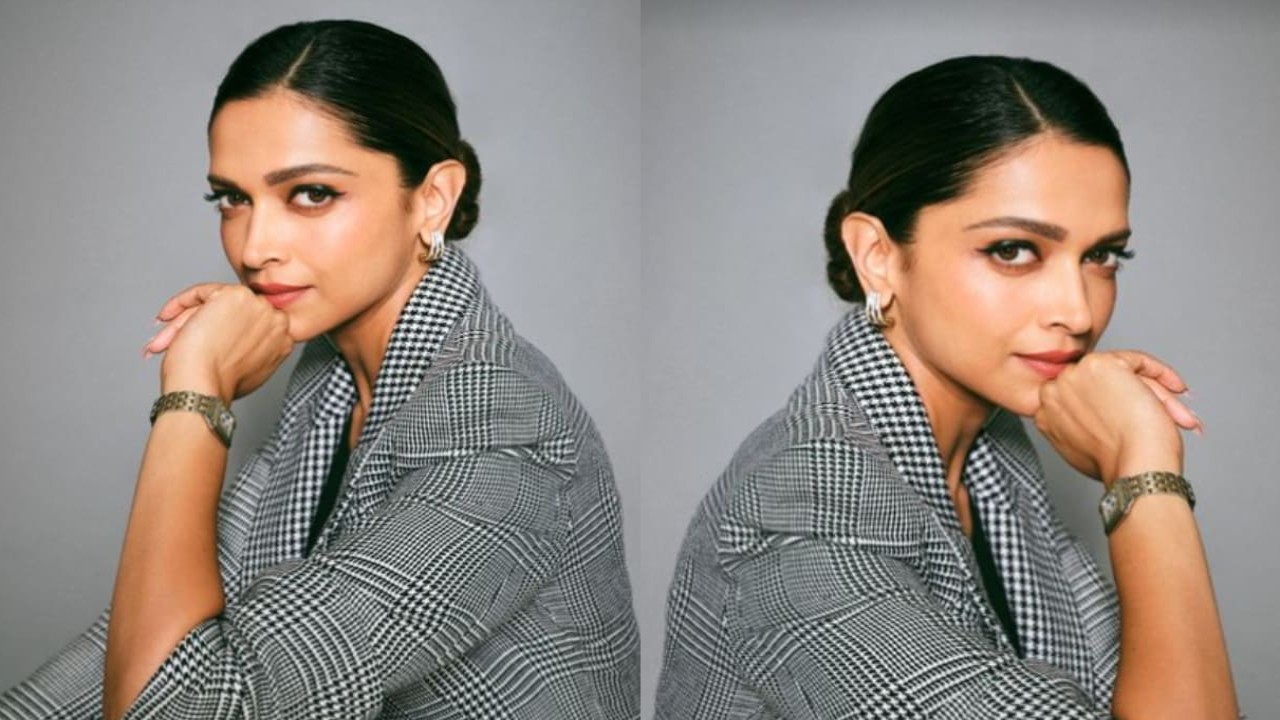 Deepika has consistently been a source of inspiration in the fashion world, and she once again reminded us why she's a beloved style icon. Her charisma, beauty, and elegance were all perfectly complemented by her outfit, making her a standout presence at the event.
Get ready, fashionistas, because Deepika Padukone is all set to deliver yet another spectacular fashion moment that's bound to leave us all in awe. With her impeccable style and a keen eye for fashion, Deepika has consistently graced us with stunning and memorable looks. As she steps onto the stage once again, we can't help but anticipate the fashion brilliance she's about to unleash.
Deepika Padukone's ability to effortlessly blend sophistication, elegance, and modernity in her fashion choices is a testament to her status as a true fashion icon. Her impeccable beauty and incredible sense of style have made her a source of inspiration for many. With each appearance, she reaffirms her position as a beloved figure in the world of fashion.
Deepika Padukone made quite the fashion statement in a stunning blazer that instantly captured everyone's attention. The blazer featured a traditional lapel collar, adding a touch of distinction and formality to the entire outfit. Deepika's choice to wear a blazer emphasized her ability to balance elegance with modernity.
To further enhance the blazer's fashion-forward appeal, Deepika expertly folded up the sleeves, giving it a more comfortable and relaxed look. This style move showcased her fashion acumen and her knack for personalizing an outfit to her liking.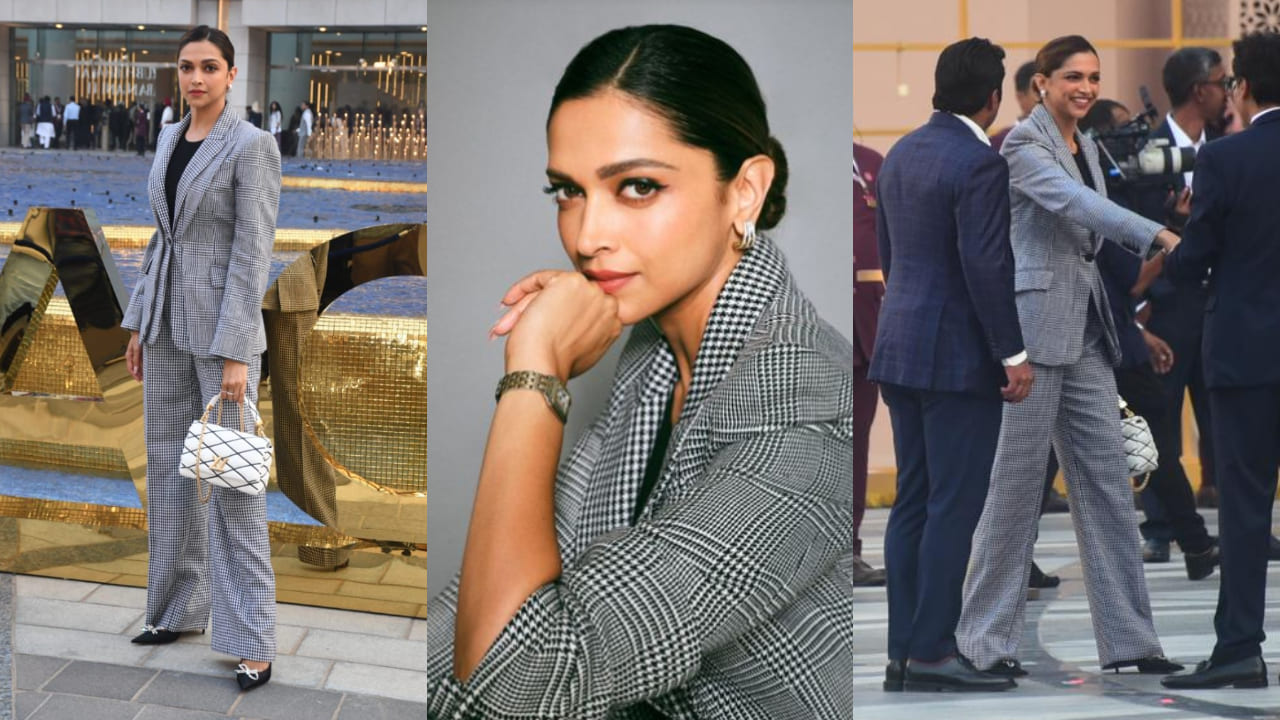 The blazer itself was adorned with a sophisticated checkered design that was not only on-trend but also added visual interest to her ensemble. Deepika's choice of this blazer was a testament to her ability to select statement pieces that are both stylish and versatile.
Deepika Padukone's fashion choices are always on point, and her recent ensemble was no exception. Underneath the striking blazer, she wore a simple yet gorgeous round-neck black shirt. This understated black shirt allowed the blazer to take center stage, emphasizing her ability to let key pieces shine.
To create a cohesive and effortlessly stunning look, Deepika completed the ensemble by pairing the blazer with matching trousers. This choice not only showcased her fashion expertise but also resulted in a unified and well-coordinated combination. The ensemble perfectly balanced elegance with modernity, and Deepika once again demonstrated her knack for creating a harmonious and stylish look.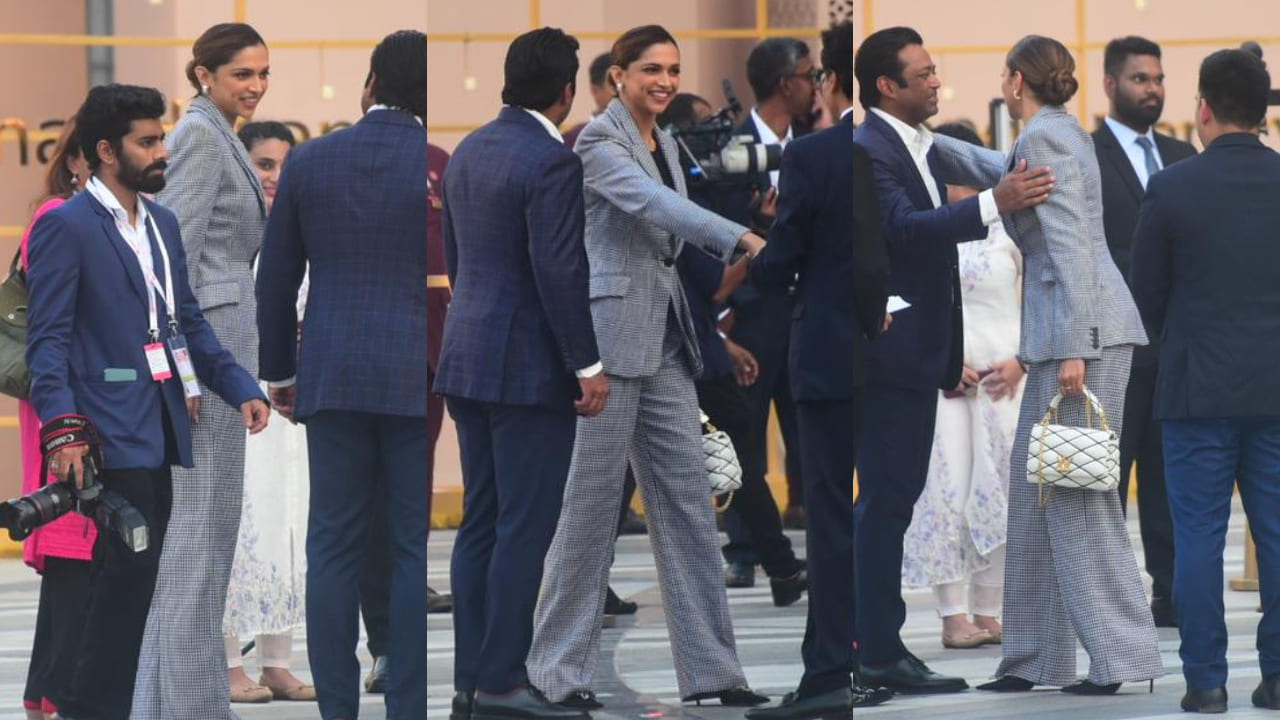 Deepika Padukone is known for her ability to make a statement with her hair and makeup, and her choices for this event were no exception. She sported her distinctive hairdo, a sleek swept-back bun that has become a signature look adored by many. Deepika's choice to arrange her hair into a low bun radiated refinement and class, showcasing her understanding of how the right hairstyle can elevate an overall look.
What made her hairdo even more captivating was the delicate separation of her hair into a side division. This subtle but strategic detail added a touch of modernity and elegance to her hairstyle, perfectly aligning with the overall vibe of her outfit and the event.
Deepika Padukone's hairdo for the event, featuring a sleek swept-back bun with a side division, once again highlighted her exceptional fashion sense. Her ability to harmonize her hairstyle with her outfit is a reflection of her innate understanding of fashion and her commitment to making a statement in every aspect of her appearance. Deepika's hair and makeup choices continue to be a source of inspiration for those who appreciate the transformative power of beauty and style.
Deepika Padukone's choice of a sleek swept-back bun with a side division matched her entire look flawlessly. It was a strategic decision that allowed her outfit to take center stage, emphasizing her innate ability to let her clothes stand out. The classic and sophisticated appearance created by her hairdo perfectly complemented the overall vibe of her ensemble.
The harmonious alignment of her hairstyle with her outfit showcased her attention to detail and her commitment to achieving a cohesive and elegant appearance. Deepika's understanding of how to balance different elements of her look, from clothing to hairstyle, is a reflection of her enduring influence as a fashion icon.
Deepika Padukone's makeup was, as always, flawless and breathtaking, showcasing her mastery of the soft glam look that left everyone in awe. Her eye makeup was the true star of the show, featuring a thick, wide black eyeliner that added drama and intensity to her gaze. The bold black eyeliner was a standout element that instantly drew attention and emphasized her eyes as a focal point of her makeup.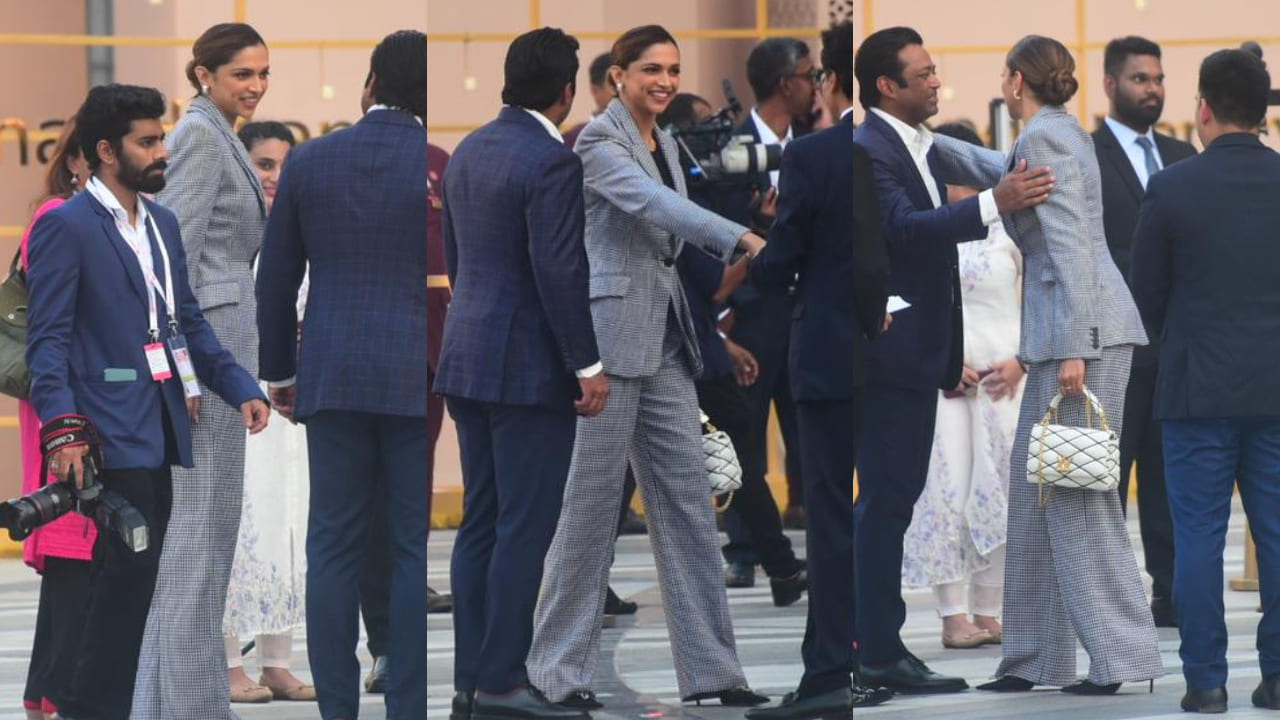 To complement her mesmerizing eye makeup, Deepika opted for a subdued tone of red lipstick. This choice added a faint yet appealing flare of color to her lips, perfectly harmonizing with the rest of her makeup and enhancing her overall look.
In conclusion, Deepika Padukone's makeup was a work of art, with a soft glam look that showcased her beauty and style. Her eye makeup, featuring the bold black eyeliner, added a touch of drama and intensity, while the subdued red lipstick completed the look with elegance. Deepika's ability to master makeup that enhances her natural beauty is a source of inspiration for beauty enthusiasts and admirers alike.