LFW 2023: Kiara Advani OWNS the runway in black sultry embellished sheer dress with a corset-like silhouette
Indeed, Bollywood boasts a rich history of beautiful and fashionable divas who know how to capture attention, but there's a special allure that only the queen, Kiara Advani, can bring to the table. The fabulous actress, known for her roles in films like "Satyaprem Ki Katha," is celebrated not only for her on-screen performances but also for her enchanting fashion choices and her ability to set the ramp on fire with her insanely sultry ramp walks.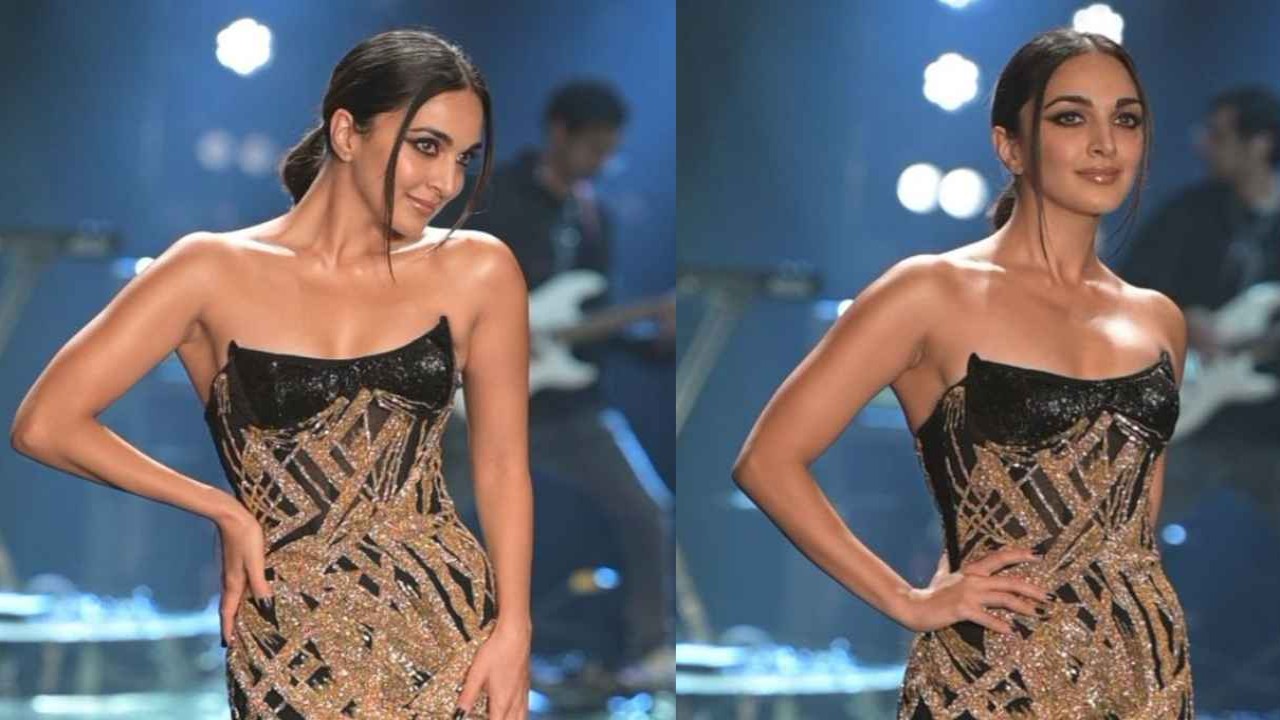 Kiara Advani's fashion choices have always been a topic of admiration and discussion in the fashion world. She effortlessly blends elegance with a touch of sultriness, creating ensembles that leave a lasting impact. Her impeccable style has made her a beloved figure in the industry, and her ramp walks are nothing short of sensational, turning every event into a mesmerizing spectacle.
Certainly, who can forget the moment when Kiara Advani channeled her inner Barbie at Falguni Shane Peacock's previous fashion show? The classy actress, known for her role in "Bhool Bhulaiyaa 2," has once again graced the ramp as the showstopper for Falguni Shane Peacock's showcase at Lakmé Fashion Week 2023. Kiara's runway appearances have consistently been showstoppers themselves, and her latest outing is sure to be another unforgettable fashion moment.
Kiara Advani's collaboration with Falguni Shane Peacock has always resulted in spectacular runway presentations. Her ability to embody the essence of their designs and captivate the audience with her striking presence is truly commendable. As the showstopper at Lakmé Fashion Week 2023, Kiara continues to be a fashion icon who commands attention with her runway appearances.
The simply beautiful actress, known for her role in "Kabir Singh," recently set the runway ablaze with her fiery ramp walk as she took on the role of showstopper for Falguni Shane Peacock's show at Lakmé Fashion Week 2023. The gorgeous actress was a sight to behold as she graced the stage wearing a stunning off-shoulder, ankle-length dress made out of a sheer material.
Kiara Advani's runway presence has always been a showstopper in itself, and her latest appearance was no exception. The sheer dress she wore accentuated her beauty and style, adding an element of sensuality and elegance to her look. Her ability to command attention with her fiery ramp walk and her stunning ensemble once again confirmed her status as a sought-after showstopper in the world of fashion.
Kiara Advani's role as the showstopper at Falguni Shane Peacock's show at Lakmé Fashion Week 2023 was a mesmerizing moment that showcased her beauty, style, and runway prowess. Her choice of the sheer off-shoulder dress added a touch of sensuality and elegance to the event, making her a standout presence on the runway. Kiara Advani's fashion-forward choices and undeniable allure continue to captivate the fashion world and admirers alike.
The stunning piece Kiara Advani wore for her showstopper moment featured a fitted, corset-like silhouette that hugged all her curves in just the right places. This silhouette not only highlighted her well-toned body but also added to the overall allure of the outfit. Kiara's choice of the black dress was both elegant and stylish, and it perfectly showcased her undeniable fashion sense and style.
What made the dress even more captivating was the intricate detail of sparkly gold beads and sequin work in a criss-cross pattern that adorned the entire piece, right up to the very edge. This intricate embellishment added a touch of luxury and glamor to her ensemble, making it a true showstopper on the runway.
To further elevate her outfit, the dress featured a sexy back slit, which added an element of allure and sophistication. The slit not only added a dash of daring to the look but also ensured that all eyes were on Kiara as she graced the runway.
The gorgeous actress, known for her role in "Lust Stories," took her super sexy outfit to the next level by completing it with matching black peep-toe sandals featuring high block heels. These stylish shoes were the perfect choice to complement her overall look, adding an element of sophistication and allure to her ensemble. Kiara's footwear selection demonstrated her keen eye for fashion and her ability to make the right choices to enhance her outfit.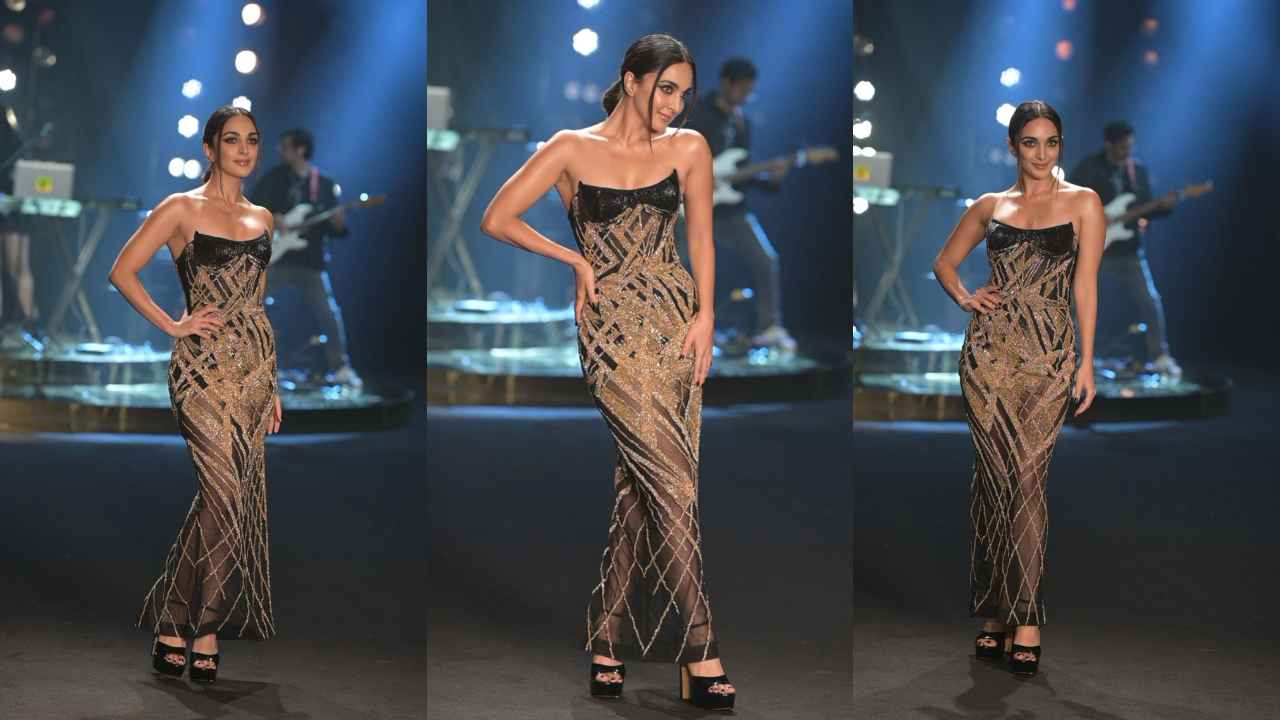 In a bold and confident move, the "Shershaah" actress opted for a no-accessory look for this ensemble. By choosing to forgo accessories, she ensured that the main focus remained on her super-sassy outfit. This decision allowed the dress, her stunning silhouette, and her choice of footwear to shine without distraction, showcasing her commitment to making a style statement with subtlety and grace.
Kiara Advani's bold decision to go accessory-free undoubtedly paid off because her super-smashing gown was an absolute showstopper. The "Love Breakups Zindagi" actress made a captivating style statement that was impossible to look away from. The gown's allure was undeniable, and Kiara's fashion choices continued to captivate the audience.
Now, let's talk about Kiara Advani's hair and makeup game, which was also a clear win. Her hairstyle featured a center parting with her hair styled into a well-tied and super unique plait that reached down to her lower waist. This striking plait added a touch of tradition and sophistication to her look, while the two sleek flicks in the front framed her face to sheer perfection. Her hairstyle perfectly balanced modernity with a hint of classic elegance, showcasing her understanding of how to create a harmonious overall look.
Kiara Advani's makeup game was nothing short of glam perfection, and her look was a masterclass in balancing elegance and allure. Her subtle yet sparkly eyeshadow added a touch of glamour to her eyes, while the dramatic eyeliner accentuated their shape and added intensity to her gaze. Her well-shaped eyebrows framed her eyes beautifully and contributed to the overall polished look.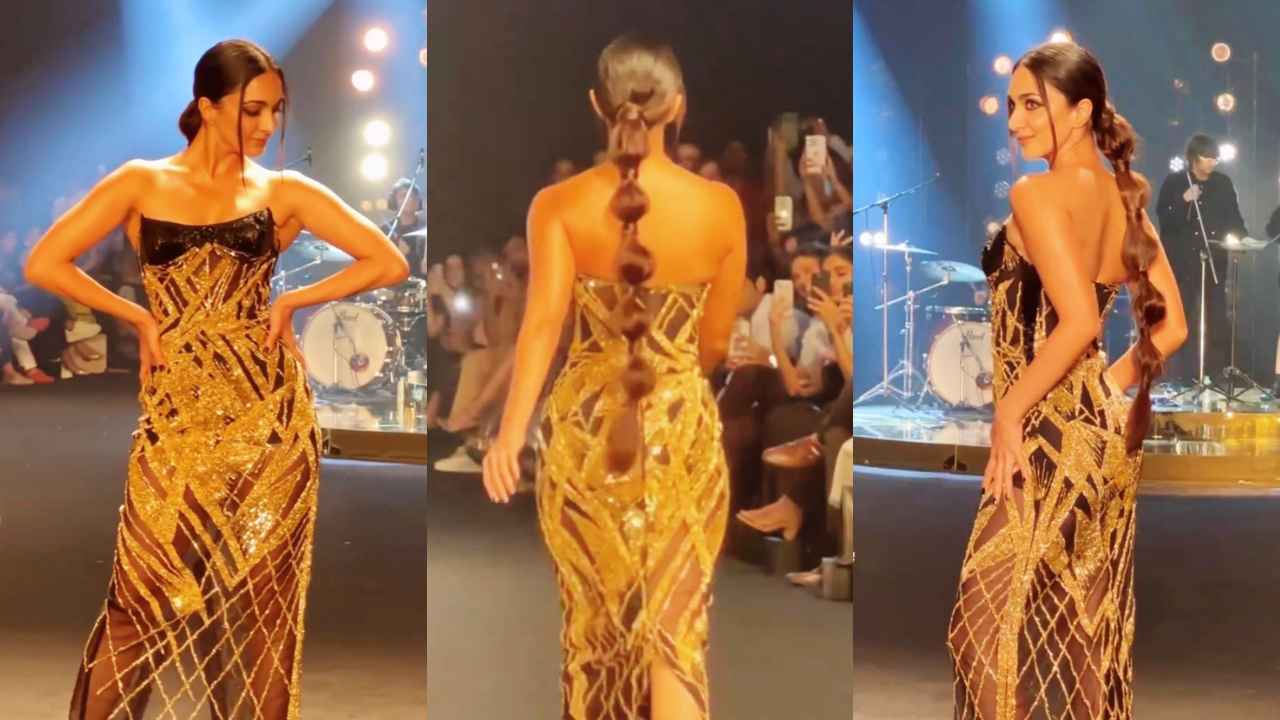 The perfect contouring, along with rouged and highlighted cheeks and nose, emphasized her facial features and added a sense of sophistication to her makeup. These carefully executed makeup choices elevated the overall heat quotient of the dress, making it an even more captivating ensemble.
To complete her makeup, Kiara opted for an enviable nude-colored glossy lipstick. This choice added a dash of sensuality to her look and perfectly complemented her overall appearance. Her makeup was a true testament to her sartorial excellence and her ability to captivate the audience with her mesmerizing presence.
In conclusion, Kiara Advani's appearance at Lakmé Fashion Week 2023 was a showcase of her mastery of makeup and her ability to balance sophistication with allure. Her makeup choices perfectly complemented her outfit and added a touch of glamour to her overall look. Kiara continues to be a fashion icon who knows how to make a lasting impression with her style and beauty choices.