Kareena Kapoor Khan Powerfully Elevates Casual Chic with Luxurious Set and Bottega Veneta Accessories
Kareena Kapoor Khan, a true embodiment of style and elegance, effortlessly commands attention with every step she takes. Whether it's a casual outing or a formal event, Kareena's fashion choices are always unconventional and striking. Her ability to transform even the simplest of outfits into fashion statements is a testament to her exceptional taste and innate sense of style. A common sight in tank tops or kurta combinations for casual occasions, Kareena takes casual wear to a whole new level.
What sets Kareena apart is her impeccable skill in accessorizing her outfits. She flawlessly pairs her ensembles with a range of luxury accessories and bags, creating a harmonious blend of high fashion and everyday wear. Her selection of accessories, from statement necklaces to chic eyewear, adds a touch of sophistication and glamour to her overall look.
Kareena Kapoor Khan's mastery in accessorizing is further highlighted by her ability to effortlessly merge classic and contemporary elements. Her penchant for dramatic necklaces, elegant scarves, and stylish belts demonstrates her artistry in selecting accessories that not only enhance her outfits but also express her personal style. Each accessory seems to be carefully curated, reflecting her distinctive fashion sensibilities.
Beyond just the accessories, Kareena's choice of luggage and bags also speaks volumes about her style prowess. She effortlessly turns even a routine airport appearance into a fashion spectacle, with her choice of designer bags that complement her outfits while exuding luxury and sophistication.
Kareena Kapoor Khan's fashion choices are not limited to the clothes she wears; they extend to every aspect of her ensemble. Her selection of eyewear, from oversized sunglasses to sleek frames, adds a dash of panache to her looks. Her ability to pull off a range of eyewear styles showcases her adaptability and willingness to experiment.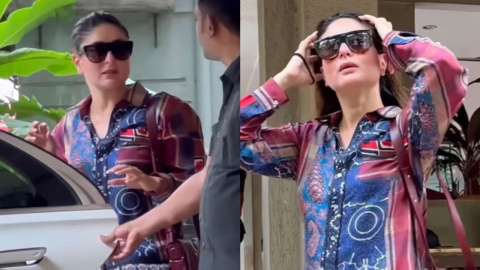 Kareena Kapoor Khan's recent appearance with her younger son, Jehangir Ali Khan, captured the essence of vibrant colors and effortless style. The Bollywood diva once again showcased her impeccable fashion sense, effortlessly combining comfort and chic in a casual ensemble that caught everyone's attention.
In this outing, Kareena opted for a vibrant dress that exuded a spectrum of colors, reflecting her vibrant personality. The dress, a testament to her ability to embrace a wide array of shades, showcased her mastery in effortlessly blending various hues into a cohesive and eye-catching outfit. The dress seemed to be an embodiment of joy and positivity, perfectly complementing Kareena's radiant smile.
The remarkable aspect of Kareena's ensemble lies in her choice of accessories that elevated the overall look. Accessories are an integral part of Kareena's style, and in this instance, they added a touch of luxury and finesse to her casual attire.
Kareena Kapoor Khan's outfit was accentuated by a statement-making bag that perfectly matched the vibrancy of her dress. The bag, crafted with meticulous attention to detail and high-quality materials, exuded luxury and sophistication. While the exact cost of the bag might vary, it's undoubtedly a high-end accessory that complements Kareena's style and status.
As for her footwear, Kareena's choice of comfortable yet chic sandals added a touch of elegance to her casual ensemble. These sandals are not only fashionable but also practical, allowing her to effortlessly move around with her son while looking stylish.
While the specific costs of Kareena Kapoor Khan's accessories may vary, her ensemble as a whole reflects her unique fashion perspective. She proves that even in casual outings, one can curate a look that combines comfort, style, and luxury. Kareena Kapoor Khan's appearance with her son serves as a reminder that fashion is not just about clothing; it's about expressing oneself, embracing colors, and finding joy in every outfit choice.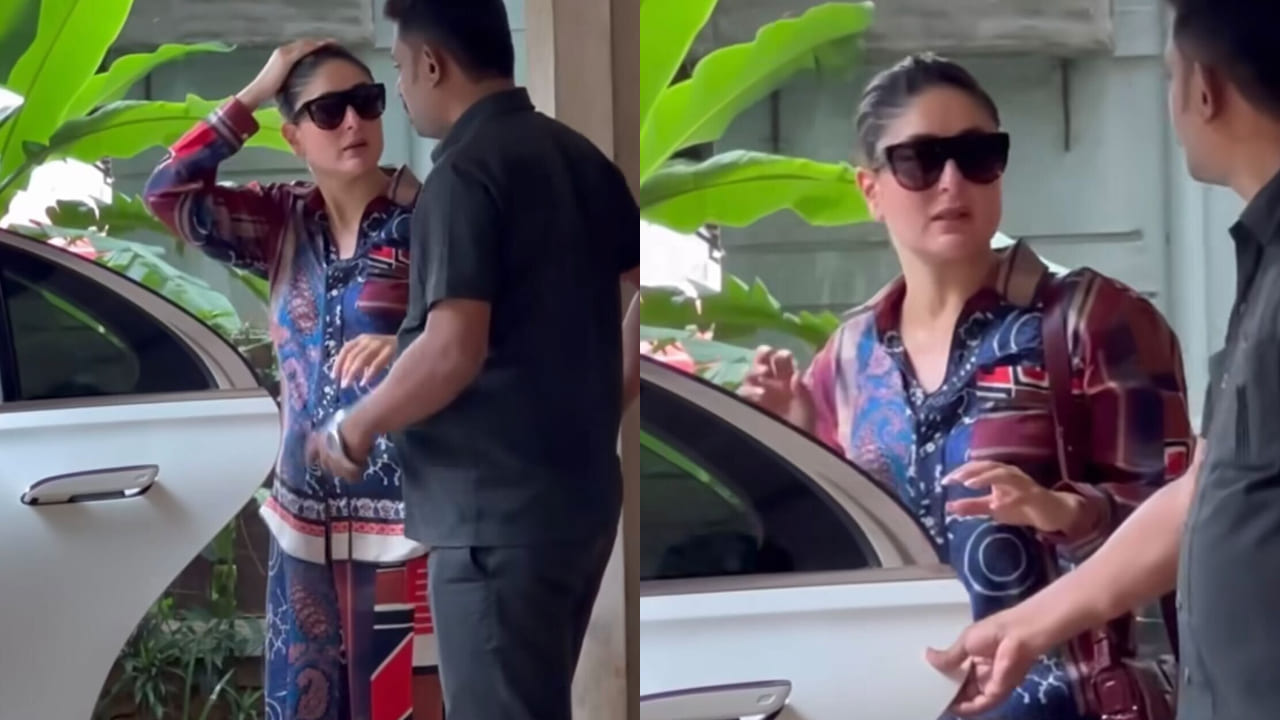 Kareena Kapoor Khan's fashion choices always manage to capture attention, and her recent ensemble is no exception. The Bollywood icon effortlessly combined style and elegance in a red and blue patterned silk shirt by Pierre Louis Mascia. The shirt not only enhanced her natural beauty but also showcased her distinctive fashion sense.
The shirt's intricate pattern and rich colors added a touch of allure to Kareena's look, making it a true standout piece. The carefully curated design of the shirt perfectly complemented her personality, exuding confidence and grace. The choice of a silk fabric further elevated the ensemble, adding a luxurious texture that resonated with her signature style.
To complete the ensemble, Kareena Kapoor Khan opted for straight trousers from the same designer. The trousers featured stunning paisley designs that harmoniously matched the color scheme of the shirt. This attention to detail highlighted Kareena's meticulous approach to fashion, where every element of her outfit was thoughtfully chosen to create a cohesive and visually pleasing look.
The fact that Kareena's shirt from Pierre Louis Mascia costs Rs 78,167 ($940) showcases her penchant for luxury and high-quality fashion. Her investment in pieces like these reflects her commitment to expressing herself through her style and embracing fashion as an art form.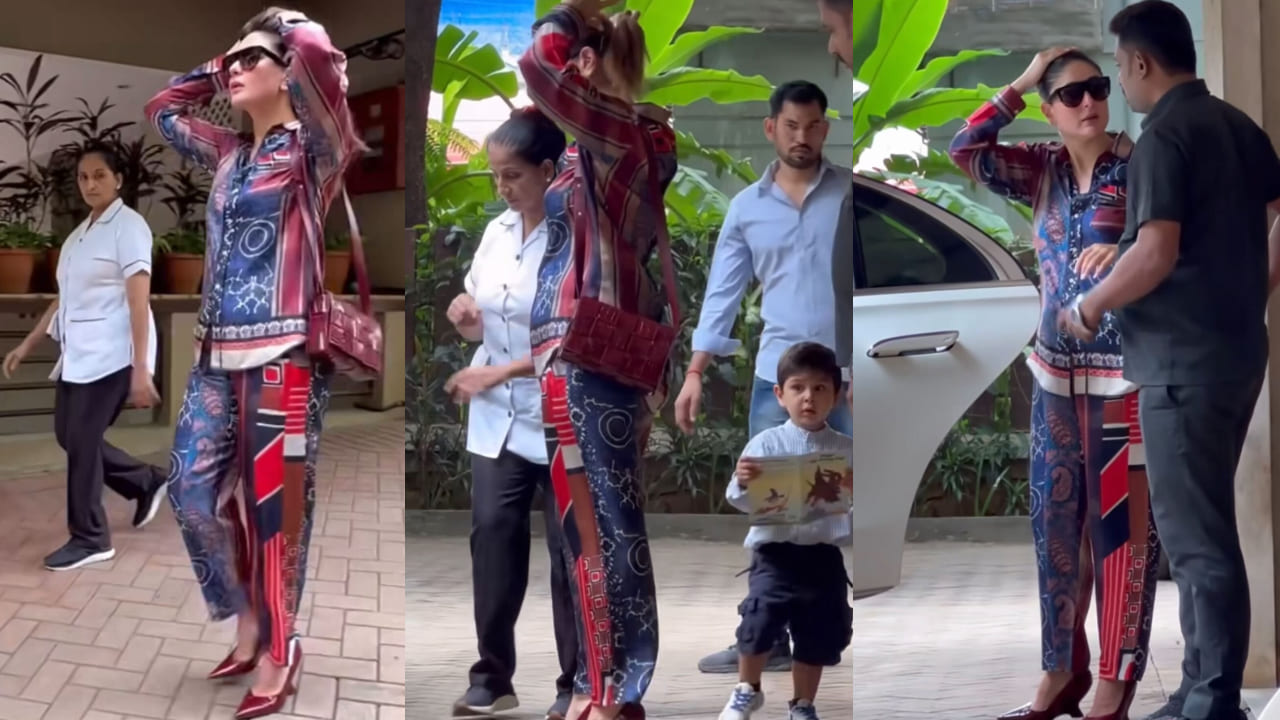 Kareena Kapoor Khan's appearance in this ensemble radiates sophistication and class, affirming her status as a true fashion icon. Her ability to effortlessly combine distinct pieces into a harmonious look is a testament to her exceptional fashion sense and her capability to set trends in the world of style.
Kareena Kapoor Khan's latest fashion choice continues to demonstrate her ability to effortlessly merge luxury and style. Her attention to detail and impeccable accessorizing set her apart as a true fashion icon. In her recent look, Kareena took her ensemble to the next level with the addition of a maroon shoulder bag by Bottega Veneta.
The choice of the maroon Bottega Veneta bag was nothing short of brilliant. The bag's design and color perfectly complemented her printed silk blouse and paisley leggings, creating a harmonious and visually appealing ensemble. The bag's thick strap added a touch of sophistication while providing functionality, laying elegantly on her shoulder as she confidently stepped out.
The Bottega Veneta bag's price tag of Rs 1,68,189 (1857 Euros) reflects the level of luxury that Kareena Kapoor Khan effortlessly incorporates into her outfits. Her ability to seamlessly integrate high-end accessories into her looks showcases her understanding of fashion as an art form and her mastery in creating well-rounded ensembles.
Additionally, Kareena's choice of eyewear from Gucci adds a final touch of elegance to her look. The eyewear not only protects her eyes but also serves as a stylish accessory that complements her overall appearance. This attention to detail is a hallmark of Kareena's fashion sense, where every element is thoughtfully curated to create a complete and stunning look.
Kareena Kapoor Khan's latest ensemble is a testament to her status as a fashion trendsetter. Her knack for combining luxury with flair, as seen in her choice of accessories, showcases her distinctive style and impeccable taste. With each appearance, Kareena continues to inspire and influence the fashion world, setting the bar high for elegance and sophistication.
Kareena Kapoor Khan's choice of accessories, particularly the Bottega Veneta pumps, further exemplifies her status as a true fashion trailblazer. The addition of these stunning pumps adds another layer of luxury and style to her ensemble, showcasing her meticulous attention to detail and fashion-forward sensibilities.
The Bottega Veneta pumps, priced at Rs 80,607 (890 Euros), are a testament to the brand's commitment to craftsmanship and innovation. The crocodile pattern print engraved on the leather adds a touch of texture and uniqueness to the shoes, elevating them from ordinary to extraordinary. The shank-attached heel design is a subtle yet significant detail that reflects the brand's dedication to impeccable craftsmanship and design aesthetics.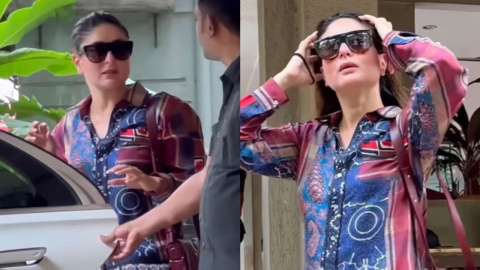 Kareena Kapoor Khan's choice of these pumps not only complements her overall look but also accentuates her ability to effortlessly blend high-end fashion with her personal style. Her fashion choices consistently push boundaries and set new standards, inspiring fashion enthusiasts to experiment and explore their own style preferences.
As always, Kareena's fashion selections reflect her distinctive taste, confidence, and willingness to embrace bold and unique pieces. Her ability to curate ensembles that seamlessly combine luxury, elegance, and individuality solidifies her position as a true icon in the fashion world.