Suhana Khan pairs her oh-so-hot look with Dior bag worth a jaw-dropping price of Rs 10 lacs
Suhana Khan, the daughter of Bollywood superstar Shah Rukh Khan, has been garnering significant attention and admiration from the Gen-Z crowd. Her effortless elegance and innate attractiveness have made her a notable figure in the world of entertainment and fashion. While her acting abilities are still in the process of being explored, it is undeniable that her outstanding fashion sense is a prominent aspect of her public persona.
Suhana Khan has made her presence felt not only through her family lineage but also through her unique style choices. She exudes a sense of confidence and poise in her fashion, which often reflects a blend of contemporary and traditional elements. Her wardrobe choices are carefully curated, and she is frequently seen in designer ensembles that make a statement in the world of fashion.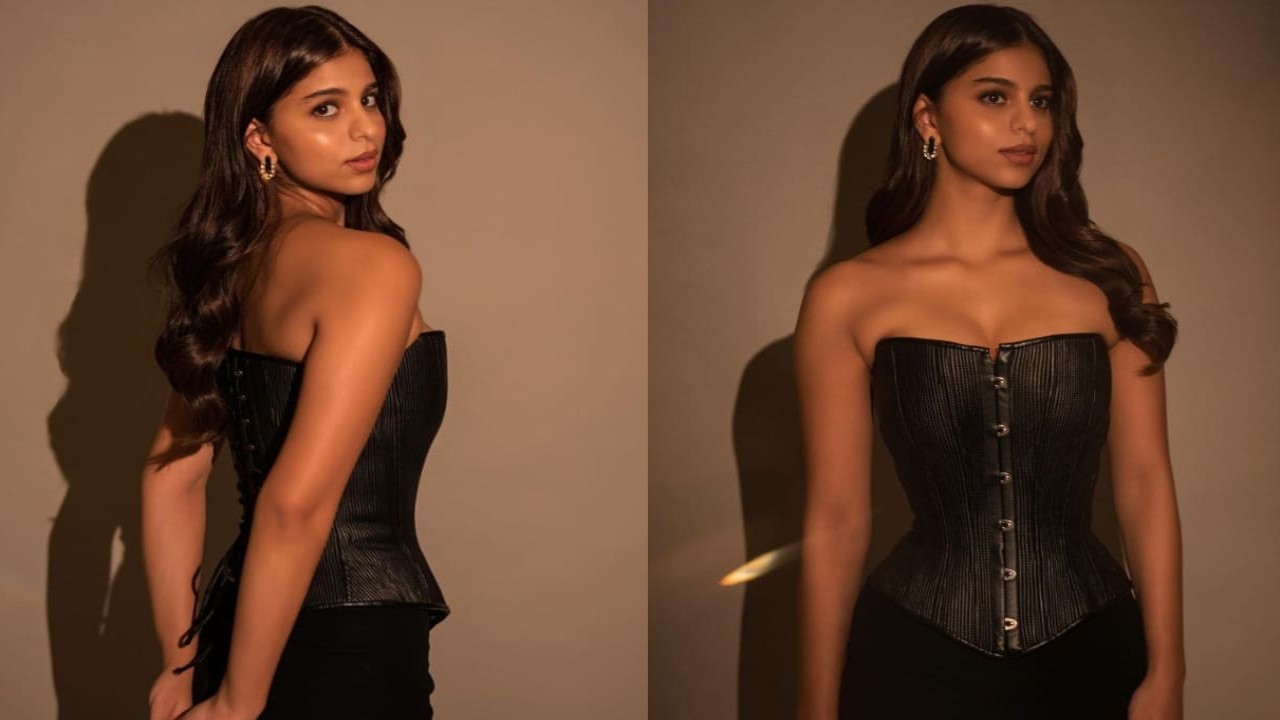 What sets Suhana apart is her ability to effortlessly carry off various looks, from glamorous red carpet appearances to chic street style. She has a strong influence on young fashion enthusiasts, and her sartorial choices are often emulated by her Gen-Z peers. Whether it's her choice of outfits, accessories, or makeup, she has a knack for staying ahead of the fashion curve and setting trends.
Suhana Khan's social media presence also plays a significant role in showcasing her fashion sense. Her Instagram account is a visual diary of her stylish life, giving her followers a glimpse into her world of high fashion and luxury. She often collaborates with renowned brands and designers, further solidifying her position as a fashion icon for the younger generation.
While her journey in the entertainment industry is still unfolding, there is no denying that Suhana Khan's impeccable fashion sense has already made her a noteworthy figure among the Gen-Z crowd. Her poised and elegant demeanor, along with her penchant for staying on-trend, has cemented her status as a style icon to watch in the coming years. As she continues to explore her talents and aspirations, it will be intriguing to see how she continues to leave her mark on the worlds of both fashion and entertainment.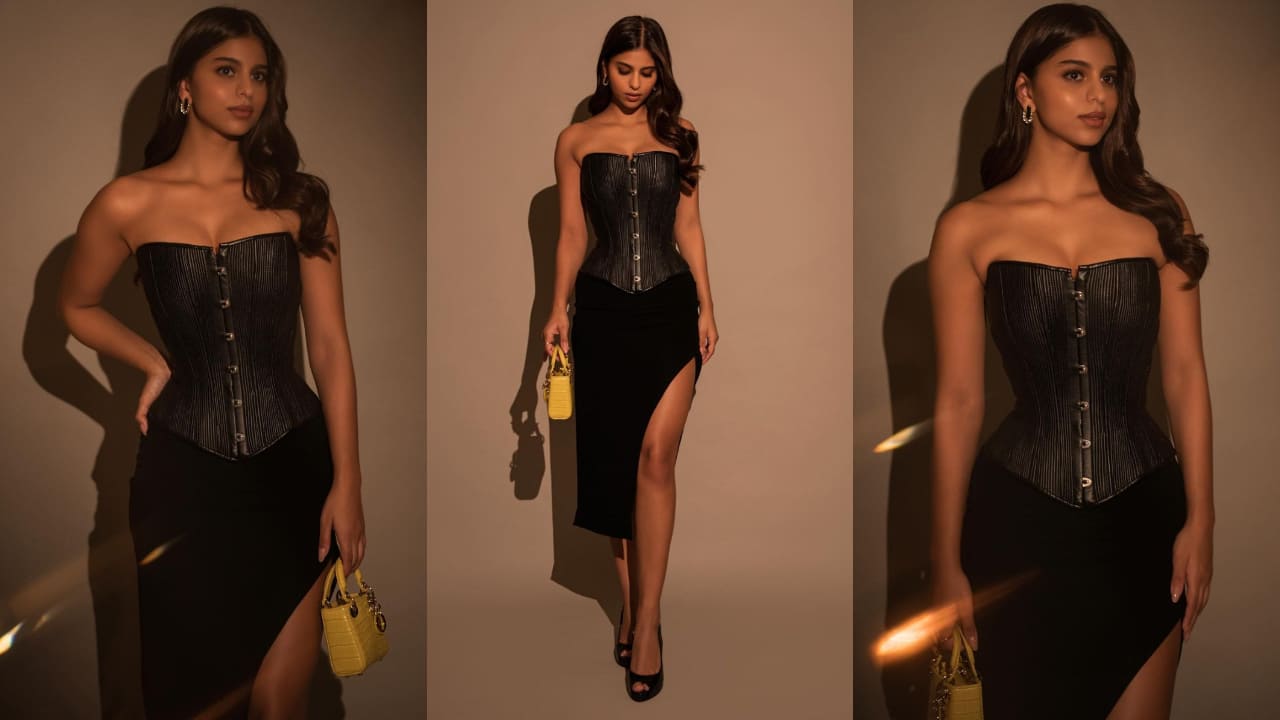 Suhana Khan certainly has a knack for making black appear sleek and classy, regardless of whether she's attending a glamorous red carpet event or enjoying a casual outing. Her ability to effortlessly pull off black outfits is a testament to her keen fashion sense, and she consistently exudes confidence and grace in her style choices.
In her recent Instagram post, Suhana once again demonstrates her love for the color black. The photos showcase her in an outfit that undoubtedly highlights her affinity for this timeless and versatile shade. Whether it's a little black dress, a tailored pantsuit, or a more casual ensemble, Suhana knows how to make black work in her favor. It's a hue that complements her personality and adds an air of sophistication to her overall look.
Suhana Khan recently made a fashion statement when she stepped out wearing a striking black corset top that accentuated her curves in all the right places. This figure-hugging garment not only showcased her stunning figure but also added a touch of allure to her overall look. The corset, with its structured design, brought a sense of drama and sophistication to her outfit, making it clear that she has an excellent grasp of how to use fashion to her advantage.
What made Suhana's corset top even more captivating was its distinctive vertical lined texture. The textured detailing added an element of dimension and depth to her ensemble. It created an eye-catching visual effect that enhanced the overall appeal of her outfit, drawing attention to her impeccable fashion choices. The textured corset not only highlighted her fashion-forward sensibilities but also highlighted her understanding of how to incorporate unique and captivating elements into her wardrobe.
Suhana Khan's choice of a black corset top demonstrates her confidence in experimenting with different styles and textures. This bold fashion statement showcased her ability to blend classic elegance with contemporary elements, proving once again that she is a rising fashion icon with a keen eye for details. Her choice of the textured corset not only added depth to her outfit but also left a lasting impression on the fashion-conscious crowd, solidifying her reputation as a style maven to watch in the ever-evolving world of fashion.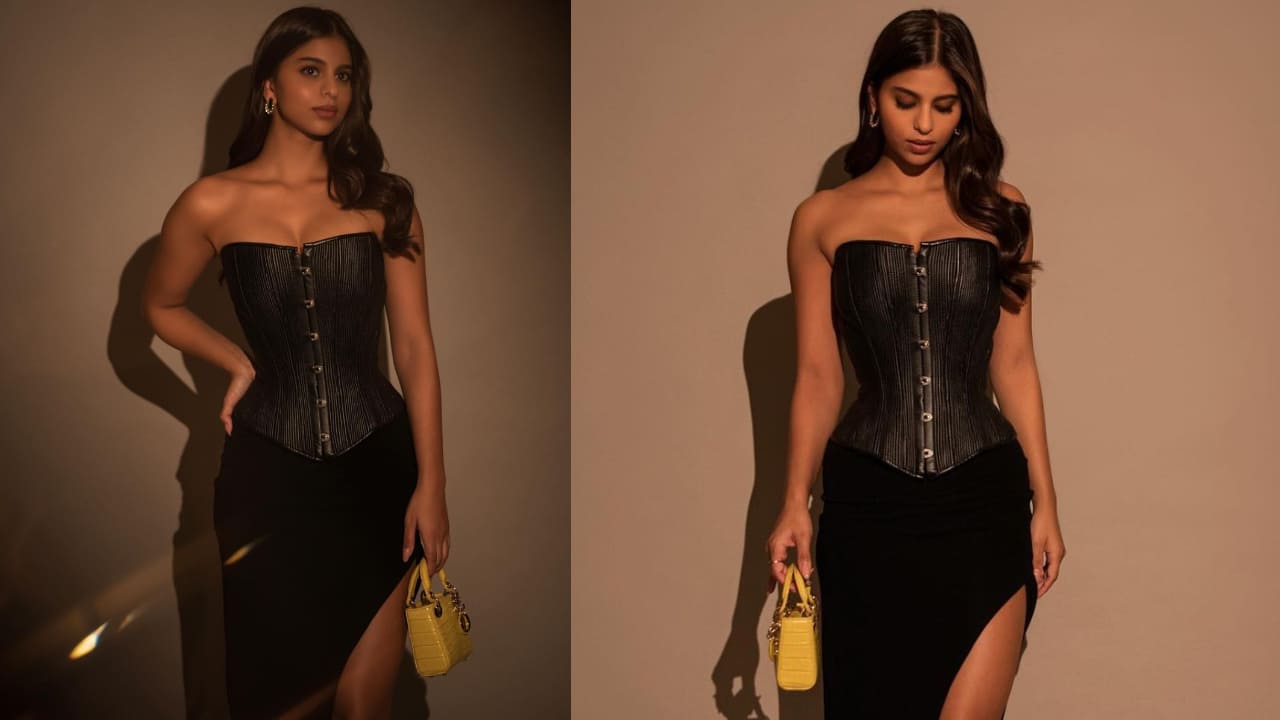 The gold button detailing on Suhana Khan's black corset top added a touch of opulence and sophistication to her attire, elevating the overall design to new heights. These intricate gold buttons not only served a functional purpose but also served as a striking embellishment, enhancing the visual appeal of her outfit. The combination of black and gold exuded a sense of luxury and refinement that truly made a statement.
Suhana Khan has a remarkable ability to capture attention and turn heads, and her choice of the black corset top was no exception. With her fashion choices, she consistently showcases her mastery of mixing elegance and refinement in a single, stunning appearance. The gold button detailing on the corset exemplified her attention to detail and her willingness to experiment with unique elements, making it evident that she has honed the art of making a lasting impression through her impeccable style.
The corset top is elegantly paired with a solid black skirt, which adds a touch of refinement to the entire ensemble. This combination of the corded corset top and a classic black skirt perfectly exemplifies Suhana's knack for blending contemporary elements with timeless pieces, creating a look that is both sophisticated and fashion-forward.
Suhana Khan's fashion choices continue to resonate with her audience, and she has a flair for effortlessly blending elegance and modernity. Her Rhycni ensemble not only makes a bold fashion statement but also underscores her status as a style icon to watch, with a unique ability to curate outfits that reflect her distinctive taste and fashion-forward sensibilities.
Suhana Khan has consistently adopted an understated approach to jewelry, often opting for discreet studs or exquisite drop earrings that complement her outfits beautifully. Taking a closer look at her accessories for this gorgeous ensemble, she continues to demonstrate her keen eye for detail and how the right jewelry can enhance her overall look.
For this particular outfit, Suhana adorned her ears with a pair of gold stone-studded tiny earrings from Isharya. These elegant earrings added a subtle touch of sparkle to her ensemble, perfectly balancing the opulence of her corset top and the simplicity of her black skirt. What's even more impressive is that these lovely earrings come at a modest price of only Rs. 4,800, illustrating that making a fashion statement doesn't always require breaking the bank.
Suhana Khan's choice of Isharya earrings not only showcases her ability to harmonize her jewelry with her outfit but also reflects her practicality in accessorizing. Her understated yet tasteful approach to jewelry allows her to exude an aura of elegance without overshadowing her ensemble. It's a testament to her fashion sensibility, proving that even in the world of high fashion, subtle and affordable accessories can be just as impactful as their more extravagant counterparts.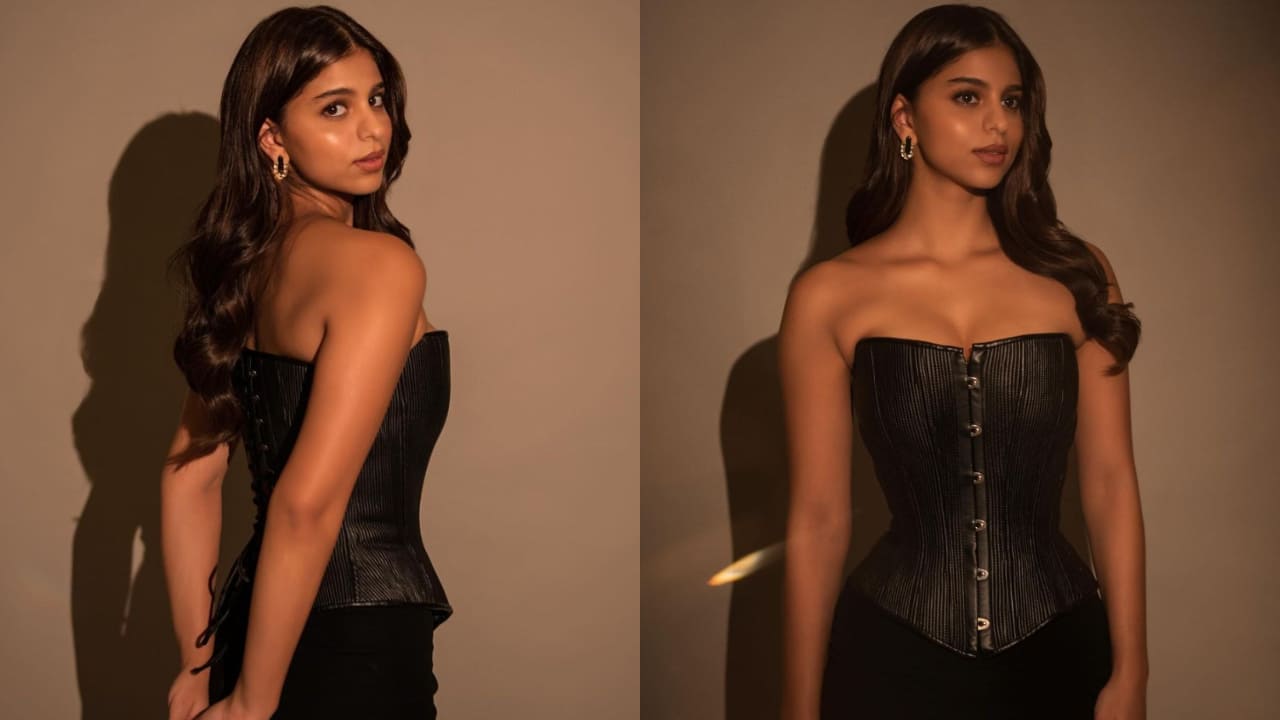 To round off her accessories, Suhana opted for black heels. This choice adds a classic and sophisticated touch to her ensemble, balancing the bold statement made by her designer purse. It's a well-thought-out choice that demonstrates her ability to mix and match elements to create a cohesive and fashion-forward look.
Suhana Khan's outfit and accessories showcase her ability to blend high fashion with a keen sense of style. Her choice of a luxury purse and classic black heels underscores her flair for elegance and her appreciation for luxury brands, all while maintaining a balanced and sophisticated appearance. This attention to detail in her fashion choices has made her a style icon worth watching.