Shah Rukh Khan and Gauri Khan's style statement: The iconic couple's fashion transformation
In the dazzling and glamorous world of Bollywood, where style and fashion are of paramount importance, the iconic couple Shah Rukh Khan and Gauri Khan stand out for their impeccable sartorial choices and their remarkable journey of fashion transformation. Shah Rukh Khan and Gauri Khan, often referred to as the power couple of Indian cinema, have consistently raised the bar when it comes to their sense of fashion, making a significant impact on the industry.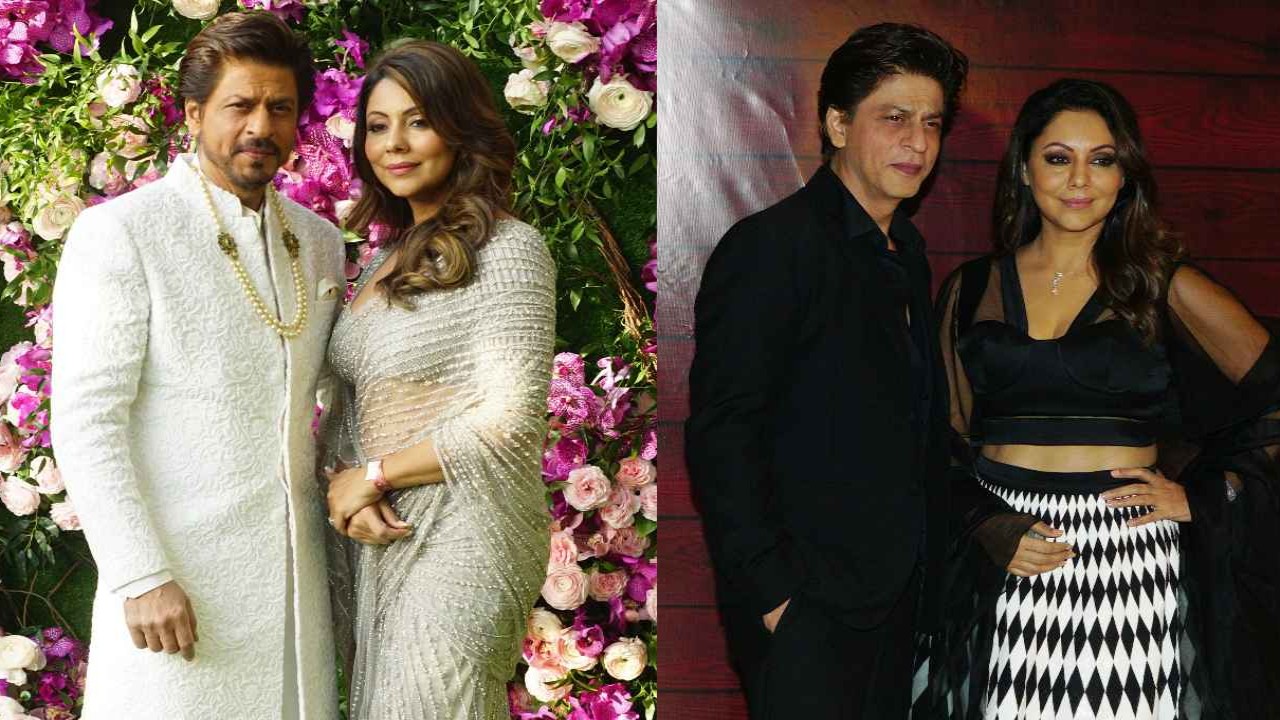 Shah Rukh Khan, often known as the "Badshah of Bollywood," has made a name for himself not only for his exceptional acting skills but also for his charismatic presence on and off the screen. Over the years, he has evolved from his early days in the industry, where he sported casual and rugged looks, to a more refined and sophisticated style. His red carpet appearances and brand endorsements often feature tailored suits, adding an element of panache to his image. Shah Rukh Khan's ability to effortlessly blend traditional Indian attire with modern, Western fashion has made him a style icon admired by many.
Gauri Khan, on the other hand, has undergone a remarkable transformation herself. From being a supportive partner in the early days of her husband's career, she has evolved into a dynamic personality known for her strong fashion sense and her ventures in interior design. Gauri's style has evolved from simple and understated to high fashion, and she is often seen in designer outfits at prestigious events. Her elegant and chic fashion choices have made her a trendsetter among Bollywood's leading ladies.
Together, Shah Rukh and Gauri Khan epitomize the perfect blend of modernity and tradition, and their collective fashion journey has been an inspiring one. They have not only influenced the industry but have also set a benchmark for style and grace in the world of Indian cinema. As they continue to make appearances and leave their mark on the red carpet and beyond, the fashion legacy of this iconic couple is sure to endure.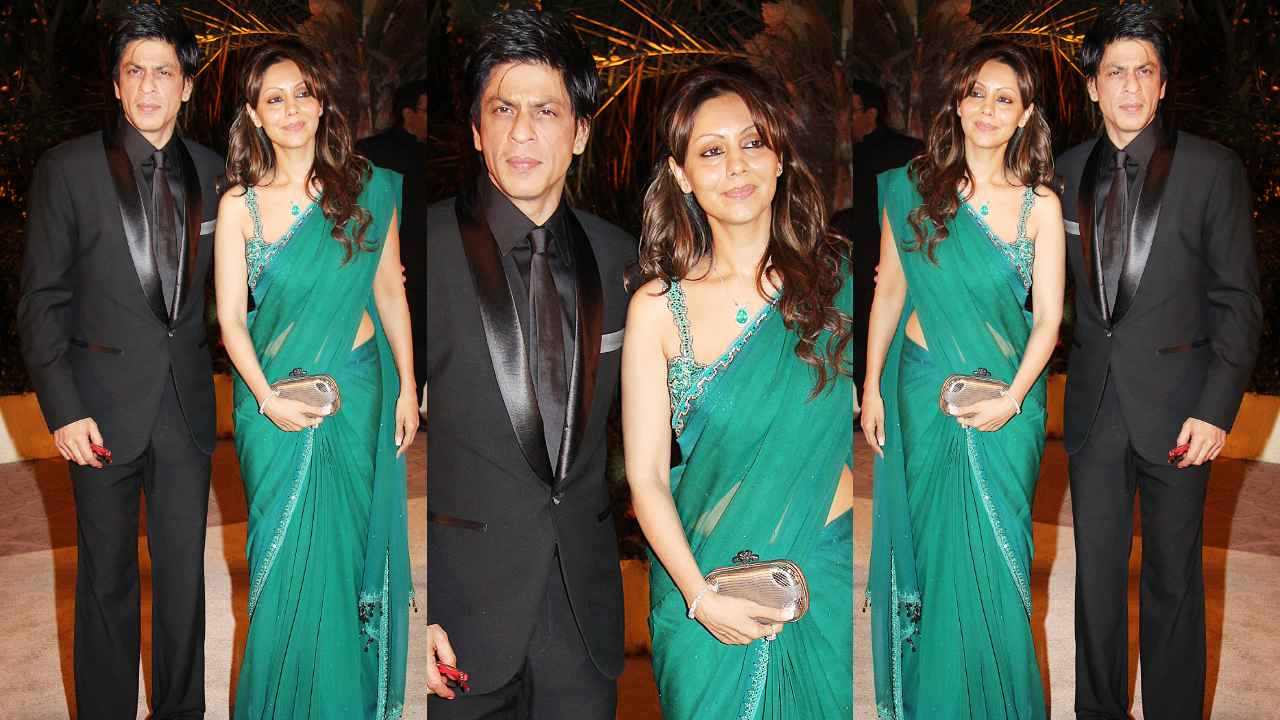 In 2011, the stylish power couple, Shah Rukh Khan and Gauri Khan, attended Imran Khan and Avantika Malik's wedding reception at Taj Lands End in Bandra. Their fashion choices on this occasion were nothing short of spectacular, further solidifying their status as trendsetters in the world of Bollywood.
Shah Rukh Khan looked dashing in a classic black ensemble. He wore a black blazer that exuded sophistication and was paired with straight-fit formal pants, creating a sleek and sharp look. Underneath the blazer, he donned a matching black shirt and completed the outfit with a stylish black tie and remarkable formal shoes. This choice not only showcased his impeccable fashion sense but also highlighted his ability to effortlessly combine traditional formal wear with a touch of contemporary style.
Gauri Khan, the ever-graceful diva, made a stunning appearance in a teal green sheer saree with embellished edges. The saree exuded elegance, and its intricate details added a touch of glamour to her look. She paired the saree with a sleeveless blouse that featured elaborate embroidery and a plunging neckline, showcasing her penchant for contemporary yet tasteful designs. Her choice of outfit perfectly encapsulated her fashion-forward sensibilities and her ability to blend tradition with a modern twist.
The couple's attendance at Imran Khan and Avantika Malik's wedding reception exemplifies how their fashion game has always been on point. Shah Rukh Khan's timeless black ensemble and Gauri Khan's stunning teal green saree both made bold statements in their own right, highlighting their unwavering commitment to style and fashion. Together, they have consistently set the bar high when it comes to sartorial choices, leaving a lasting impression on the fashion landscape of Bollywood.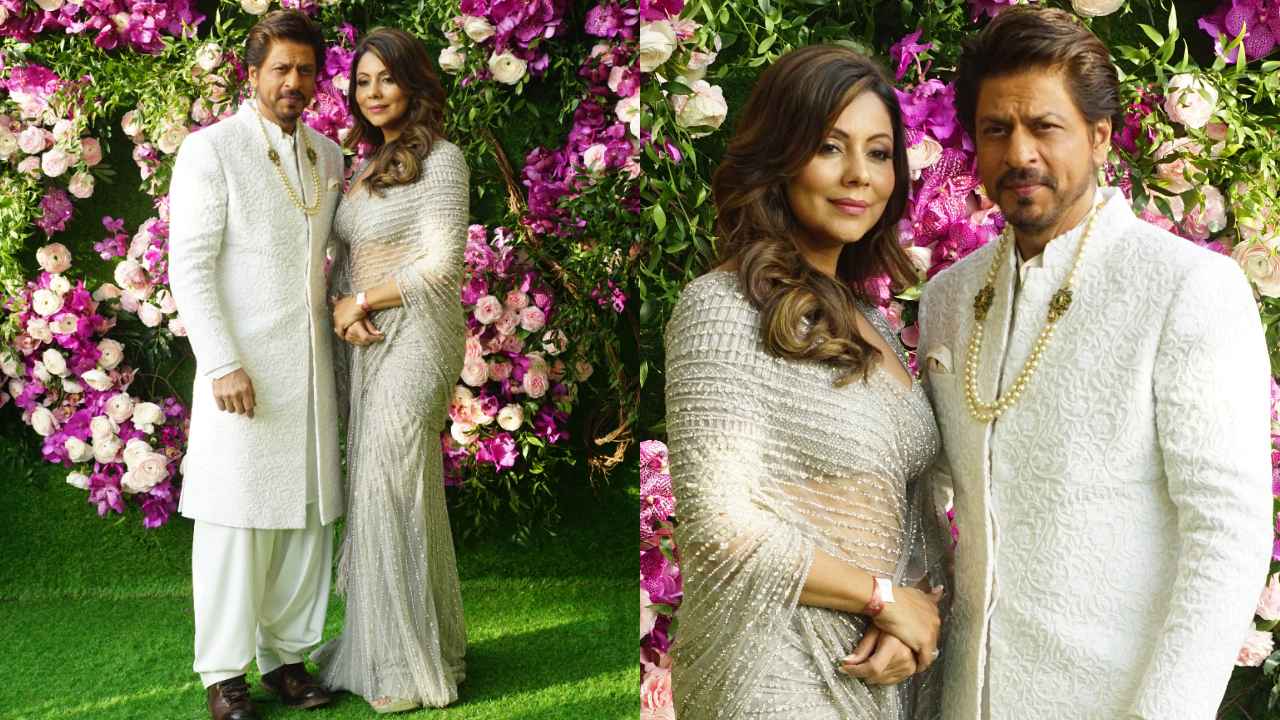 On the auspicious occasion of Akash Ambani and Shloka Mehta's wedding on March 9, 2019, in Mumbai, India, the incredibly stylish Shah Rukh Khan made quite an impression with his fashion choice. The talented actor was seen wearing a white knee-length kurta, which exuded a sense of elegance and sophistication. He paired the kurta with a matching embroidered jacket that featured a crisp collar, adding a touch of refinement to the ensemble. Complementing the look were white wide-legged Pathani pants, contributing to a harmonious and well-coordinated outfit. Shah Rukh Khan's attention to detail was evident, as he completed the look with a gold chain and brown formal shoes, making a bold yet tasteful fashion statement.
Gauri Khan, the classy boss lady, showcased her own impeccable fashion sense by wearing a matching embellished sheer silver saree. The saree was adorned with intricate embellishments that added a touch of glamour to her appearance, perfectly befitting the grandeur of the wedding event. Her choice of attire displayed her flair for timeless and sophisticated designs, proving once again why she is considered a fashion icon in the industry.
Shah Rukh Khan and Gauri Khan's fashion choices for Akash Ambani and Shloka Mehta's wedding exemplified their ability to elegantly blend tradition with modern aesthetics. Their coordinated and stylish outfits were a testament to their commitment to making a fashion statement, not just as individuals but also as a power couple in the world of Bollywood. This memorable appearance only added to their reputation as trendsetters and fashion influencers in the industry.
After attending the grand celebration of Akash Ambani's wedding, the incredibly talented Shah Rukh Khan and his wife Gauri continued to make fashion statements at subsequent events. The iconic couple certainly went all out with their style choices, showing once again why they are considered fashion trailblazers.
Shah Rukh Khan, the talented actor, made a striking fashion statement at the post-wedding party. He chose to wear a dark blue sherwani jacket that exuded elegance and sophistication. The jacket was not just any sherwani; it was sparkly and embellished, adding a touch of opulence to his look. It featured a crisp collar and buttons, further enhancing the overall aesthetic. This stunning sherwani jacket was layered over a matching kurta and fitted pants, creating a well-coordinated and stylish ensemble. Shah Rukh Khan's choice demonstrated his willingness to experiment with bold and dazzling outfits while maintaining a sense of refined elegance.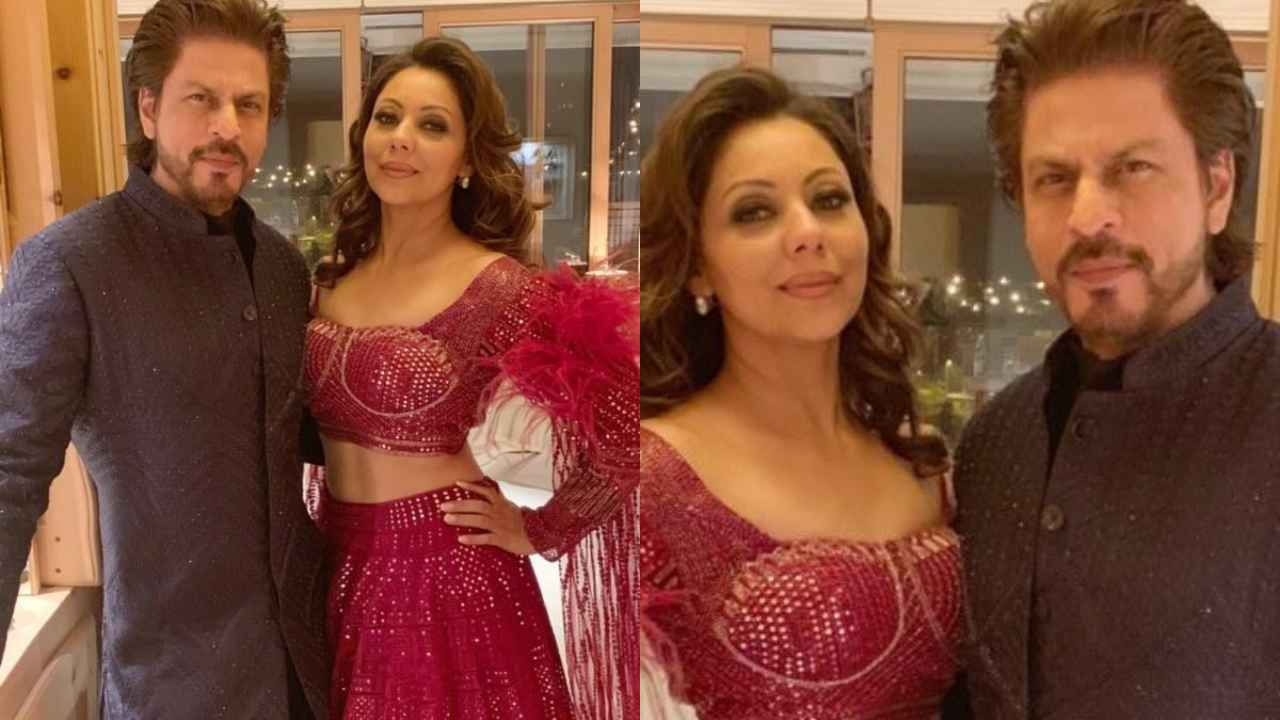 Gauri Khan, always the epitome of style, continued to make a fashion statement at this event as well. Her fashion sense was on full display as she complemented her husband's look. The talented couple's coordinated outfits showcased their impeccable taste and their ability to perfectly match their fashion choices, all while making a grand entrance and turning heads at the celebration.
Shah Rukh Khan and Gauri Khan's ability to consistently impress with their fashion choices at various events is a testament to their style prowess. They have a knack for choosing outfits that are not only bold and eye-catching but also harmonious and refined. Their enduring influence in the world of Bollywood fashion is a testament to their unique style and fashion-forward sensibilities.
In January 2020, the legendary King Khan, Shah Rukh Khan, and his spectacularly beautiful wife, Gauri Khan, attended a significant event – Javed Akhtar's 75th birthday celebration. This gathering was not only a celebration of the iconic artist but also an occasion for the power couple to make a fashion statement in their own right.
Gauri Khan, who is equally celebrated for her fashion sense, surely made a remarkable appearance at the celebration as well. Together, the power couple demonstrated their penchant for tasteful and harmonious fashion choices, fitting for an event that celebrated the life and work of an iconic artist like Javed Akhtar. Their ability to make a fashion statement while remaining true to their elegant and classic style is yet another example of their enduring influence in the world of Bollywood fashion.