Best dressed men at Ambani's red carpet event: Ranveer Singh to Arjun Kapoor
Indeed, men's fashion has reached new heights, and it's evident in the stylish choices of celebrities like Ranveer Singh and Arjun Kapoor. These two actors have consistently wowed us with their unique and remarkable fashion sense, setting new standards for men's fashion in the industry.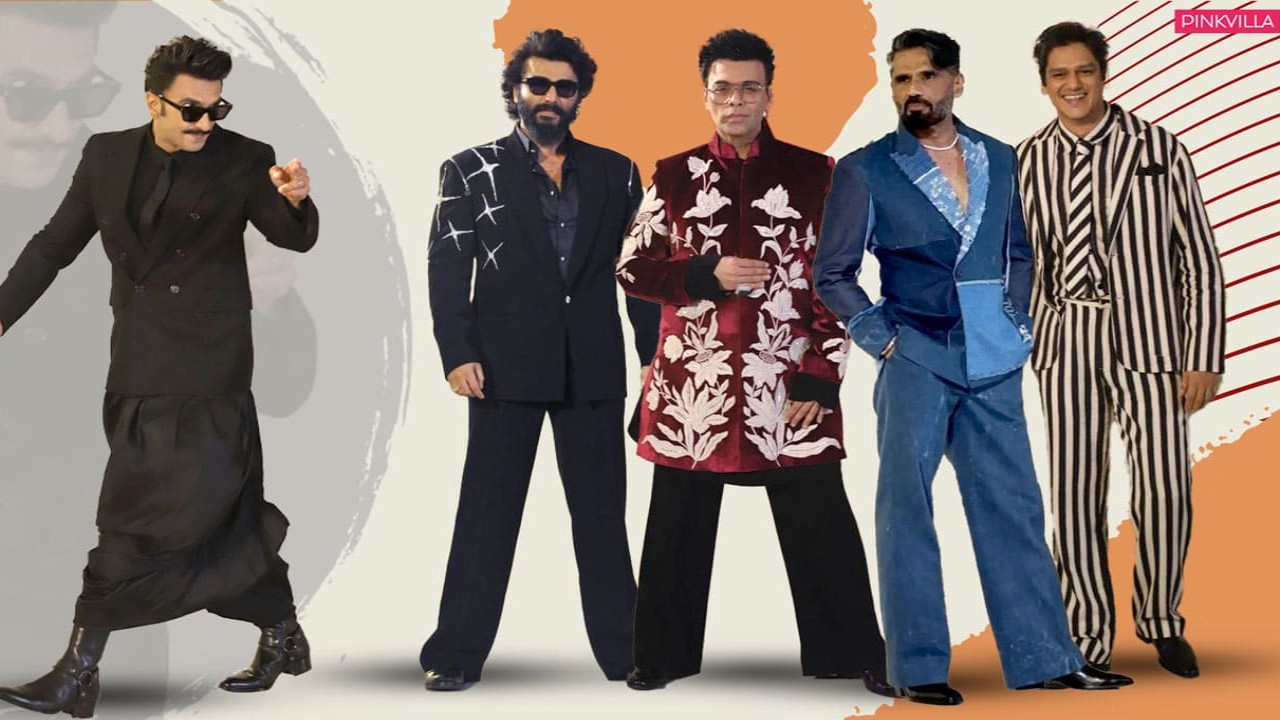 Ranveer Singh is known for his bold and unconventional fashion choices. He's never afraid to push boundaries and experiment with his style. Whether it's flamboyant prints, vibrant colors, or avant-garde ensembles, Ranveer has a way of making even the most unusual fashion pieces look effortlessly suave. His daring fashion sense has made him a trendsetter and a fashion icon for many, and he always manages to turn heads at celebrity-studded events.
On the other hand, Arjun Kapoor is the epitome of understated coolness. He knows how to don a classic suit like no other. With his impeccable tailoring and attention to detail, Arjun effortlessly exudes sophistication and charm in a well-fitted suit. He has the ability to take a timeless and traditional outfit and make it appear modern and trendy, showcasing his sartorial expertise.
These two male celebrities exemplify what it means to be the best-dressed at celebrity-studded events. Whether it's Ranveer Singh's fearless and eclectic style or Arjun Kapoor's mastery of classic suiting, they have set the bar high for men's fashion and continue to inspire fashion enthusiasts around the world.
Ranveer Singh, often hailed as Bollywood's king of experimental men's fashion, has once again left us in awe with his latest striking appearance. Known for his daring and unconventional style choices, Ranveer never fails to make a bold fashion statement. This time, he opted for an all-black ensemble that exuded both flair and class, showcasing his versatility as a style icon.
The centerpiece of Ranveer's outfit was a shawl lapel collar jacket in a sleek black tint. This choice was a brilliant combination of traditional sophistication and contemporary style. The shawl lapel added a touch of elegance to the ensemble, while the black hue made a strong and stylish statement. It was a perfect example of how Ranveer knows how to blend classic elements with his signature flair, creating a look that's both timeless and fashionable.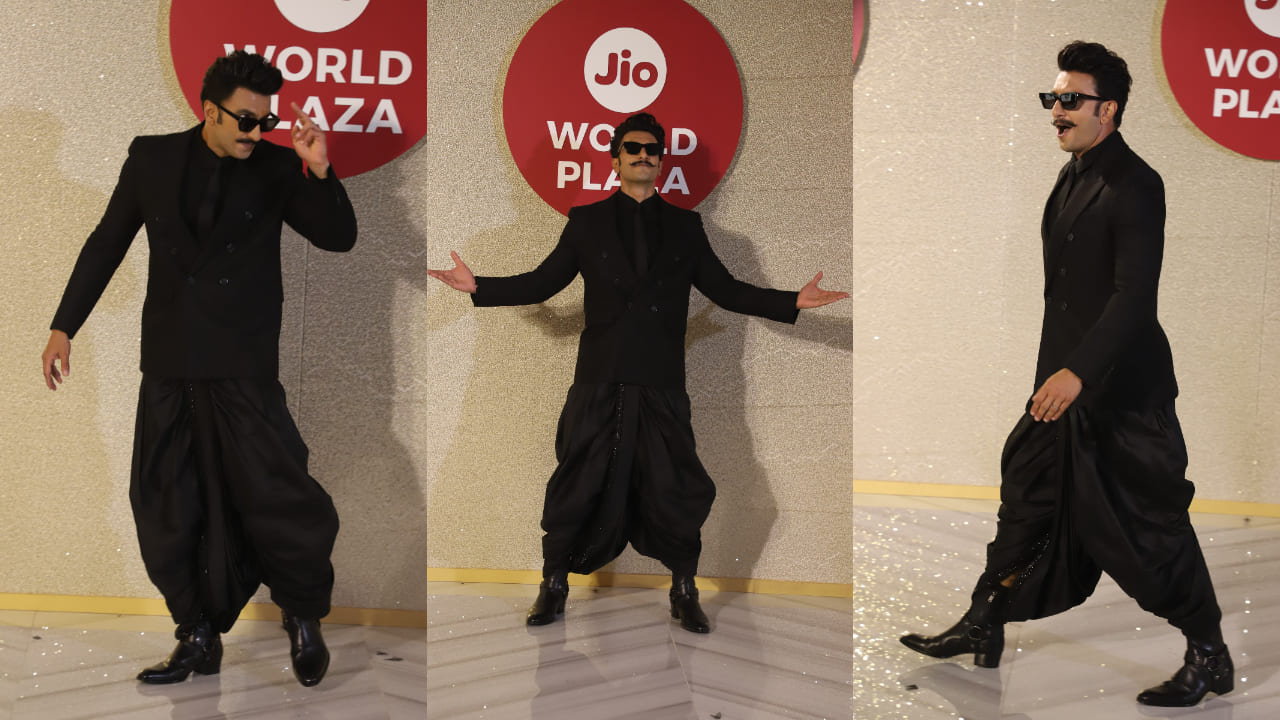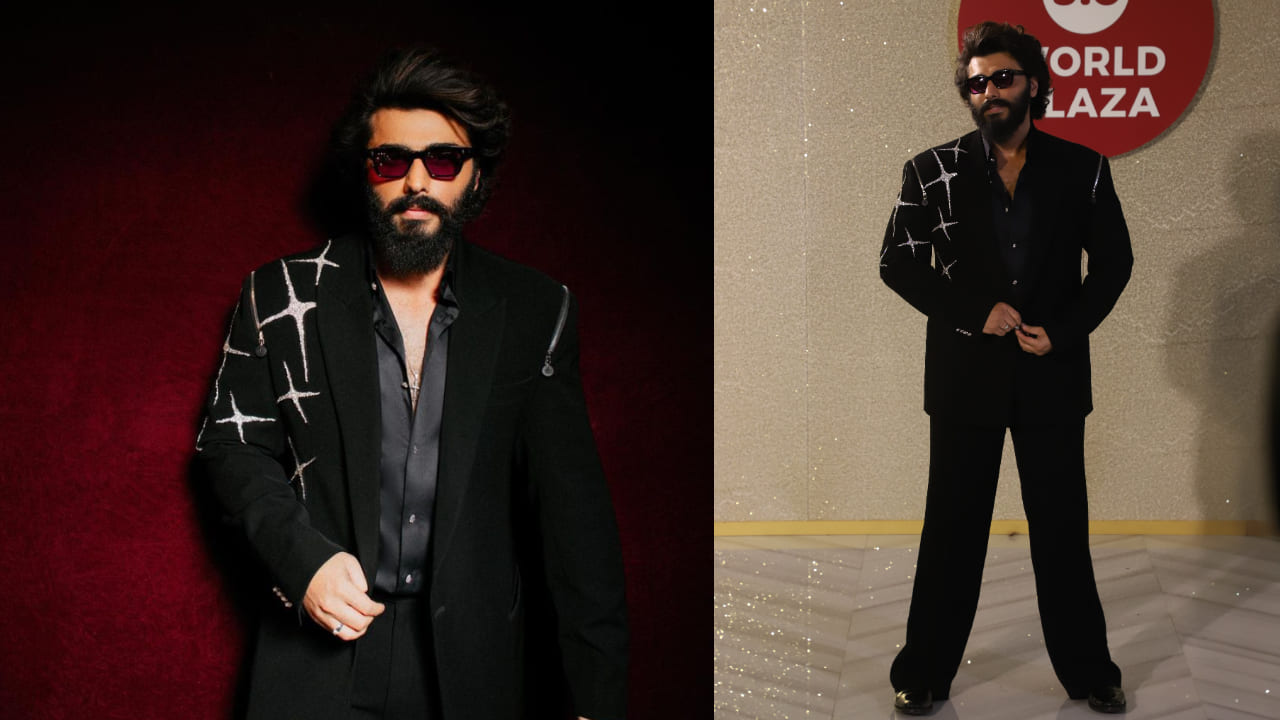 Ranveer Singh's all-black outfit with the shawl lapel collar jacket was another testament to his prowess in the realm of men's fashion. His ability to make bold and innovative choices while maintaining an aura of class and elegance is truly remarkable. Once again, he has proven that he is a trendsetter and a fashion maverick in Bollywood, leaving us all inspired by his sartorial choices.
Ranveer Singh's fashion choices are never complete without a touch of glamour, and this ensemble was no exception. To complement the sleek black shawl lapel collar jacket, he paired it with stunning draped dhoti salwar trousers that were embellished with glittering accents. This addition not only added a sense of opulence to the look but also showcased Ranveer's ability to blend traditional Indian attire with contemporary fashion seamlessly. The glamorous embellishments on the dhoti salwar trousers added a dazzling touch that perfectly complemented his style.
The attention to detail in his appearance didn't stop with the outfit. Ranveer's hair was impeccably styled in a gelled swept-back hairdo, adding an extra dose of sophistication to the overall image. The sleek and well-groomed hairstyle harmonized perfectly with the sharp and stylish ensemble, elevating the entire look to another level of elegance.
Arjun Kapoor has once again made a stylish statement that's caught the attention of fashion enthusiasts. This time, he opted for a sleek black jacket that exuded sheer elegance. The peak lapel collar on the blazer added a sense of refinement to the entire outfit, showcasing his knack for classic and timeless fashion. The peak lapel is a timeless feature that exudes sophistication, and Arjun carried it with effortless charm.
What truly set his outfit apart was the silver glittery embroidered patterns adorning the right shoulder of the jacket. These intricate embellishments drew everyone's attention and added a touch of flair to the otherwise classic black blazer. Arjun's choice to add a hint of sparkle demonstrated his ability to blend traditional elements with a contemporary twist.
To complete the look, Arjun paired the jacket with long-fitting black slacks, creating a sleek and sophisticated ensemble. The combination of the black blazer and slacks presented a harmonious and elegant appearance that showcased his eye for refined fashion.
Adding an extra touch of coolness to his overall outfit, Arjun Kapoor donned black sunglasses. The shades not only enhanced his appearance but also lent a dash of modernity and style to the ensemble. They were the perfect finishing touch to his look.
From head to toe, Arjun Kapoor exuded elegance with his well-thought-out outfit. His modest disheveled hairdo added to his charm, proving that he knows how to blend sophistication with a hint of nonchalance. Once again, Arjun Kapoor has shown that he's a master of classic, timeless fashion with a contemporary edge, leaving us inspired by his elegant and stylish appearance.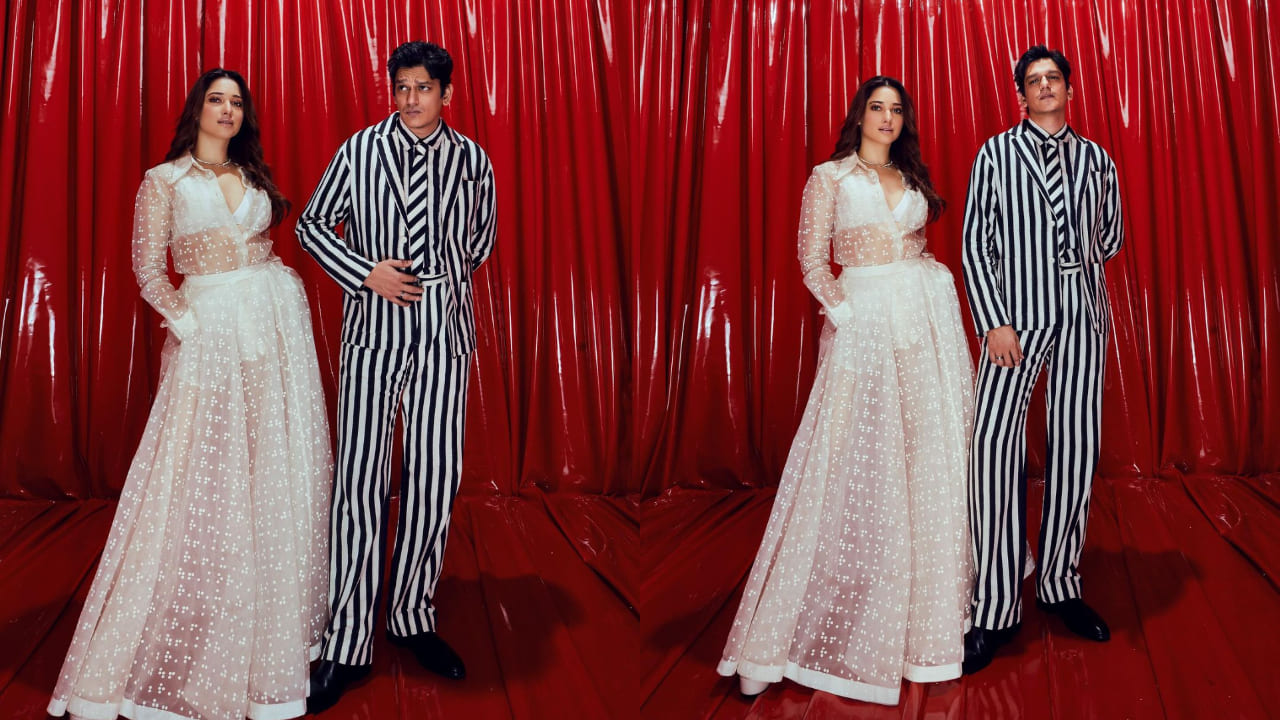 Vijay Varma, known for his developed fashion sense and unique style, continues to be a trendsetter with his breathtaking appearances. In a recent appearance, he wore a broad vertical striped jacket that left a lasting impression. The notched lapel collar on the jacket added a touch of classic elegance to the overall look. The vivid and broad vertical stripes were a standout feature, bringing a sense of flare and class to his outfit. Vijay's choice of this striking jacket demonstrated his ability to make bold and daring fashion choices that work seamlessly.
To complete his look, the Gully Boy actor paired the jacket with matching straight trousers, resulting in a sleek and coordinated ensemble. The matching trousers added a sense of cohesion and modernity to his outfit, showcasing his keen eye for fashion coordination.
Vijay's attention to detail was also on full display. Even his necktie was flawlessly suited to the ensemble, adding a touch of finesse and showcasing his commitment to a polished appearance. His choice to keep his hairstyle basic and simple but elegant was the perfect complement to his overall look, highlighting his style sophistication.
In conclusion, Vijay Varma's unique fashion choices and attention to detail have solidified his status as a fashion-forward actor in the industry. His broad vertical striped jacket, coordinated trousers, and perfectly matched necktie were a testament to his fashion sensibilities. Vijay's commitment to making bold and distinctive fashion statements while maintaining a polished appearance is truly impressive and keeps us eagerly awaiting his next unforgettable look.