Fashion Faceoff: Janhvi Kapoor's Glamorous Grace vs. Tabu's Timeless Elegance in Anita Dongre Printed Saree Styles
Janhvi Kapoor's fashion sense is a captivating blend of youthfulness, elegance, and a penchant for experimentation. As a rising star in Bollywood, she has garnered attention not only for her acting prowess but also for her unique and evolving style. With an innate ability to effortlessly carry diverse looks, Janhvi has become a fashion icon for the modern generation.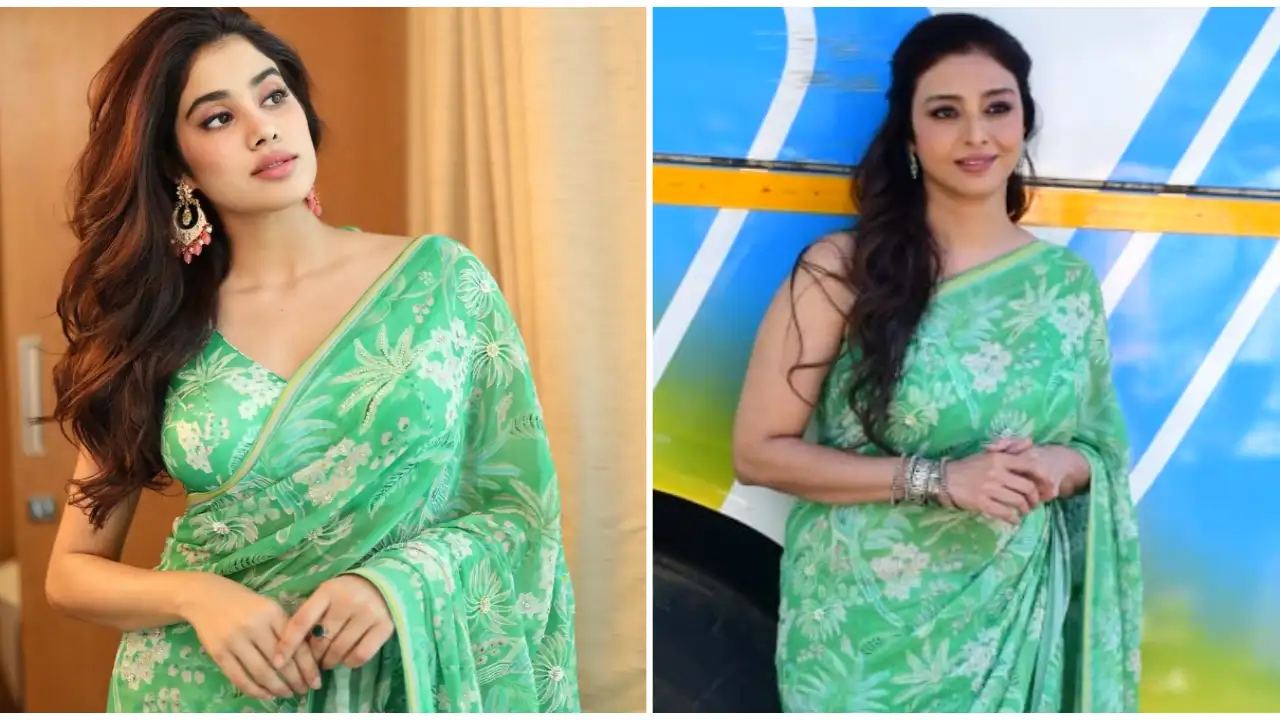 Her choices often reflect her vibrant personality, and she's known for embracing both traditional and contemporary ensembles with equal grace. Whether it's a classic ethnic outfit or a modern and edgy ensemble, Janhvi's fashion journey showcases her versatility and willingness to push boundaries. Her fearless approach to fashion experimentation is evident in her red carpet appearances, where she often surprises with unexpected combinations and statement pieces.
Janhvi Kapoor's affinity for playing with colors, textures, and silhouettes demonstrates her keen understanding of fashion trends while maintaining her unique flair. Her ability to carry even the most intricate and elaborate outfits with ease further highlights her comfort in the world of high fashion.
Janhvi Kapoor effortlessly embodies the essence of the print season with her exquisite choice—the captivating 'Magic Magpies' saree. This edition serves as an ethnic guide for both 2022 and 2023, offering a compilation of saree stories styled uniquely yet elegantly, presenting an ensemble that remains contemporarily striking and exceptional. Within this tapestry of fashion narratives, we revisit the vibrant and exceptionally green attire that Janhvi adorned last year, a memorable introduction that warrants a second look.
This attire, aptly described as vivid-looking and lightweight, epitomizes the essence of a forever wedding-guest closet. Crafted from vegan fabric, its vivacious hues evoke images of blossoming flower paradises. As the Mili actress donned this ensemble, she radiated a resplendent glow, with sequin embroidery adding an exquisite touch of sparkle and glamour.
Tanya Ghavri, the fashion architect behind this ensemble, orchestrated the overall look with her signature finesse. Janhvi's ensemble included a coordinated sleeveless blouse, adorned with a charming tie-up tassel detail at the back—a subtle yet impactful touch that infuses personality into the ensemble. Complementing the vibrant greens, chaandbali ruby earrings added a regal allure, enhancing the overall aesthetic.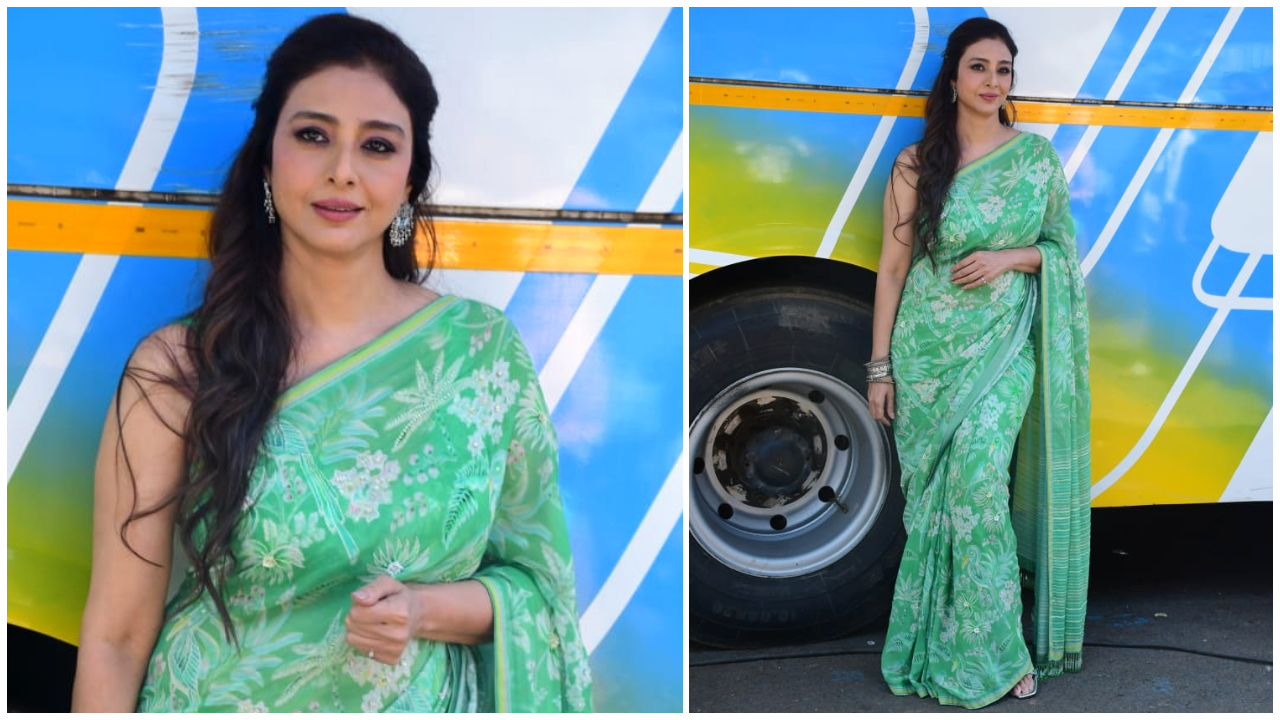 In essence, Janhvi Kapoor's choice of the 'Magic Magpies' saree is a timeless reflection of her fashion sensibilities. With its seamless blend of vibrant aesthetics and exquisite sequin embellishments, the ensemble encapsulates the essence of grace and glamour. Tanya Ghavri's thoughtful styling and attention to detail further accentuate the ensemble's allure. Janhvi's appearance in this ensemble serves as a testament to her ability to effortlessly transform tradition into contemporary elegance, leaving an indelible mark on the landscape of fashion inspiration.
Tabu, an iconic figure in both Indian cinema and the fashion world, possesses a distinct and refined fashion sense that seamlessly blends traditional elegance with modern flair. Renowned for her versatile acting and understated charm, Tabu's style mirrors her personality—subtle, sophisticated, and unapologetically authentic.
Her fashion choices exude a timeless grace, often characterized by an affinity for classic silhouettes and a subdued color palette. Tabu has the unique ability to make even the simplest outfit appear effortlessly chic, whether it's a traditional saree or a contemporary ensemble. Her fashion journey demonstrates an appreciation for well-crafted pieces that emphasize quality over quantity, reflecting her discerning taste and individuality.
Tabu's red carpet appearances are a testament to her ability to command attention with understated glamour. She often opts for ensembles that highlight her refined elegance rather than overwhelming embellishments. Her knack for choosing outfits that celebrate her natural beauty and showcase her confident aura is a hallmark of her fashion sensibility.
What truly sets Tabu apart is her fearlessness in experimenting with diverse styles, be it traditional Indian wear or global fashion trends. Her fashion journey exemplifies a balance between her roots and a modern, cosmopolitan outlook, making her a role model for those seeking to blend cultural heritage with contemporary elegance.
During the movie promotions of "Bholaa," Tabu exuded grace and elegance as she adorned the same exquisite Rs. 70,000 saree once again. There's an inherent charm in a saree that allows one to effortlessly radiate exquisite beauty and a sense of completeness. Tabu's ensemble showcased the timeless allure of this traditional garment, proving that a saree holds the power to elevate any appearance.
The photographs captured Tabu's attention to detail, revealing the subtle stripes and bold statements that adorned the saree. She tastefully accessorized with oxidized jewelry, including a stack of bangles and intricate drop earrings, perfectly complementing the ensemble's classic appeal.
With a sleeveless blouse and silver footwear, Tabu's styling choices mirrored her sophistication and poise. The simplicity of her sleeveless blouse allowed the saree's intricate details to shine, while the choice of silver footwear added a touch of modernity and elegance to her overall look.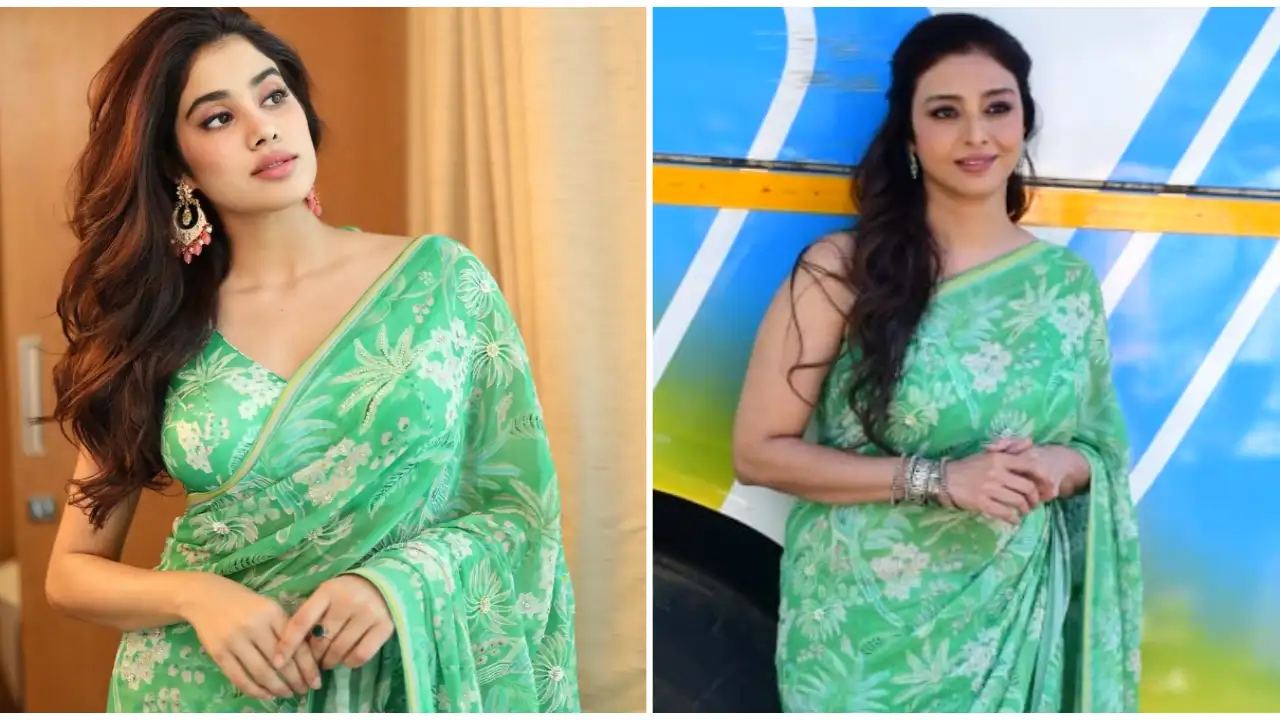 In essence, Tabu's choice to wear the same saree for the "Bholaa" promotions spoke volumes about her affinity for timeless fashion that transcends trends. Her choice of oxidized jewelry and carefully coordinated accessories showcased her meticulous approach to styling. By embracing the versatility and grace of a saree, Tabu once again reminded us that true elegance lies in the simplest yet most impactful choices, reaffirming her status as a seasoned fashion icon with an unwavering sense of sophistication.