Power-Infused Fashion Faceoff: Anushka Sharma vs. Katrina Kaif – Unveiling the Allure of the Sabyasachi Sequin Saree!
Amid the glitz and glamour of Bollywood, the air is often filled with the joy of celebrations, and recently, a group of familiar faces found their happiness in what they lovingly call their forever homes. The stream of festivities seemed never-ending, accompanied by a delightful parade of outfits that left an indelible mark. In this realm of perpetual celebrations, the concept of "too many" was nonexistent; each occasion was a canvas for creative expression through fashion.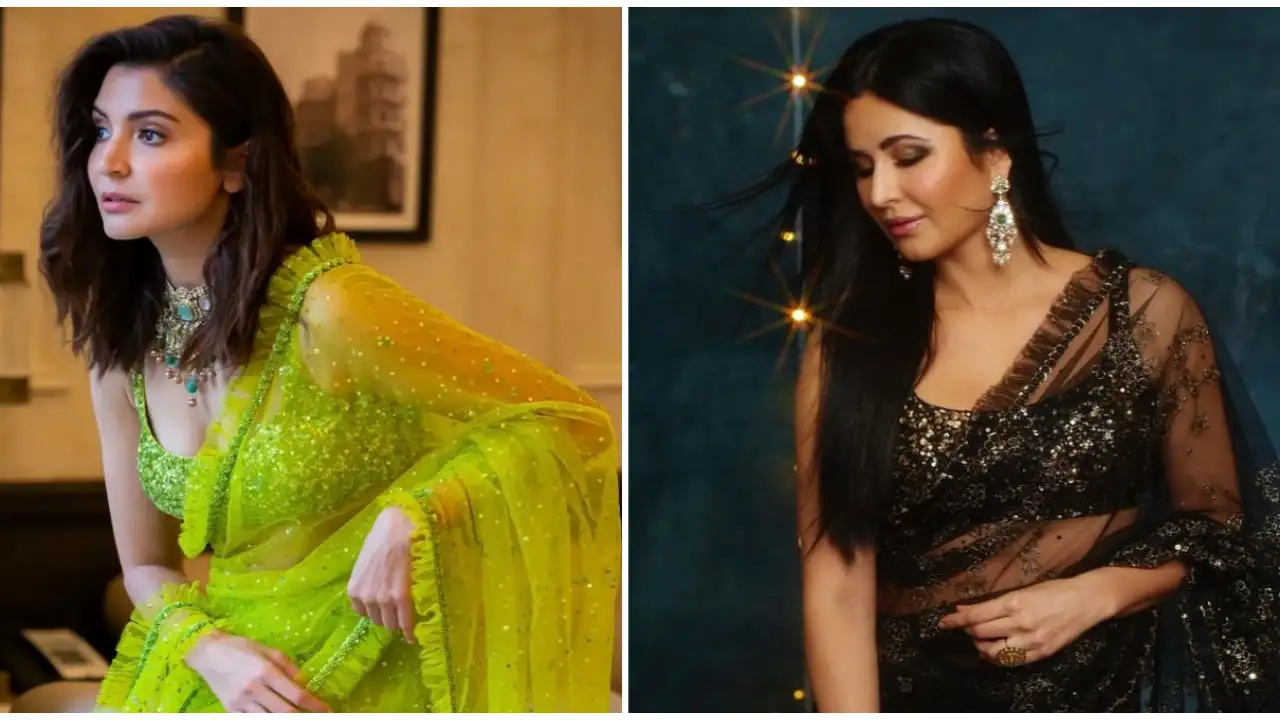 As we delve deeper into the intricate details, one trend emerged as the epitome of timeless elegance: sheer sarees. These ethereal garments possess an inherent grace that transcends trends, a quality that ensures they always make the right fashion move. Iconic actresses like Katrina Kaif and Anushka Sharma effortlessly embraced sheer glamour, leaving us yearning for a touch of that sophistication in our own wardrobes. Their choices stand as resounding references, reassuring us that the allure of sheer elegance is a choice that never falters.
The graceful drape of a sheer saree speaks volumes about the delicate balance between tradition and modernity that defines Bollywood fashion. The enchanting play of translucency and intricate detailing adds an ethereal quality, making it a perfect canvas for special occasions and celebrations.
The style statements set by actresses like Katrina Kaif and Anushka Sharma reverberate with a certain timelessness, echoing their understanding of how to harness the power of sheer fabrics. These references provide us with a roadmap to channeling sheer glamour, ensuring that we won't stray from the path of sophisticated fashion choices. In essence, as these Bollywood stars continue to inspire, the allure of sheer sarees serves as a constant reminder that fashion's magic lies in its ability to capture both the ephemeral and the everlasting, creating moments of sheer elegance that stand the test of time.
Anushka Sharma radiated vibrancy in a mesmerizing see-through saree sourced from the renowned couturier's Heritage Bridal 2022 collection. The neon green netted ensemble exuded a captivating allure, adorned with opulent gold and green sequin embellishments that brought an air of luxury to the attire. The saree's ruffled border added a touch of glamorous movement, enhancing the overall visual impact with its dynamic flair.
Curated by the skilled hands of fashion stylist Allia Al Rufai, Anushka's ensemble was perfectly orchestrated to accentuate her elegance. The accompanying sleeveless blouse was a canvas of sequins, contributing to the dazzling charm of her look and harmonizing seamlessly with the intricate detailing of the saree.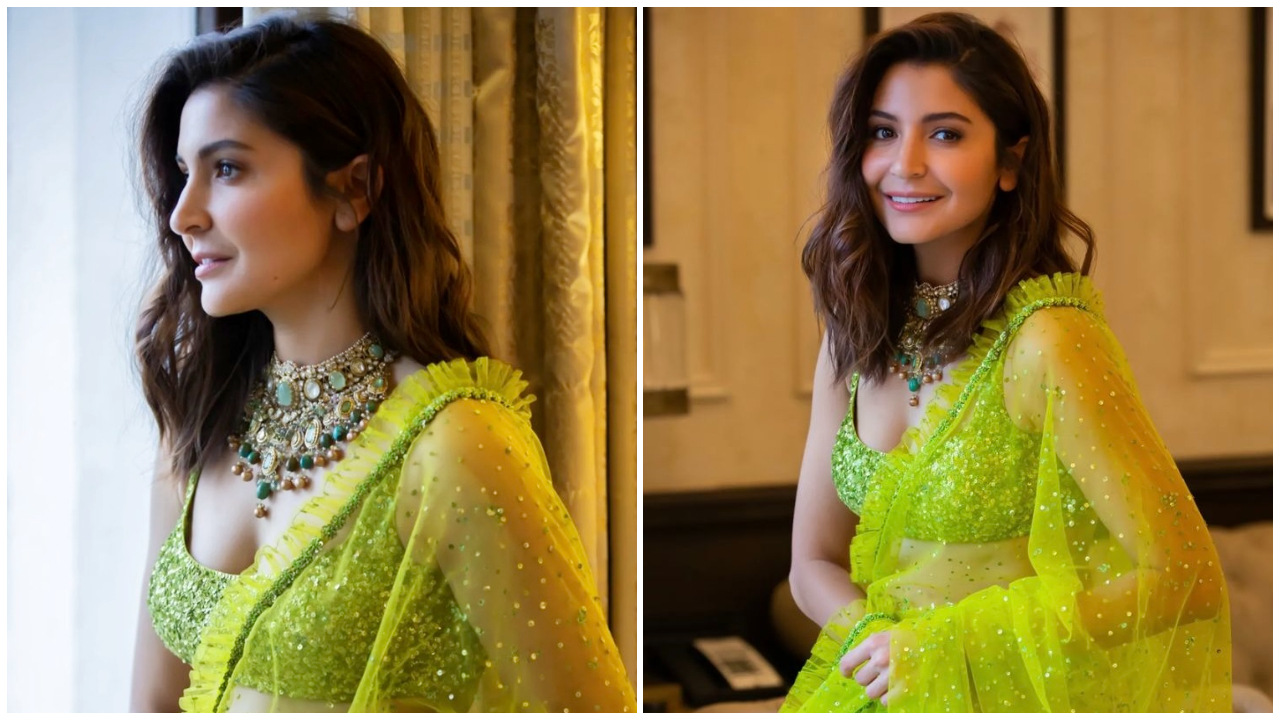 Anushka's accessorizing choices were nothing short of exquisite. A statement necklace, laden with pearls and emeralds, adorned her all-green ensemble with a regal touch. This intricate piece not only highlighted her neckline but also complemented the radiant hues of her saree.
Her beauty look echoed the ethereal charm of her ensemble. A side-parted hairdo added a classic elegance, allowing the saree's design to shine. A touch of pink lipstick added a pop of color, completing her ethnic look with a contemporary twist.
In essence, Anushka Sharma's appearance in the neon green netted saree was a masterclass in combining tradition with modernity. The luxurious sequin work and ruffled border provided a dynamic play of textures, while her carefully chosen accessories and beauty accents further elevated her charm. This look serves as a testament to Anushka's ability to effortlessly blend classic elegance with contemporary glamour, reminding us that her fashion choices continue to inspire and captivate.
When the occasion calls for black, there's an undeniable allure that captivates over and over again. In a timeless display of sophistication, Katrina Kaif gracefully adorned a black sheer saree, reminiscent of Anushka Sharma's choice. While they shared similarities, Katrina's ensemble stood out with its own distinct features.
Katrina's black sheer saree was adorned with delicate floral embroidered patterns, adding an exquisite touch to the classic black canvas. The embroidery breathed life into the saree, creating an intricate play of textures that enhanced the overall aesthetic.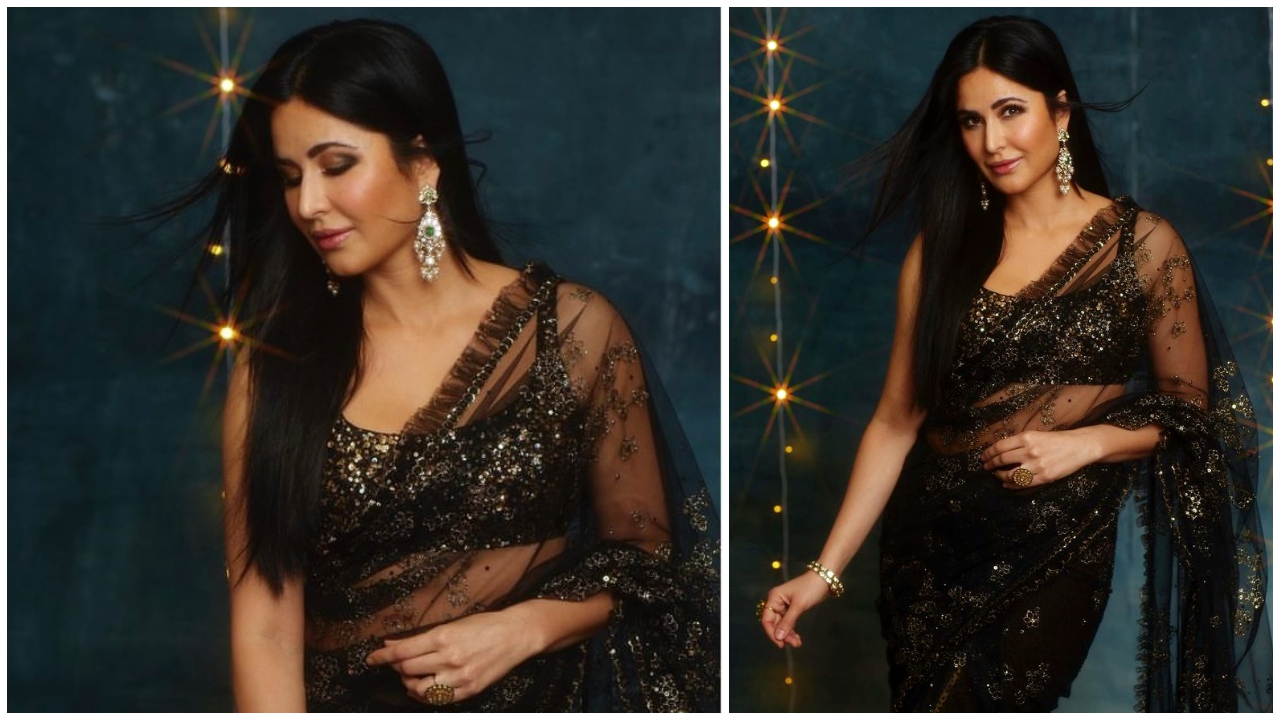 Her accessorizing choices added an air of maximalism and regal charm. Statement drop earrings, a ring, and bangles contributed to the ensemble's opulence, transforming her appearance into a resplendent display of luxury. Despite the absence of a necklace, her overall look exuded striking completeness, showcasing her mastery in selecting and balancing accessories.
Katrina's signature sleek hairdo was the epitome of elegance, allowing the saree to take center stage. Her beauty look was meticulously curated, with contoured skin, a blush that added a soft flush, and a black smokey eye makeup that exuded sultry allure. A glossy pink lipstick completed her look with a touch of femininity.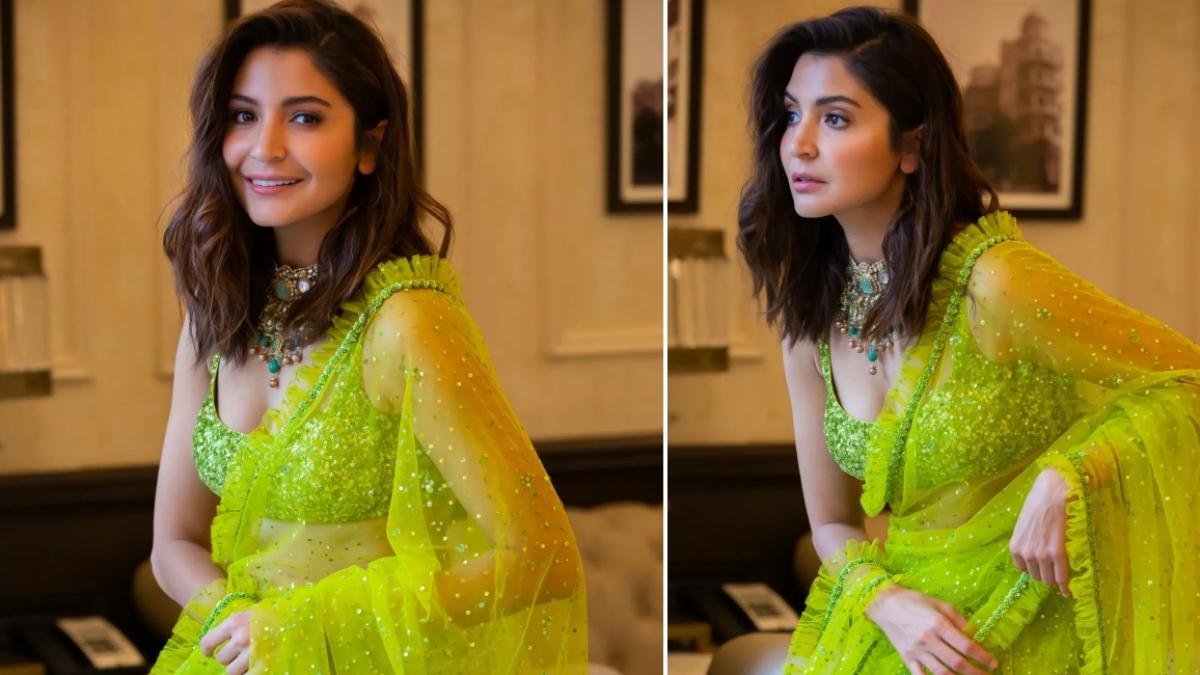 In essence, Katrina Kaif's choice of a black sheer saree echoed the timeless elegance of this classic color, while her ensemble's unique floral embroidery and her expertly chosen accessories showcased her distinctive style. Her meticulous beauty choices further accentuated the ensemble's opulent charm. With each element harmoniously coming together, she once again reminded us of her innate ability to effortlessly fuse tradition and modernity, creating an appearance that exudes sophistication, allure, and undeniable royalty.