Fashion
Top 10 Desi Drugstore Nude Lipstick Guide Under ₹500
Whereas it is widely believed that a bold lip steals the show, a perfect Nude shade of lip colour can very well achieve the same effect!
Wondering which nude lipstick shades to go for on a tight budget? Here's a list of 10 Indian brands which can offer you effortlessly classy shades for everyday use! (We've also got shade recommendations for you!) :

Elle18 :
A Hindustan Unilever brand, Elle18 is a cosmetics brand with the tagline "Young and Vibrant". As the phrase itself suggests, the company targets the youth market by offering an exciting and funky range of colour cosmetics at a very low price point!
Offering approximately 4.3gm of product, the 'Color Pops Matte' range includes about 25 shades of lipstick. It features a semi-matte finish formula which is slightly transferable.
Recommended Shade: Elle18 Color Pops Matte Lipstick – N51 Nude Fix
– Approximately ₹75
– Warm nude shade with pink and mauve undertones
– Great for fair to medium skin-tones

Insight :
This particular brand of makeup has very recently captured the attention of the Indian market because of its extremely pocket-friendly products along with claims of being cruelty-free and 100% vegetarian.
Offering approximately 4.2gm of product, the Matte lipstick range by Insight Cosmetics has several shades with a high colour payoff. It features a dense and moisturising formula and contrary to what its name suggests, its finish is more towards a semi-matte side.
Recommended Shade: Insight Cosmetics Matte Lipstick – A2 NUDE COFFEE
-Approximately ₹80
-Warm nude with coral and orange undertone
-Great for fair skin-tone
Blue Heaven :
This is an India based manufacturer of cosmetic products with an extensive range to offer. They claim their products to be PETA (People for the Ethical Treatment of Animals) certified for being cruelty-free and vegan. With easy availability and a price range that doesn't burn a hole in the pocket, Blue Heaven is quite a decent Indian drugstore brand for lip colours.
Offering approximately 4gm of product, their 'Walkfree Matte' range is matte in its finish with slight transferability.
Recommended Shade: Blue Heaven Walkfree Matte Lipstick – Dusky Nude 321
-Approximately ₹85
-Warm Cinnamon brown shade with peachy undertone
-Great for medium to dark skin-tones

Half N Half :
This brand is one of the lesser-known cosmetic brands in India and therefore is quite underrated. Although their products are not high-end, the quality and the price range allows it to be easily accessible for everybody.
The 'Velvet Matte' range claims to be infused with SPF 20 and is quite smooth in its formulation and satisfactory!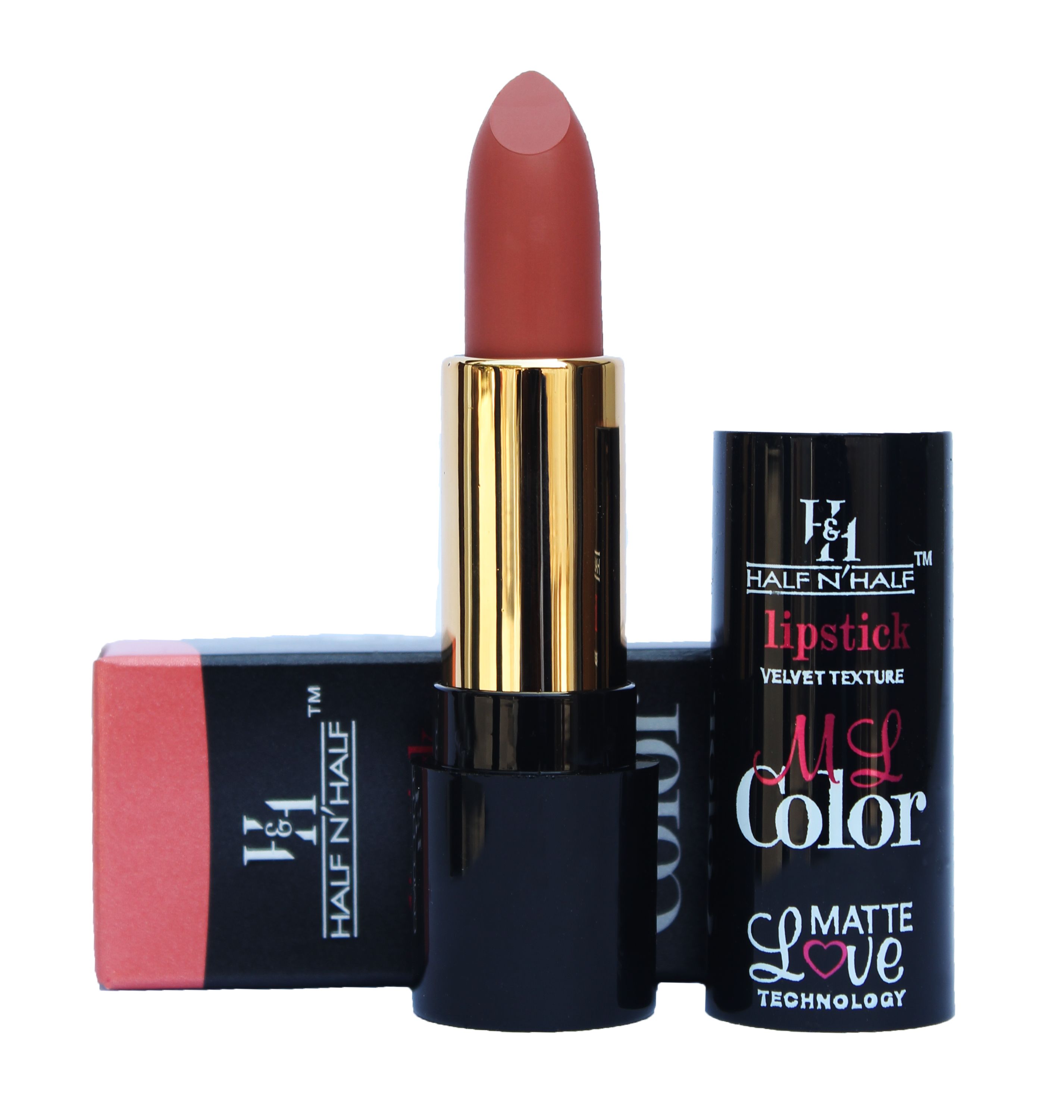 Recommended Shade: Half N Half Velvet Matte Lipstick – 30 Ravishing Nude
– Approximately ₹179
– True nude peachy shade with brown undertones
– Great for all skin tones
Coloressence :
This Indian brand manufactures and supplies a wide range of colour cosmetics and is quite trusted within the drugstore range of products.
The 'Moisturising Lip Color' range offers approximately 4gm of product which gives a beautiful satin finish. It claims to be infused with SPF-15 and the organic goodness of Basil among other herb extracts. The range comes in 27 different colours which are all worth taking a look at.
Recommended Shade: Coloressence Moisturising Lip Color – Nude Suede
– Approximately ₹250
– Proper warm brown shade
– Great for all skin tones
Miss Claire :
Miss Claire is an Indian makeup brand that has drawn its fame primarily because of its similarities with a US-based brand called NYX.
Offering approximately 6.5gm worth of product, the 'Soft Matte' range by Miss Clair feels weightless on the lips. Although it isn't entirely transfer-proof, the texture upon applying is velvety smooth and the pigment is great!
Recommended Shade: Miss Clair Soft Matte Lip Cream – 58
– Approximately ₹295
– A gorgeous warm nude mauvy brown
– Great for medium to dark skin-tones
Nykaa :
Founded in 2012 as an online selling portal for makeup brands, the Nykaa company had already gained a huge customer base before coming up with its own line of skincare, makeup products and many more.
The 'So Crème' range by Nykaa offers 18 beautiful shades of lipstick with a creamy matte finish. The colour payoff is great and the lipsticks are buildable. This particular range features shades that are great for everyday use within a budget!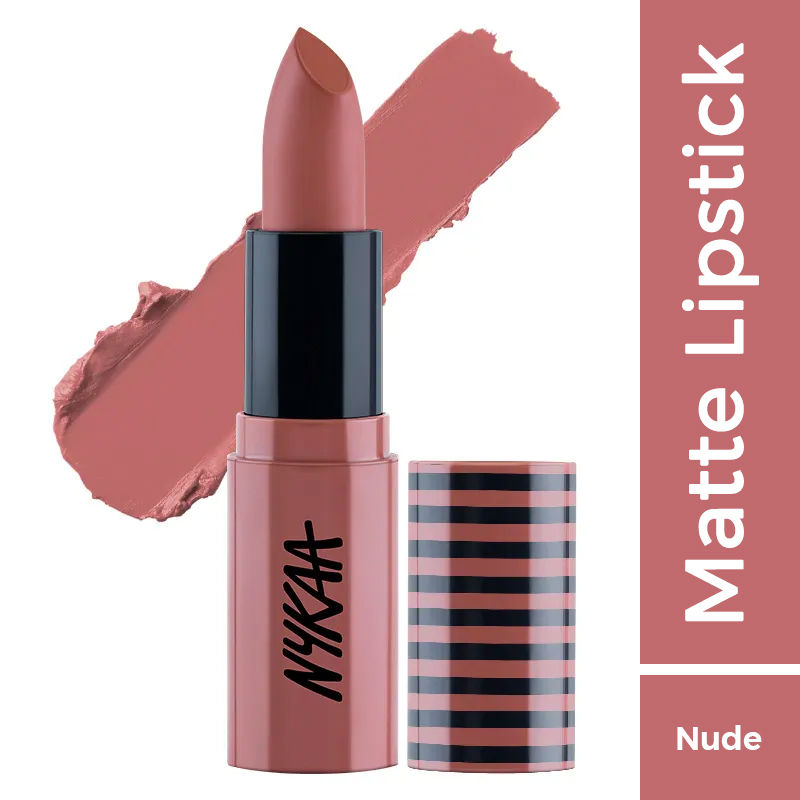 Recommended shade : Nykaa So Crème! Creamy Matte Lipstick – Wakeup Makeup
– Approximately ₹299
– Light nude brownish pink with warm undertones
– Great for fair to medium skin tones

Colorbar :
Based in New Delhi, Colorbar is an Indian beauty brand aspiring to gain global recognition with its products. Founded in 2003 by Samir Modi, it is currently the third-largest cosmetics company in India.
Offering approximately 4.2gm of product, the 'Velvet Matte' range is richly pigmented and features a smooth, velvety, creamy-matte formula. The formulation also displays a list of ingredients including Vitamin E, Shea butter, Jojoba oil and sun-blocking properties which promises great nourishment for the lips.
Recommended Shade: Colorbar Velvet Matte Lipstick – D Surprise!
– Approximately ₹306
– Exquisitely dark brown shade with mauve undertones
– Great for dusky to dark skin-tones
Lakme :
An offshoot brand of Hindustan Unilever, Lakme has offered a trustworthy cosmetics range in the Indian market since 1952.
Offering approximately 9gm of product, the Lakme 9 to 5 Weightless Matte Mousse Lip & Cheek Color range is one that includes about 20 beautiful shades. As the name itself suggests, the formulation is like that of a creamy mousse. Lightweight on the lips, these colours can also be used as a cheek tint!
Recommended Shade: Lakme 9 to 5 Weightless Matte Mousse Lip & Cheek Color – Nude Cushion
– Approximately ₹450
– Warm pink colour with a slight brown undertone
– Great for light to medium skin-tones
SUGAR :
SUGAR has already ensured a steady footing in the Indian cosmetics market since 2012. The brand is known to craft and manufacture its products to complement the Indian skin tone and has thus gained a loyal customer base.
The 'Nothing Else Matter' range offers 3.5gm of product which is extremely comfortable to wear and glides on the lips effortlessly. The colour payoff is very impressive along with its promise of intense water resistance. The product has a premium plush feel which is great at its price-point!
Recommended Shade: SUGAR Nothing Else Matter Longwear Lipstick – 01 Browning – — Glory (Caramel Nude)
– Approximately ₹499
– Warm caramel brown shade with hints of mauve
– Great for medium to dusky skin tones
Edited by Urvashi Gupta