Kareena Kapoor effortlessly dazzles in another affordable H&M power tee, radiating the coolest and most positive vibes!
Kareena Kapoor Khan, known for her impeccable sense of style, has once again proven her fashion prowess as she embraces the summer season with a wardrobe filled with t-shirts and coordinated sets. Her sartorial choices exude a perfect blend of comfort and trendiness, making her a true style icon for many. This morning, she effortlessly showcased yet another replicable reference for a casual look that speaks volumes about her fashion sensibilities. What sets her apart is her ability to prioritize comfort without compromising on style, a balance that many strive for but she effortlessly achieves.
Kareena Kapoor Khan's summer style revolves around the simplicity and versatility of t-shirts. This timeless staple has been seamlessly integrated into her wardrobe, forming the basis of many of her ensembles. Pairing t-shirts with coordinated sets allows her to create cohesive and put-together outfits that are suitable for various occasions. Whether she's running errands, attending meetings, or enjoying a casual day out, her choice of clothing ensures she remains both comfortable and stylish.
The recent casual look she sported exemplifies her fashion philosophy. Even in her laid-back attire, there's an air of sophistication that she effortlessly radiates. Her style isn't just about the individual pieces, but rather how she curates an entire ensemble. The ease with which she assembles her outfits sets her apart as a style icon. It's this seemingly innate ability to flawlessly put together outfits that has earned her an "A+" in the world of fashion.
Kareena Kapoor Khan's influence on fashion is undeniably growing, making her a trendsetter in her own right. Her style choices impact not only her fan base but also the broader fashion landscape. Her preference for comfort without compromising on style resonates with individuals who seek inspiration for their daily wear. As she continues to showcase her impeccable fashion sense, she sets new standards for how we perceive and experiment with clothing.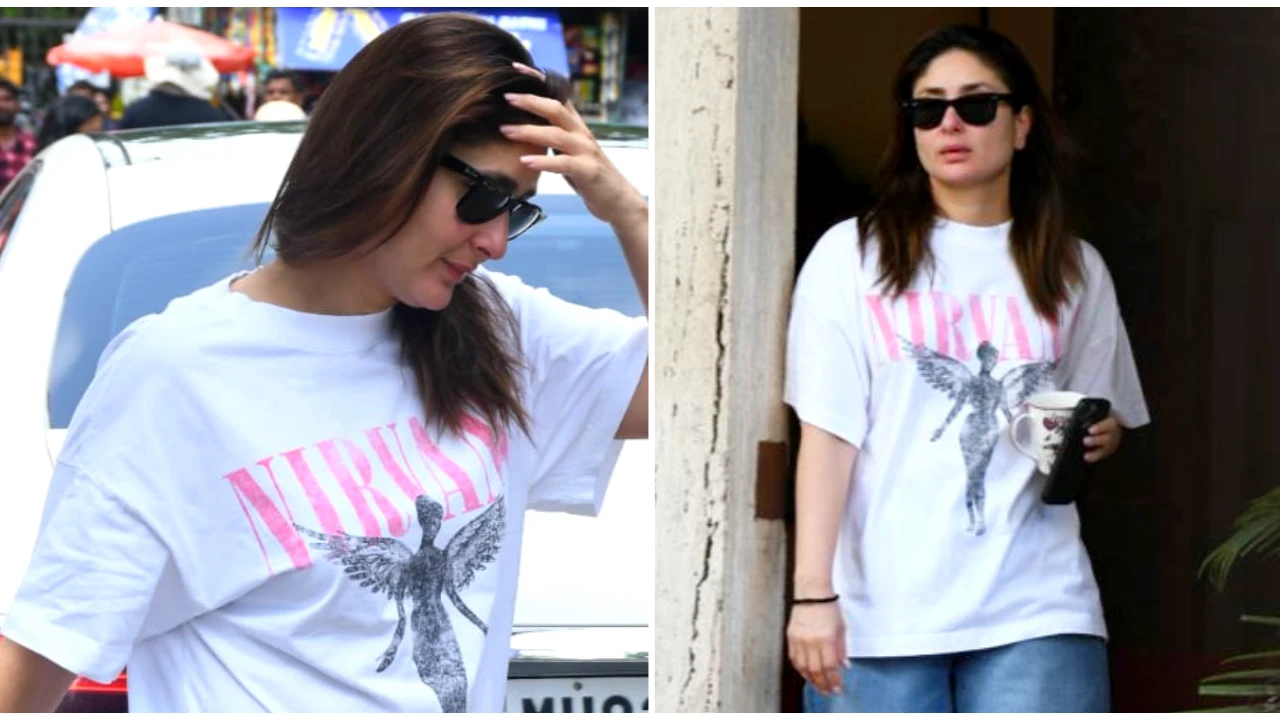 Kareena Kapoor Khan's fashion choices not only exhibit her exquisite taste but also reflect a discerning mind that doesn't simply succumb to hefty price tags. This quality sets her apart as a celebrity who values both style and practicality. A prime example of this is her affinity for t-shirts, showcasing her down-to-earth approach to fashion. What's even more noteworthy is her inclination towards re-wearing her outfits, highlighting her relatability and eco-conscious mindset.
A significant illustration of Kareena's penchant for accessible fashion was seen when she effortlessly carried off an oversized dark gray t-shirt on multiple occasions in February and March of this year. This particular t-shirt, priced at a modest Rs 1,299, epitomizes the concept of affordable yet fashionable clothing. Her choice to opt for an item that doesn't break the bank underscores the fact that style isn't confined to exorbitant price tags; it's about how you carry yourself and make even the simplest pieces look chic.
By showcasing her willingness to re-wear this particular t-shirt, Kareena Kapoor Khan is setting an example for fashion enthusiasts everywhere. Her ability to recycle pieces in her wardrobe and create new looks from them demonstrates a conscious effort to reduce waste and promote sustainability within the realm of fashion. In a world where fast fashion often dominates, Kareena's choice to go back to an affordable piece emphasizes that fashion can be about quality, versatility, and making the most of what you have.
Recently pictured from the location of her upcoming movie's shoot, Kareena Kapoor Khan, at 42 years old, emanated a sense of freshness and simplicity through her choice of attire—an ensemble comprising a t-shirt and jeans. Even within the confines of her demanding work schedule, she provided us with ample reasons to continue embracing t-shirts as an integral part of our wardrobes. As we delve further into this guide, you'll gain a deeper understanding of how to expertly style t-shirts, especially during the monsoon season.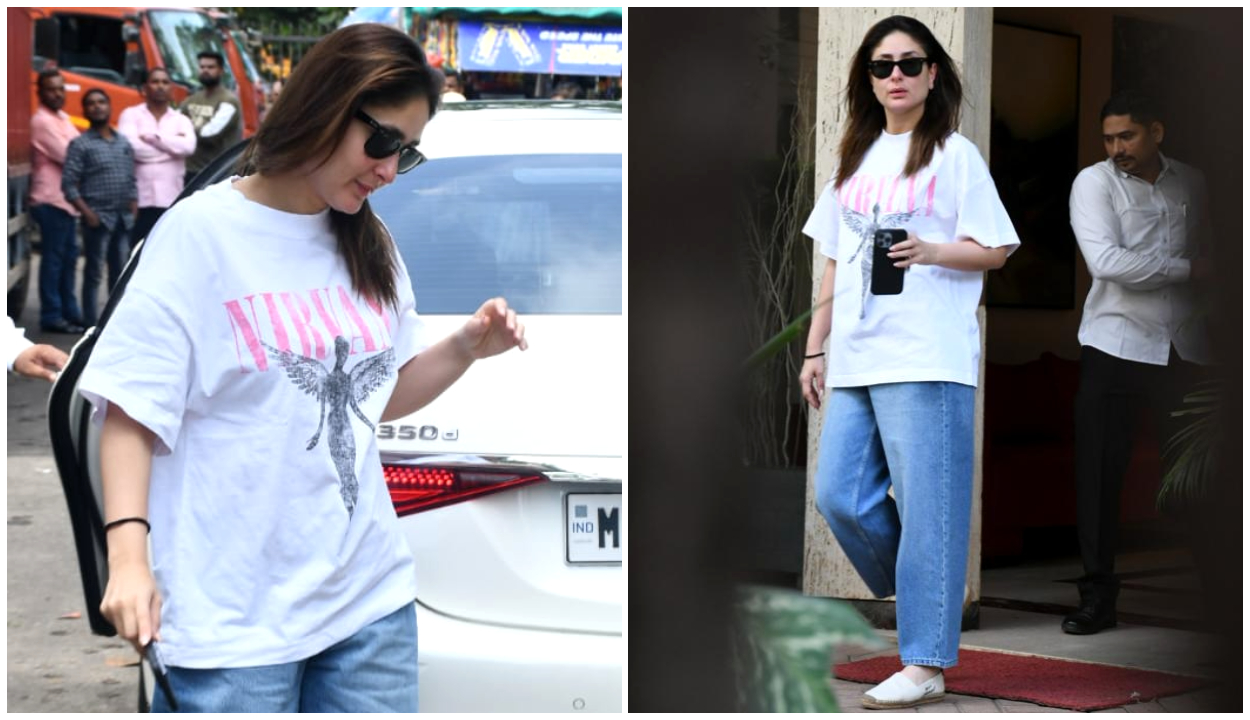 Kareena's appearance in a t-shirt and jeans ensemble serves as a reminder of the enduring appeal of these basic yet versatile pieces. Regardless of age or profession, the combination of a well-fitted t-shirt and a classic pair of jeans exudes an effortless charm that transcends trends and seasons. Her ability to seamlessly incorporate such a timeless look into her busy routine underscores the practicality and ease that t-shirts offer.
Transitioning into the monsoon season, Kareena Kapoor Khan's t-shirt choice takes on new relevance. Monsoons often bring unpredictable weather, making it essential to balance style and functionality. T-shirts can serve as the perfect foundation for monsoon outfits, offering comfort while allowing you to experiment with layering. Pairing a t-shirt with a lightweight jacket or a stylish raincoat can help you tackle unexpected showers while maintaining your fashion quotient.
As we delve deeper into this guide, you'll discover valuable tips and tricks to elevate your t-shirt styling game during the monsoon season. Whether it's about selecting the right fabrics that offer ease and quick drying or accessorizing with waterproof footwear and bags, you'll be equipped with the knowledge to curate impeccable monsoon looks centered around t-shirts.
Kareena Kapoor Khan continues to be an epitome of style and inspiration as she effortlessly demonstrates how to embody 'Nirvana' in a simple yet impactful t-shirt from H&M. Priced at Rs 1,499.00, this t-shirt embodies accessible fashion with a touch of sophistication. Kareena's choice of attire invites us to not only read and register the message but also to be ready to embrace the philosophy that her tee advocates. It's truly a refreshing and thought-provoking way to start the day.
The t-shirt itself is a masterpiece of design, constructed from a combination of cotton and jersey to ensure both comfort and style. The oversized silhouette with drop shoulders gives a relaxed and laid-back feel, aligning perfectly with Kareena's signature style that effortlessly bridges the gap between comfort and chic. The crew neck rib neckline adds a touch of refinement, showcasing her attention to detail even in casual wear.
The highlight of the t-shirt is undoubtedly the pink and monochrome black and white print motif that proudly displays the word 'Nirvana.' This motif not only adds an element of visual interest but also invites contemplation. By wearing this tee, Kareena Kapoor Khan encourages us to embrace a mindset of enlightenment and tranquility. It's a gentle reminder to seek moments of peace and contentment amidst the hustle and bustle of life.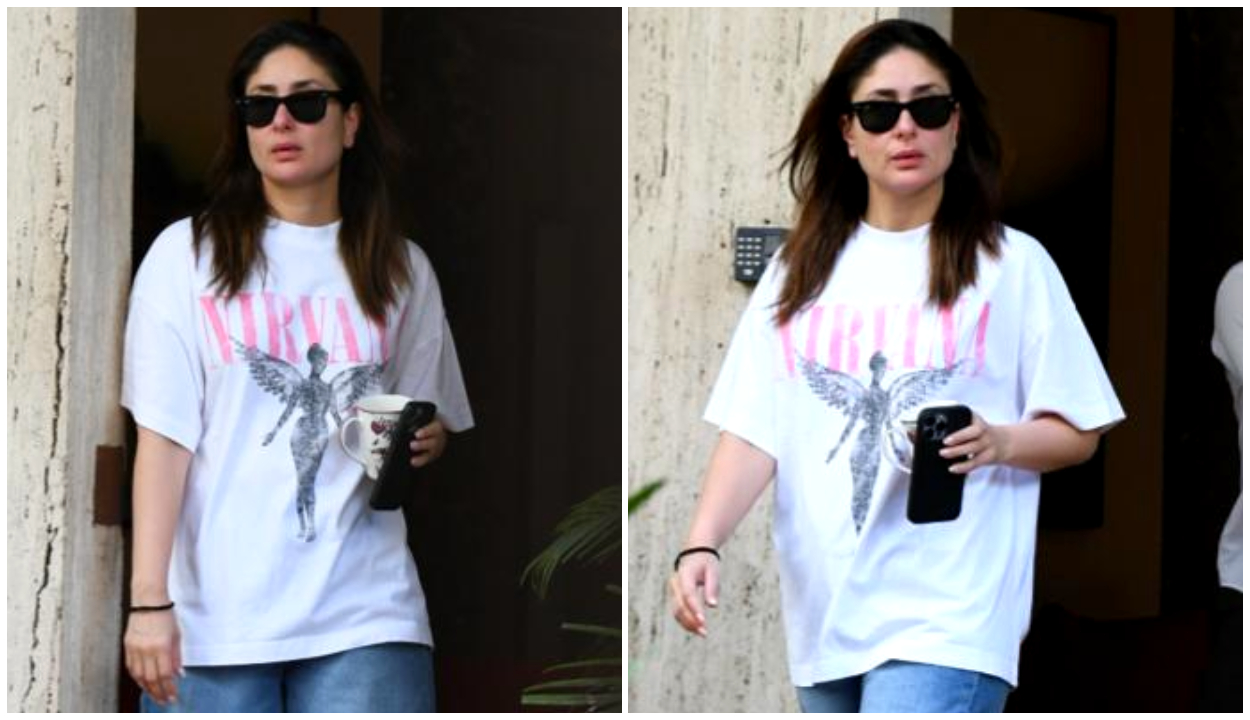 Her choice of accessories further enhances the look. Black sunglasses add a touch of glamour while shielding her eyes from the sun. The inclusion of espadrilles, a classic Kareena accessory, adds a chic touch and lends the outfit a touch of understated elegance. These shoes are known for their versatility and ability to effortlessly elevate casual outfits.
Kareena's hairstyle also plays a role in defining her overall appearance. Leaving her hair down in a straight and sleek manner adds to the minimalistic yet polished aesthetic of her outfit. The simplicity of her hairstyle allows her ensemble to take center stage.
When it comes to makeup, Kareena Kapoor Khan's approach remains true to her signature style of natural beauty. While she may not sport heavy makeup, her choice to fill in her eyebrows and apply lip balm showcases her commitment to maintaining a polished appearance. This minimalistic approach to makeup aligns perfectly with the overall effortless and relaxed vibe she exudes.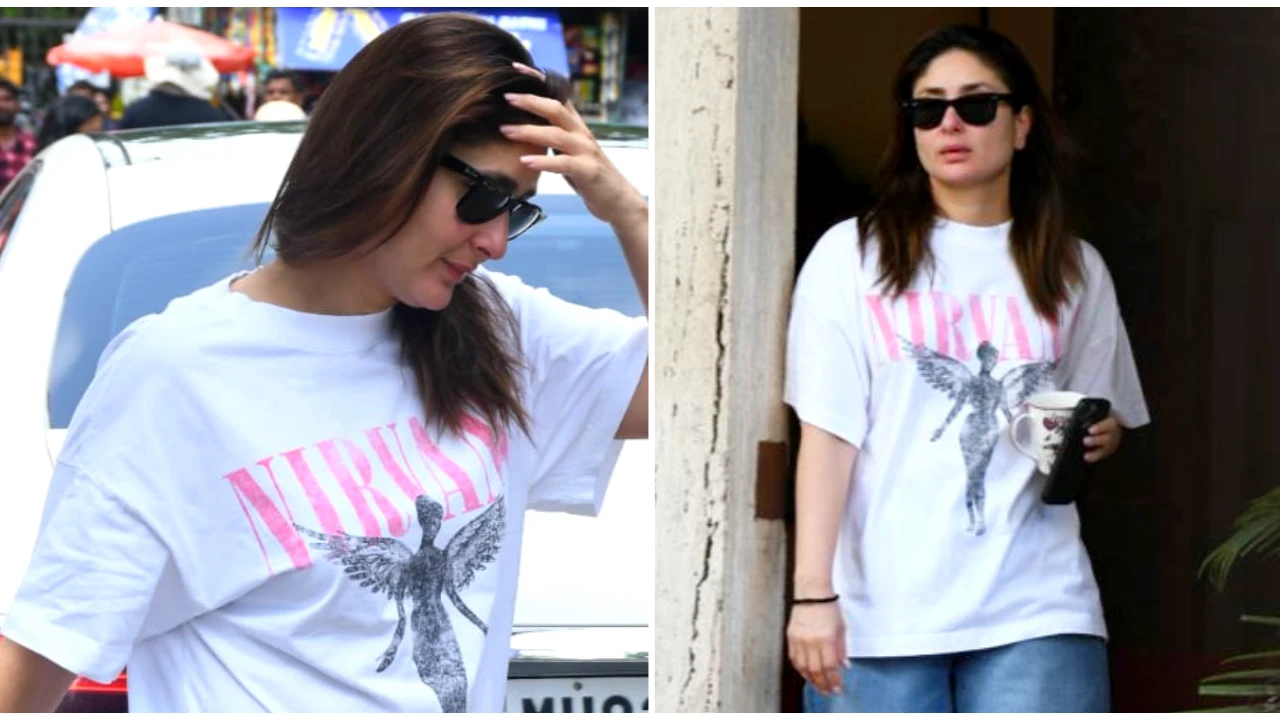 In summary, Kareena Kapoor Khan's ensemble showcases her keen eye for fashion and her ability to effortlessly merge comfort with style. The combination of the 'Nirvana' long T-shirt with faded denim pants, complemented by black sunglasses and espadrilles, creates a chic yet laid-back look. Her hairstyle and subtle makeup choices further contribute to the overall polished yet natural appearance she embodies.