Katrina Kaif's festive look in Tarun Tahiliani red saree is perfect for new brides
Katrina Kaif's ethereal style is a constant source of fascination when it comes to the world of fashion. Her unique approach to fashion often involves the use of dark solid colors, and this choice consistently brings a sense of refinement and sophistication to her appearance. Whether on the red carpet or at a high-profile event, her fashion sense is truly captivating.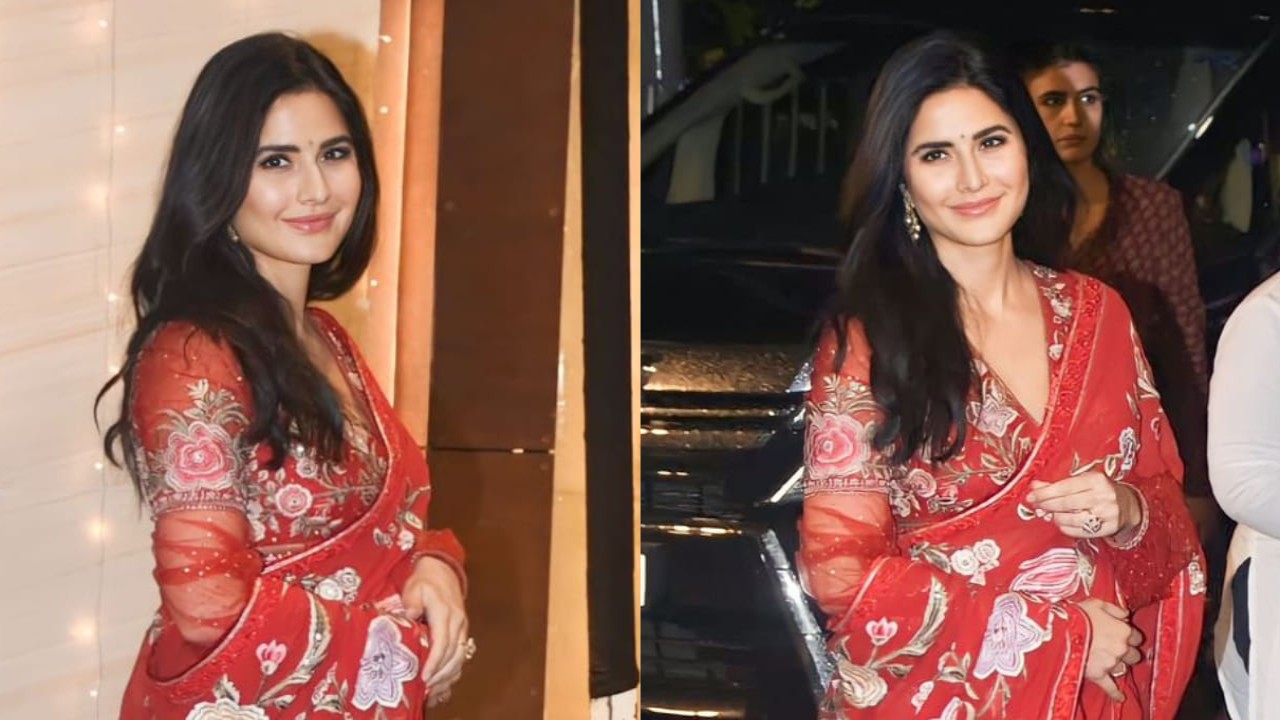 One of the remarkable aspects of Katrina's fashion journey is her ability to effortlessly carry off traditional ensembles like sarees. When she dons a traditional saree, her attractiveness reaches a whole new level. The timeless elegance of a saree combined with her innate grace and beauty creates a mesmerizing visual harmony. Katrina Kaif has the uncanny ability to infuse modernity into traditional attire, making it relevant and appealing to contemporary fashion enthusiasts.
In essence, Katrina Kaif's fashion choices, particularly her use of dark solid colors and her ability to exude charm in traditional sarees, highlight her as a style icon. Her fashion journey is a delightful blend of elegance, modernity, and cultural richness, making her a role model for those who seek to make a statement through their clothing choices.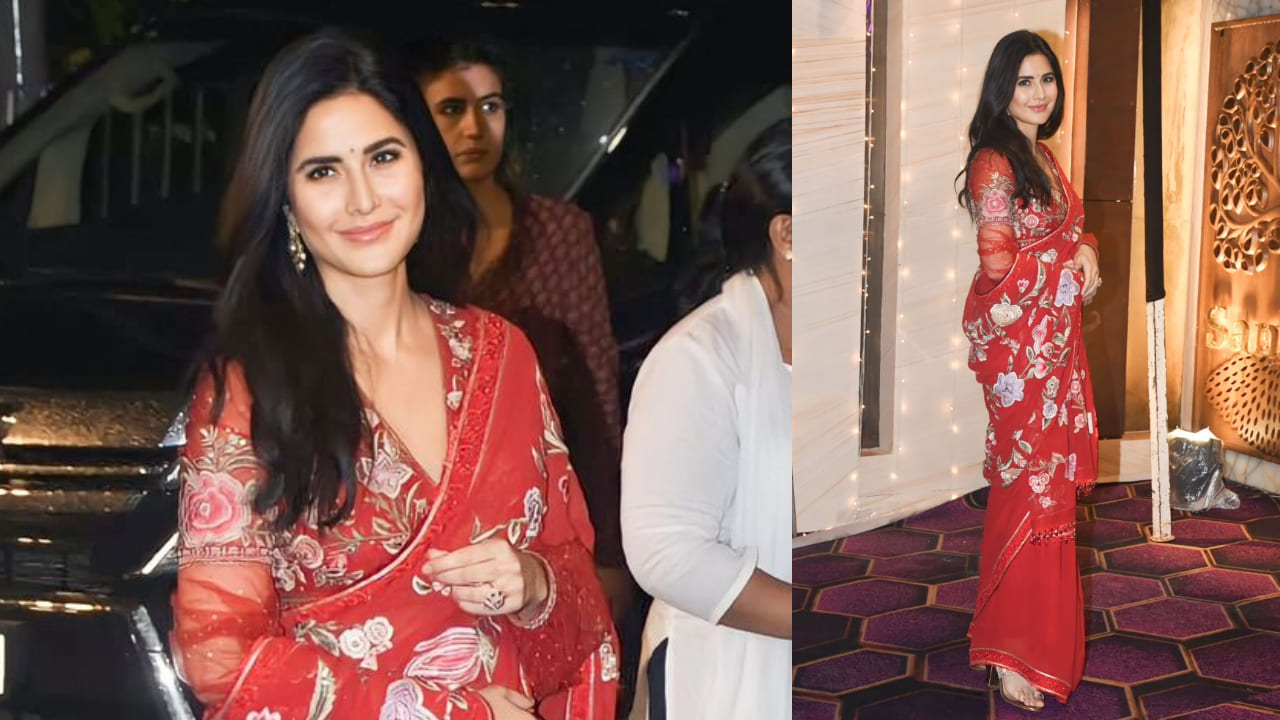 In a recent photograph, Katrina Kaif donned a lovely red saree and looked absolutely stunning. The bold and vibrant color of the saree was a perfect match for her immaculate complexion, enhancing her natural beauty and making her appear even more dazzling. The choice of color not only complemented her skin tone but also added a touch of sophistication to her overall appearance.
What's remarkable about Katrina's look in the red saree is her minimalist approach to accessories and cosmetics. She allowed the saree to take center stage, emphasizing the inherent elegance of the traditional attire. This choice underscores her belief in the power of simplicity and how a well-chosen saree can make a woman look incredibly stunning with just the right combination of confidence and style.
Katrina Kaif's appearance in the red saree is a testament to her fashion sensibility and her ability to make a bold fashion statement while maintaining an air of grace and simplicity. It serves as a reminder that sometimes, less is more, and traditional attire like a saree can be a powerful symbol of timeless beauty and elegance.
Katrina Kaif has always been a head-turner in the world of fashion, and her recent appearance in the red saree was no exception. While the saree itself was a showstopper, it was the meticulously crafted blouse that truly captured our attention. The blouse was a masterpiece of design, perfectly complementing the saree and elevating the entire ensemble to a new level of style and sophistication.
What stood out most about the blouse was its deep V-neck, which added a touch of sensuality to the outfit. The deep neckline not only showcased Katrina's confidence but also added a modern twist to the traditional saree. It strikingly balanced the timeless charm of the saree with a contemporary and alluring element, making her look even more captivating.
The upper part of Katrina Kaif's blouse was exquisitely crafted from silk georgette, lending it a sumptuous and luxurious touch. This choice of fabric added a sense of opulence to the ensemble, perfectly complementing the rich red of the saree. The silk georgette created a soft and smooth texture, enhancing the overall sophistication of the blouse.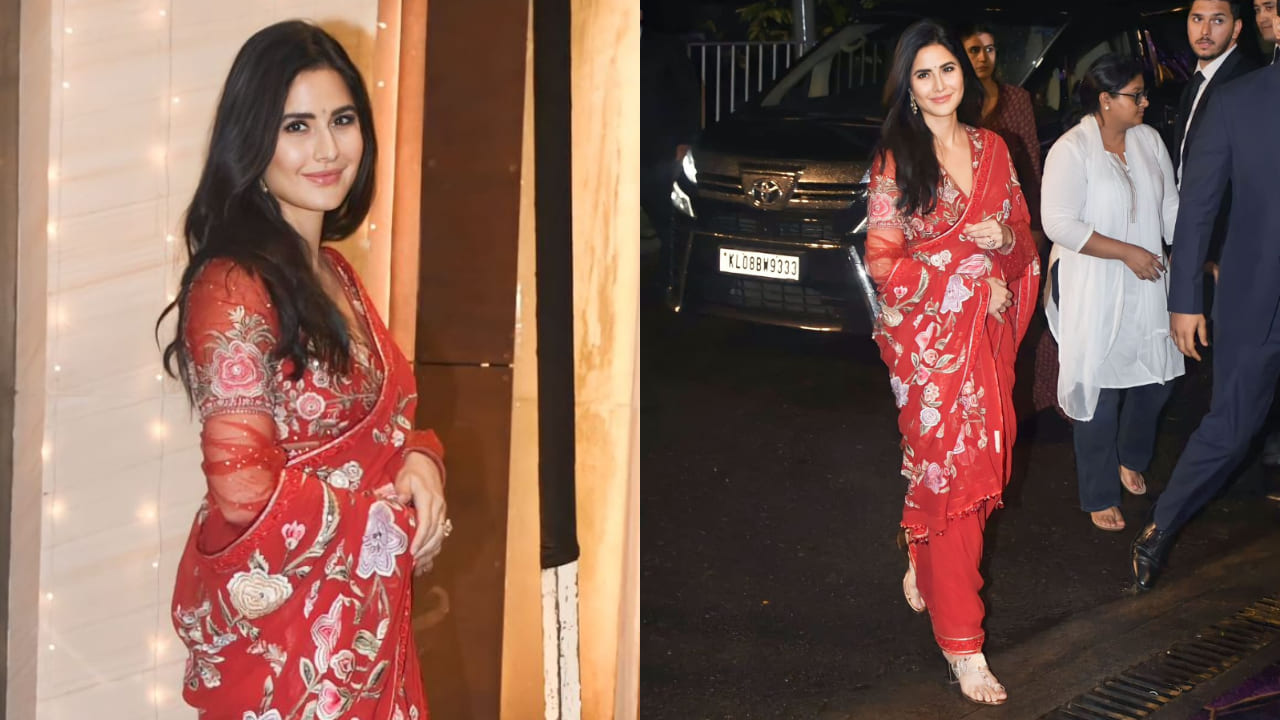 What set the lower half of the blouse apart was a distinctive and playful twist – puff sleeves with a thin cuff. These puff sleeves added a touch of whimsy and uniqueness to the attire. They were a departure from the typical blouse design, infusing a sense of creativity into the outfit. The combination of the traditional saree with these unconventional sleeves created an interesting and eye-catching contrast.
The magnificent Parsi gara embroidery that adorned the entire top of Katrina Kaif's blouse was the crowning touch that completed the entire outfit. This intricate and beautiful embroidery added a classic yet contemporary appeal to the ensemble, showcasing the rich heritage of Indian craftsmanship. The gara embroidery was a true work of art, featuring delicate and intricate patterns that reflected the time-honored traditions of the Parsi community.
The saree worn by Katrina Kaif was a true masterpiece in itself, adorned with a stunning array of floral designs that contributed to the overall breathtaking appeal of her red ensemble. The intricate floral embroidery added a layer of exquisite beauty and charm to the saree, making it a true head-turner. The design was a testimony to the artistry and craftsmanship that goes into creating such elaborate traditional attire.
In essence, the saree's embellishments, with their beautiful floral designs and vibrant threadwork, were a key element in making Katrina Kaif's attire truly remarkable. They added an element of artistry and vividness to the ensemble, underscoring the enduring beauty and cultural significance of traditional Indian clothing.
In summary, the border of the saree, embellished with the same red-colored thread embroidery as the rest of the saree, was a crucial element in completing the overall look. This saree was not just clothing; it was a true work of art that showcased the rich tradition of Indian textile craftsmanship and celebrated the artistry that goes into creating such magnificent pieces.
If you've been wondering where Katrina Kaif acquired her stunning red saree adorned with gara embroidery, you need to look no further than the renowned designer Tarun Tahiliani. Tarun Tahiliani, celebrated for his breathtaking and innovative designs, has once again proven his mastery by crafting this stunning masterpiece that left us in awe. Katrina's choice of the red saree from his collection was indeed a testament to his exceptional artistry and design sensibilities.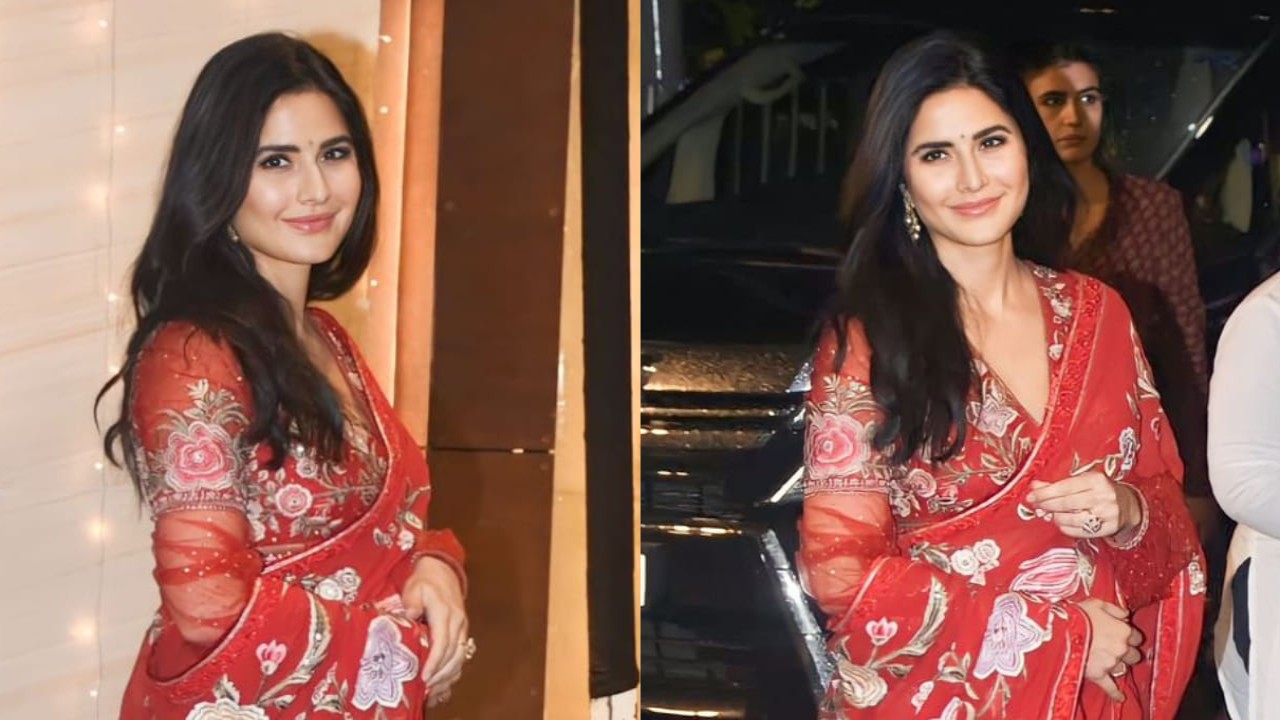 The fact that Katrina looked absolutely stunning in the red saree with its intricate gara embroidery is a testament to the magic that Tarun Tahiliani weaves into his creations. His ability to seamlessly blend traditional Indian craftsmanship with contemporary aesthetics results in garments that are not just stylish but also a reflection of the rich heritage of Indian fashion. Katrina Kaif's choice of attire from his collection reinforces her status as a fashion icon who appreciates and highlights the work of extraordinary designers like Tarun Tahiliani.
In essence, the stunning red saree with gara embroidery is a representation of Tarun Tahiliani's brilliance, and Katrina Kaif's choice to wear it is a tribute to his exceptional craftsmanship. It's a true work of art that showcases the enduring appeal of Indian fashion and its ability to captivate and inspire.