Katrina Kaif shows how to catch early morning flights in Anita Dongre kurta set with style
Airport fashion has indeed become a prominent trend among Bollywood celebrities, where they use their travel time as an opportunity to make stylish statements. The kurta airport style, in particular, has gained popularity and is often associated with street style for Bollywood divas.
The color yellow, in particular, has been making waves as a vibrant and eye-catching choice for airport attire. Celebrities like Kiara Advani and Pooja Hegde have recently been spotted at the airport donning yellow kurta sets, showcasing the trend's appeal.
The yellow kurta set trend is not only stylish but also brings a touch of ethnic charm to the airport fashion scene. Yellow is often associated with positivity and warmth, making it a fitting choice for travel attire that stands out and brightens up the surroundings.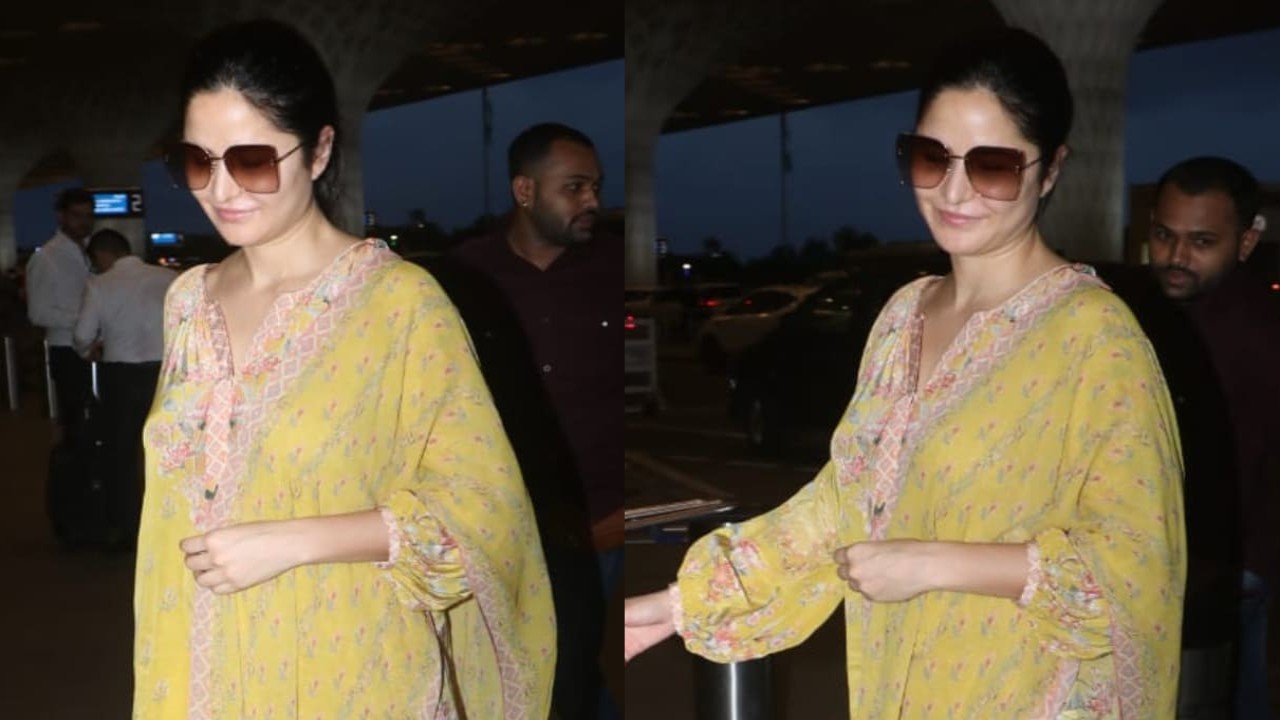 As the trend gains momentum, it's exciting to anticipate which Bollywood fashionista will be the next to embrace the sunny airport fashion trend in a yellow kurta set. Airport fashion is all about expressing personal style, and it's likely that we'll continue to see more celebrities experimenting with this vibrant and ethnic trend, creating eye-catching and memorable airport looks in the process. Fashion enthusiasts will undoubtedly keep a close watch for the next celebrity to illuminate the airport with their stylish yellow kurta set.
Katrina Kaif has indeed joined the ranks of Bollywood fashionistas who are setting the airport fashion scene ablaze, and her choice of a stunning yellow kurta ensemble has captured everyone's attention. In this vibrant outfit, Katrina exudes elegance and radiates charm.
The yellow kurta ensemble with its beautiful floral motif is undoubtedly a showstopper. Floral patterns often add a touch of femininity and freshness to an outfit, and in this case, they complement the vibrant yellow color beautifully.
The v-neck kurta with puff sleeves is a delightful and fashionable choice. The v-neck design can be flattering and adds a touch of sophistication, while puff sleeves can create a sense of drama and playfulness in an ensemble. The combination of these elements likely added to the overall appeal of Katrina's look.
Katrina Kaif's ability to embrace the yellow kurta trend and make it her own showcases her impeccable fashion sense and confidence. Her airport look not only sets a stylish precedent but also celebrates the vibrant and ethnic charm of Indian fashion. Her appearance in this ensemble is a testament to her status as a fashion icon and her ability to captivate the fashion world with her elegance and style.
The coordinated narrow-leg trousers that complement Katrina Kaif's kurta are a testament to her impeccable sense of style. Narrow-leg trousers can create a sleek and modern silhouette while allowing the kurta to remain the focal point of the ensemble.
Katrina Kaif's choice of this outfit showcases her ability to effortlessly combine high fashion with affordability, making her fashion choices relatable and accessible to a broader audience. Her appearance in the Nisho Kurta Set in Yellow reflects her commitment to both style and comfort, solidifying her status as a fashion icon admired by many.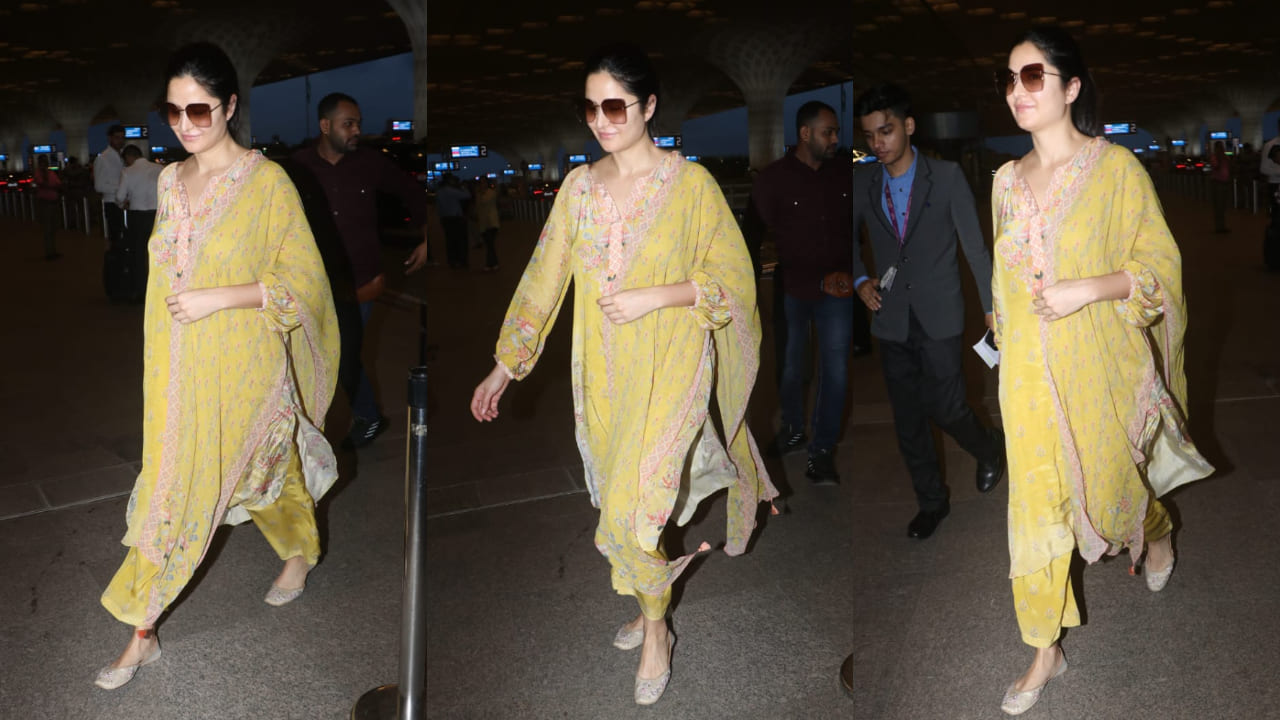 Katrina Kaif's attention to detail and sense of style are evident in how she finished off her amazing airport outfit:
Silver-Colored Juttis: Her choice of lovely silver-colored juttis not only added a touch of refinement but also complemented her overall ethnic look. Juttis are comfortable and traditional footwear that often pairs well with Indian attire, making them a perfect choice to complete her ensemble.
Sunglasses with Brown Shaded Lenses: The selection of sunglasses with brown shaded lenses was a stylish and thoughtful choice. The brown lenses likely harmonized with the warm tones of her yellow kurta, creating a cohesive and well-coordinated look. Sunglasses can also offer protection from the sun while adding an element of glamour to an outfit.
Katrina Kaif's attention to these accessories demonstrates her commitment to creating a polished and well-put-together appearance. It's clear that she understands the importance of accessorizing to enhance the overall impact of her outfit. Her choice of juttis and sunglasses not only added practicality but also contributed to the overall aesthetics of her airport fashion, further solidifying her reputation as a fashion icon with an eye for detail.
Katrina Kaif exuded effortless gorgeousness as she wore the sunglasses with ease, and her overall look was truly stunning. Her choice of sunglasses not only added a fashionable touch but also provided practicality and sun protection. She effortlessly pulled off the shades, showcasing her innate style and confidence.
Katrina Kaif's exceptional fashion sense was once again on display, with every detail carefully managed to perfection. From the silver juttis that added a touch of ethnic charm to the brown sunglasses that harmonized with her outfit, she effortlessly combined style and functionality. Her elegant ponytail haircut further highlighted her fashion-forward approach.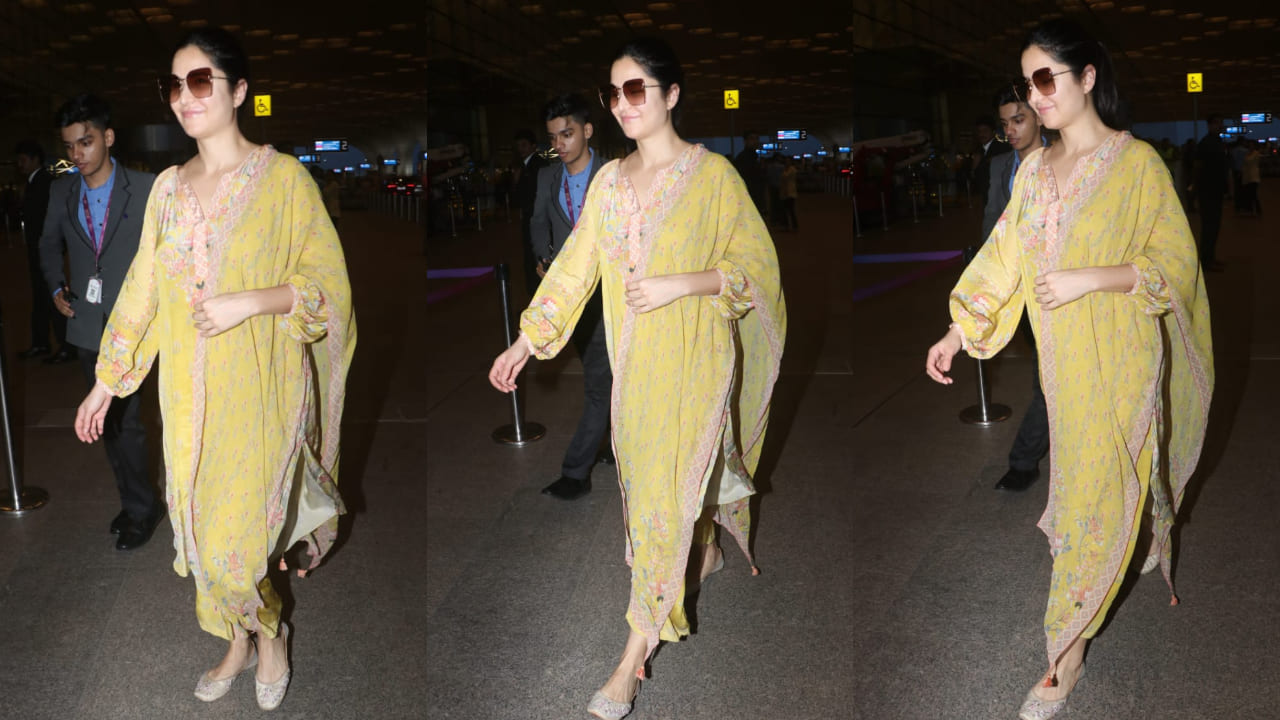 In every aspect, from her choice of accessories to her hairstyle, Katrina Kaif displayed her flair for fashion. Her ability to effortlessly incorporate these elements into her overall look demonstrated her exceptional fashion sense and her knack for making a statement with her style choices. She left no detail overlooked, solidifying her status as a true fashion icon admired by many.
Katrina Kaif has consistently proven her prowess in airport fashion, and her recent choice of a yellow kurta set is a prime example of how to confidently embrace a vibrant and flowery ensemble. Her look offers valuable inspiration for those looking to make a fashion statement:
Confidence is Key: Katrina exudes confidence in her choice of a bold and colorful outfit. When wearing eye-catching designs and brilliant colors, confidence is your best accessory. Embrace the look with self-assuredness, and it will undoubtedly shine.
Big Designs and Bold Colors: Katrina's ensemble features big floral designs and a brilliant yellow color. To make a statement, don't shy away from bold patterns and vibrant hues. They can instantly capture attention and create a memorable look.
Katrina Kaif's airport fashion is a testament to her ability to confidently embrace bold and vibrant ensembles. By following her lead and incorporating these tips, you can create your own statement-making looks that capture attention and showcase your fashion-forward mindset.
Katrina Kaif's airport fashion offers valuable style lessons, and here are some additional tips inspired by her look: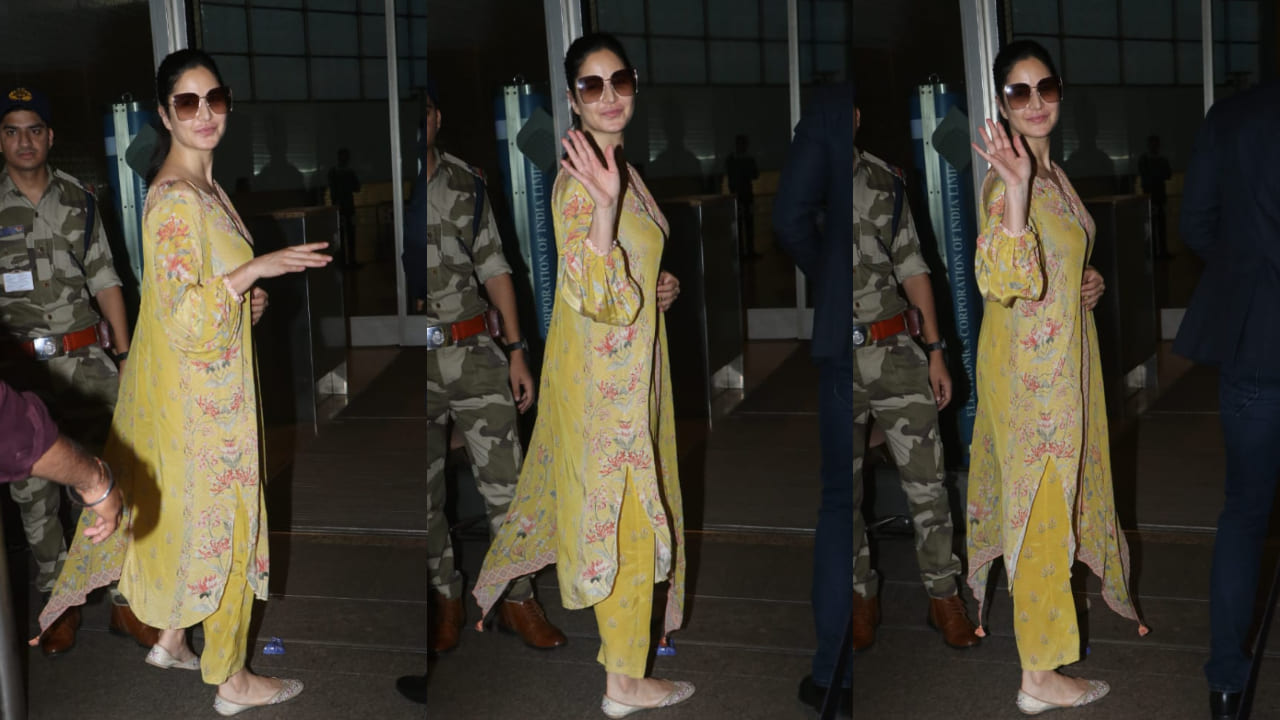 Experiment with Sleeve Designs: As seen with Katrina's outfit, trying out different sleeve designs can elevate your look. Puff sleeves, like the ones she wore, can add a touch of femininity and playfulness. Explore various sleeve styles to find what suits your personal taste and body type.
Pair with Complementing Trousers: To achieve a sleek and sophisticated appearance with a kurta, consider pairing it with complementing trousers. This combination offers a modern twist to traditional attire and creates a balanced and polished look.
Accessorize Thoughtfully: Like Katrina, accessorize smartly to enhance your ensemble. Choose accessories that complement your outfit and add a cohesive touch. Juttis and sunglasses, as seen in her look, can be both stylish and functional additions to your airport attire.
Play with Color: Don't hesitate to experiment with vibrant colors like yellow, as Katrina did. Bold and cheerful hues can instantly lift your mood and catch the eye. Select colors that resonate with your personality and make you feel confident.
Tailor to Fit: Ensure that your kurta and trousers are well-fitted. Tailoring can make a significant difference in how your outfit looks and feels. A well-fitted ensemble not only enhances your appearance but also boosts your confidence.
Personalize Your Look: Fashion is an expression of your individuality. While taking inspiration from Katrina's style, add your personal touch to your outfit. Whether it's through accessories, hairstyles, or makeup, let your style shine through.
By incorporating these tips and confidently embracing your unique style, you can create airport fashion looks that are both chic and comfortable, just like Katrina Kaif.