Sonam Kapoor's Abu Jani and Sandeep Khosla outfit is monochrome at its epic-est
Sonam Kapoor Ahuja is renowned for her impeccable fashion sense, and every time she steps out, she manages to make a stunning style statement. Last night was no exception, as she once again demonstrated her knack for fashion, leaving us all eagerly awaiting her glamorous Outfit Of The Night (OOTN).
From the glimpse of her outfit, it's clear that Sonam Kapoor Ahuja continues to push fashion boundaries. Spring outfits may be in full swing, but Sonam's choice of layering brings a fresh and innovative twist to her look. Layering is an art that can elevate any ensemble, and it seems like she has mastered it effortlessly.
One key factor that stands out is the Indo-western fusion in her outfit. Combining elements from both Indian and Western styles is a captivating way to create a unique and visually striking ensemble. It appears that her outfit was curated by the talented styling duo of Rhea Kapoor and Abhilasha Devnani, which adds another layer of expertise to her look.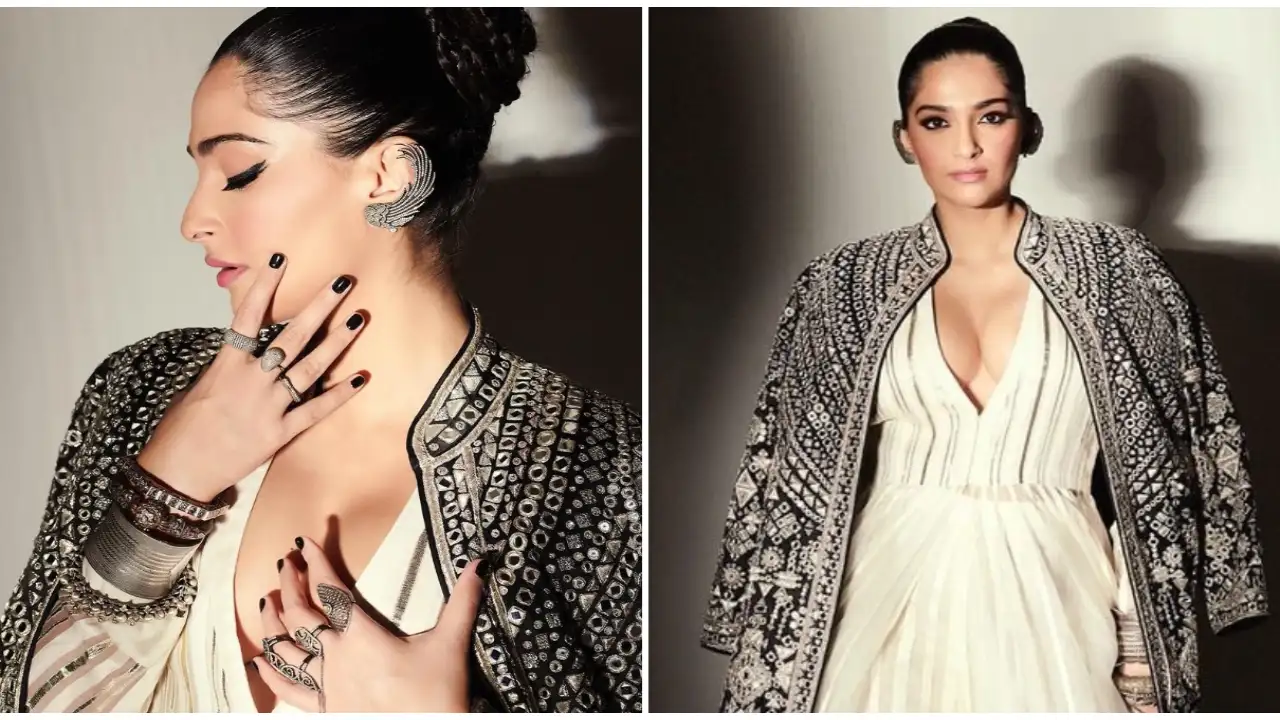 In essence, Sonam Kapoor Ahuja's ability to consistently deliver stellar fashion moments is a testament to her fashion prowess. Her Indo-western outfit, styled by the creative minds of Rhea Kapoor and Abhilasha Devnani, is undoubtedly one for the fashion books, leaving us all inspired and ready to experiment with our own styles.
The Kapoor sisters continue to captivate us with their daily fashion choices, leaving us in awe with every appearance. Their impeccable style speaks volumes, and their attire never fails to shine brightly.
One recent creation from the Kapoor clan seems to have redefined the concept of Anarkalis in 2023. Instead of the traditional dress style, this Anarkali takes on the form of a jumpsuit, which is indeed a unique and intriguing twist. This contemporary chic look is bound to turn heads and make a fashion statement.
The fusion of a jumpsuit and Anarkali design is both confusing and captivating, leaving us intrigued by its innovative approach. If you're looking for something extraordinary and wearable at weddings, this creation appears to be the perfect choice. It combines the elegance of traditional Anarkalis with the modern appeal of jumpsuits, making it a standout option for those special occasions.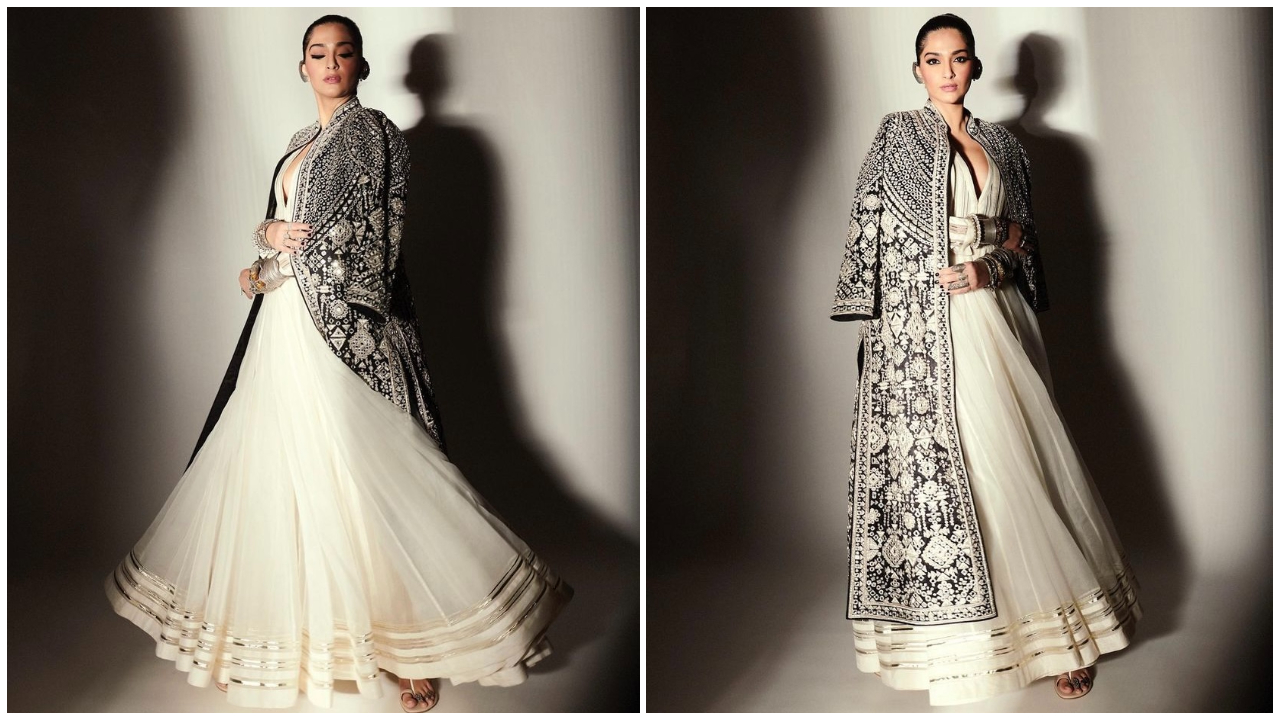 In the ever-evolving world of fashion, it's refreshing to see bold and creative reinterpretations of classic styles. The Kapoor sisters' ability to continuously push the boundaries of fashion is a testament to their style influence, and this unique Anarkali jumpsuit is a prime example of that. It's a statement piece that undoubtedly deserves a place in any fashion-forward wardrobe.
Sonam Kapoor continues to dazzle with her radiant style, and her recent appearance at an event organized by JW Marriott was no exception. The "Veere Di Wedding" actress graced the occasion as a fabulous guest, making a lasting impression in a couture creation crafted by the renowned designer duo Abu Jani and Sandeep Khosla.
Her outfit for the event was a true masterpiece. Sonam Kapoor opted for a monochrome look, displaying her impeccable fashion sense. She wore an exquisite organza Anarkali, which boasted 48 kalis, creating a beautifully flared fit that added a touch of elegance to her appearance. The Anarkali also featured stripe borders with silver and gota detailing, which likely added intricate and eye-catching accents to the outfit.
With long sleeves and a plunging neckline, Sonam Kapoor's ensemble blended traditional elements with contemporary design, creating a striking and fashionable look. Her choice of couture by Abu Jani and Sandeep Khosla once again highlighted her ability to select outfits that make her stand out at any event.
Sonam Kapoor looked absolutely stunning in her monochrome organza Anarkali by Abu Jani and Sandeep Khosla. Her fashion-forward approach and attention to detail continue to make her a style icon at various events and gatherings.
Sonam's fashion choices are undeniably captivating, and her recent ensemble was no exception. She exuded a sense of royalty and allure with her outfit, which featured a onesie paired with a striking black and white long coat. This combination likely created a visually stunning and sophisticated look, further showcasing her impeccable sense of style and flair for fashion.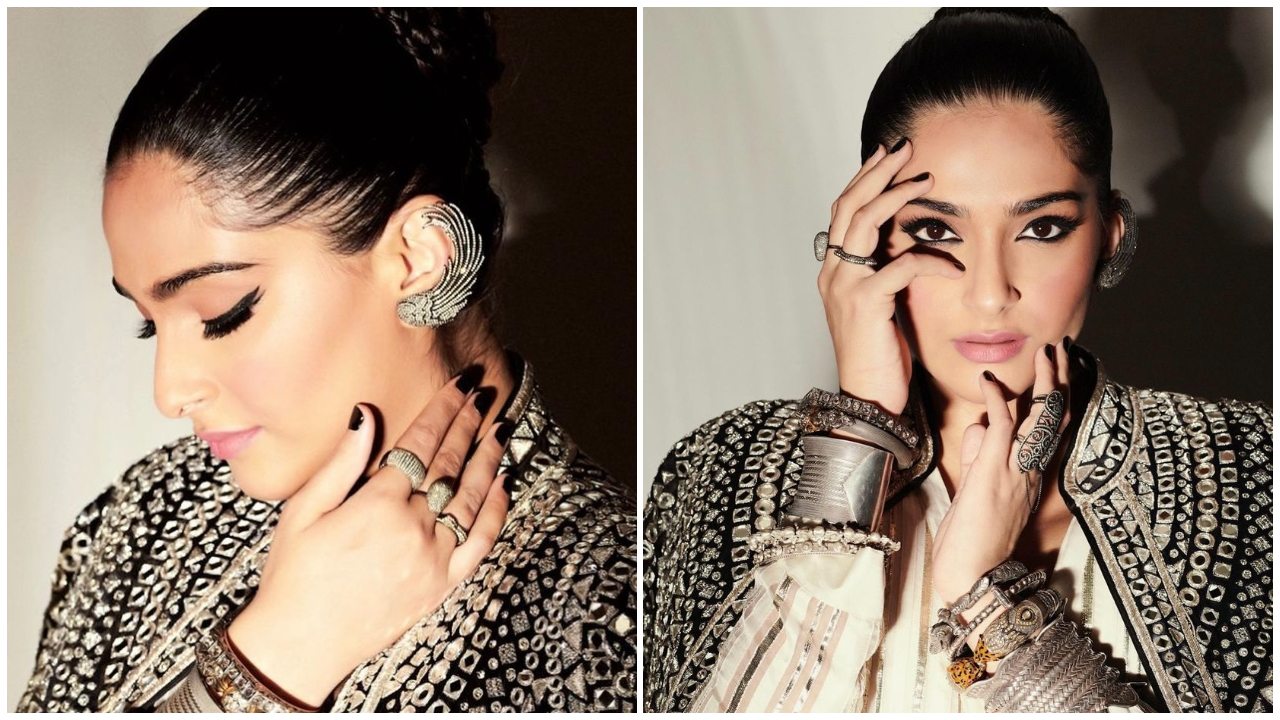 Sonam's coat sounds absolutely exquisite, with its exceptional craftsmanship and attention to detail. The real mirror and thread work embroidery likely added a touch of opulence and elegance to the outfit. The long sleeves, along with the introduction of a mandarin collar and side slits, would have contributed to the coat's unique design, making it a truly standout piece.
Her choice of accessories from Amrapali Jewels, Abhilasha Pret Jewelry collection, and Aprajita Toor kolhapuri heels demonstrates her commitment to a well-coordinated and stylish look. These accessories likely complemented her outfit, adding an extra layer of sophistication and glamour to her appearance.
Overall, it's clear that Sonam Kapoor paid meticulous attention to every aspect of her ensemble, from the coat's intricate details to her choice of accessories. The result was undoubtedly a stunning and fashionable look that showcased her impeccable fashion sense and style.
Sonam Kapoor's choice of accessories, makeup, and hairstyle all contributed to her stunning and cohesive look. The selection of braided silver handcuffs, ear cuffs, bangles, and rings added a touch of edginess and contemporary flair to her outfit. These accessories likely complemented the silver and mirror elements in her coat's embroidery, creating a harmonious overall appearance.
Her makeup choice of monochrome matte pink was not only on-trend but also added a subtle and elegant pop of color to her face. The heavy black kohl finish would have emphasized her eyes, enhancing their dramatic allure and lending a hint of mystique to her look.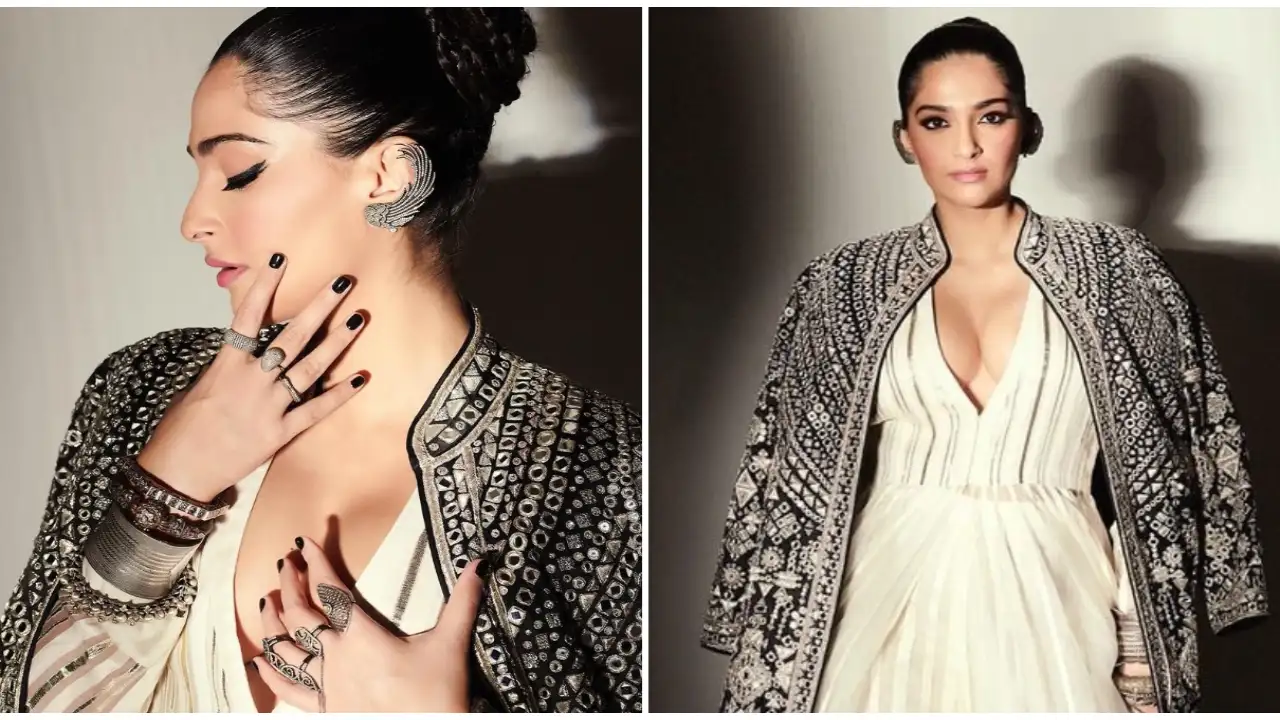 The mention of a sleek bun with a braid obsession suggests a unique and intricate hairstyle. The combination of a sleek bun and braided elements likely added a touch of sophistication and creativity to her overall appearance, perfectly complementing her outfit and accessories.
In essence, Sonam Kapoor's meticulous attention to detail in terms of accessories, makeup, and hairstyle showcased her commitment to creating a polished and stylish look. This level of thoughtfulness and fashion-forward choices is characteristic of her impeccable style and fashion sense.