Mouni Roy Casts a Bewitching Spell in her Enchanting Black Night Out Ensemble: Corset Frilly Dress Paired with Pricey Versace Pumps!
Mouni Roy's recent fashion post once again demonstrates her ability to effortlessly capture attention with her impeccable sense of style. The black body-con midi dress adorned with frills showcased her love for flattering silhouettes and her knack for choosing outfits that enhance her figure while maintaining an air of elegance.
The choice of a body-con silhouette accentuated Mouni's curves, creating a chic and alluring look. The addition of frills added a touch of femininity and playfulness to the outfit, creating a beautiful contrast with the form-fitting design of the dress.
Black, a timeless and versatile color, further highlighted the dress's silhouette and allowed Mouni to showcase her fashion-forward approach to dressing. The color choice also exuded a sense of sophistication and added to the overall allure of the outfit.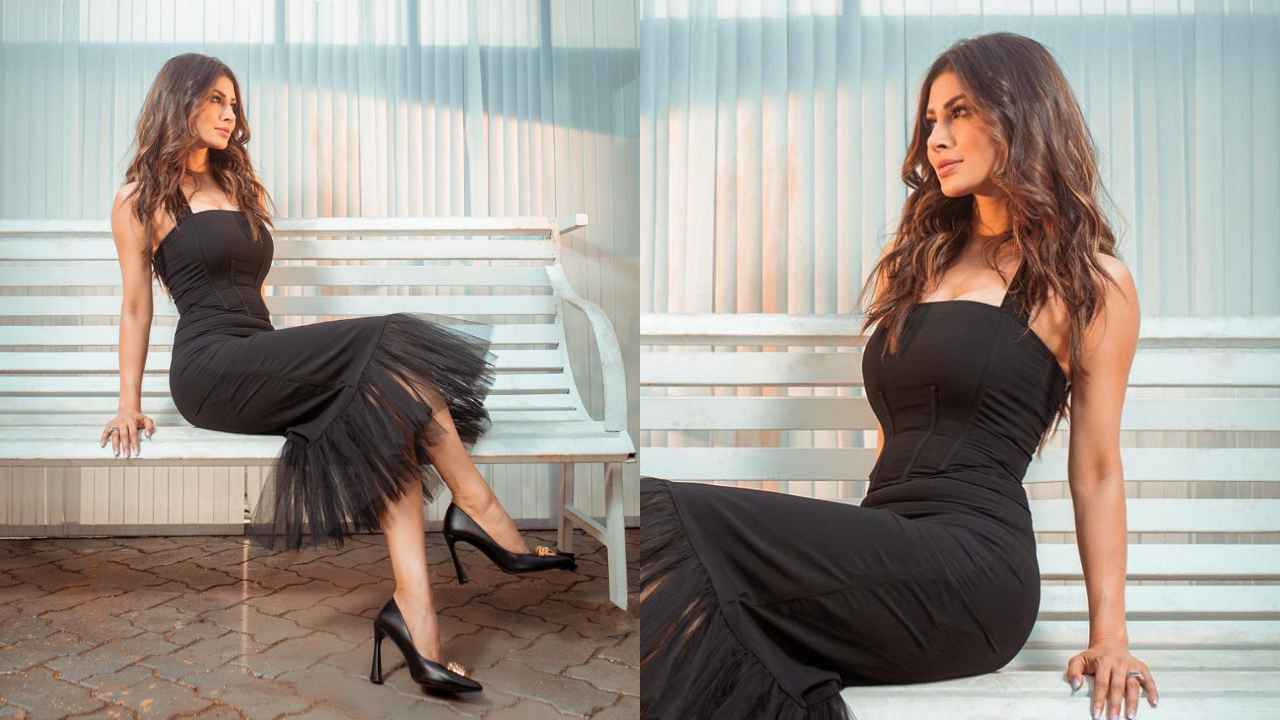 Mouni's fashion choices consistently reflect her confidence and individuality, making her a true trendsetter. Her ability to effortlessly pull off different styles, whether it's traditional ethnic wear or contemporary ensembles like the body-con midi dress, showcases her versatility and fashion acumen.
Mouni Roy's recent social media snapshots once again showcased her innate ability to captivate her followers with a chic and contemporary fashion statement. The black corset-silhouette midi dress she donned became the focal point of her ensemble, emphasizing her curves and celebrating her elegance.
The corset-inspired design of the midi dress beautifully highlighted Mouni's figure, creating a sleek and tailored silhouette that exuded confidence and allure. The fitted nature of the dress celebrated her curves while maintaining a sense of sophistication.
The halter neckline added an extra touch of allure and modernity to the ensemble. This neckline choice not only showcased Mouni's shoulders and neckline but also demonstrated her willingness to experiment with different styles that flatter her physique.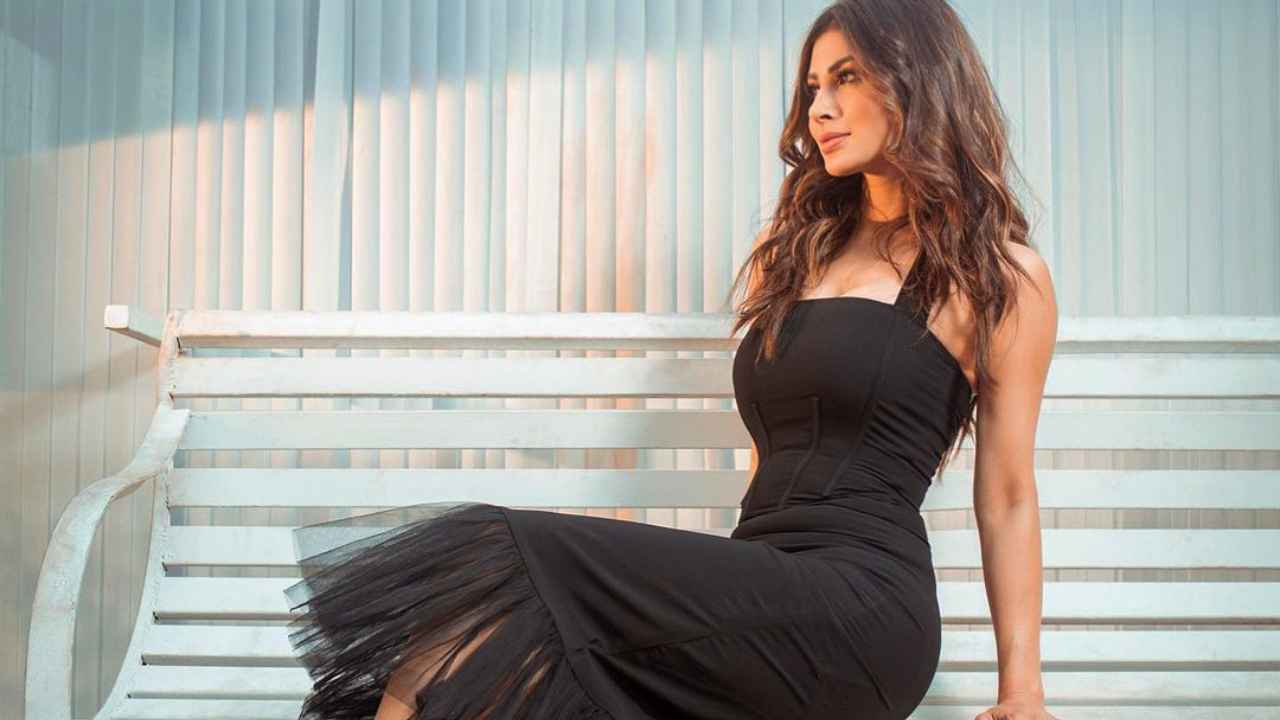 The timeless black color of the dress added a layer of sophistication and versatility to her look. Black is known for its ability to create a slimming effect and its versatility in various settings, making it a go-to choice for many fashion-forward individuals.
Mouni Roy's choice to incorporate a delicate frilly attachment at the edge of her black corset-silhouette midi dress added a delightful touch of femininity and playfulness to the ensemble. This frill detail not only introduced a sense of movement but also introduced a contrasting texture that enhanced the overall visual appeal of the outfit.
The juxtaposition of the structured, form-fitting design of the dress with the soft and fluid frills created a captivating contrast that balanced sophistication with a touch of whimsy. The frill detail brought a sense of dynamic energy to the outfit, making it visually interesting and captivating.
The frills at the dress's edge could have swayed gently as Mouni moved, adding a dynamic element to her overall look. This movement, combined with the sleek silhouette of the dress, would have further highlighted her grace and elegance, creating a well-rounded fashion moment.
Mouni Roy's choice to incorporate this frill detail into her ensemble showcased her attention to detail and her willingness to embrace playful elements within a sophisticated outfit. By adding this touch of texture and movement, she elevated the overall impact of the outfit, creating a visual balance that is both captivating and elegant.
The midi-length of Mouni Roy's dress strikes a harmonious balance between sophistication and modernity, making it an incredibly versatile choice for a wide range of occasions. Midi-length dresses have gained immense popularity for their ability to seamlessly blend classic elegance with contemporary flair.
The choice of a midi-length silhouette adds a sense of refinement to the ensemble, as it elegantly grazes the calves and creates a polished look. This length is often associated with timeless and sophisticated fashion, making it suitable for formal events, gatherings, and even semi-casual occasions.
At the same time, the midi-length maintains a touch of modernity, catering to the preferences of the modern fashion landscape. It showcases Mouni's awareness of current trends while embracing a timeless appeal that transcends seasons.
This versatile length allows the dress to be appropriate for various settings, whether it's a daytime event, an evening affair, or even a cocktail party. It provides the wearer with the flexibility to style it differently depending on the occasion, making it an essential piece in a fashion-forward wardrobe.
Mouni Roy's choice of a midi-length dress reflects her ability to strike a balance between classic elegance and contemporary style. The dress's versatility adds to its appeal, ensuring that it can be a go-to option for various events, showcasing her fashion sensibility and awareness of what works best for her unique style.
Mouni Roy's choice of the midi-dress from the well-known brand K'ostume County further highlights her fashion-forward sensibilities and ability to select pieces that resonate with her unique persona. Valued at Rs. 4,200, this dress not only embodies contemporary style but also encapsulates her individuality and personal taste.
The fact that Mouni opted for this particular midi-dress indicates her affinity for designs that are not only stylish but also accessible. This resonates with her relatable fashion approach, making her choices relatable to a wider audience.
Her pairing of the midi dress with carefully chosen footwear showcases her attention to detail and her knack for creating a cohesive look. The choice of footwear has the potential to either elevate or transform an outfit, and Mouni Roy's choice undoubtedly added another layer of personality to her ensemble.
By thoughtfully combining her dress with the right footwear, Mouni Roy showcases her ability to put together outfits that reflect her unique style and confidence. This complete look underscores her fashion-forward approach while remaining relatable and accessible to her fans and followers.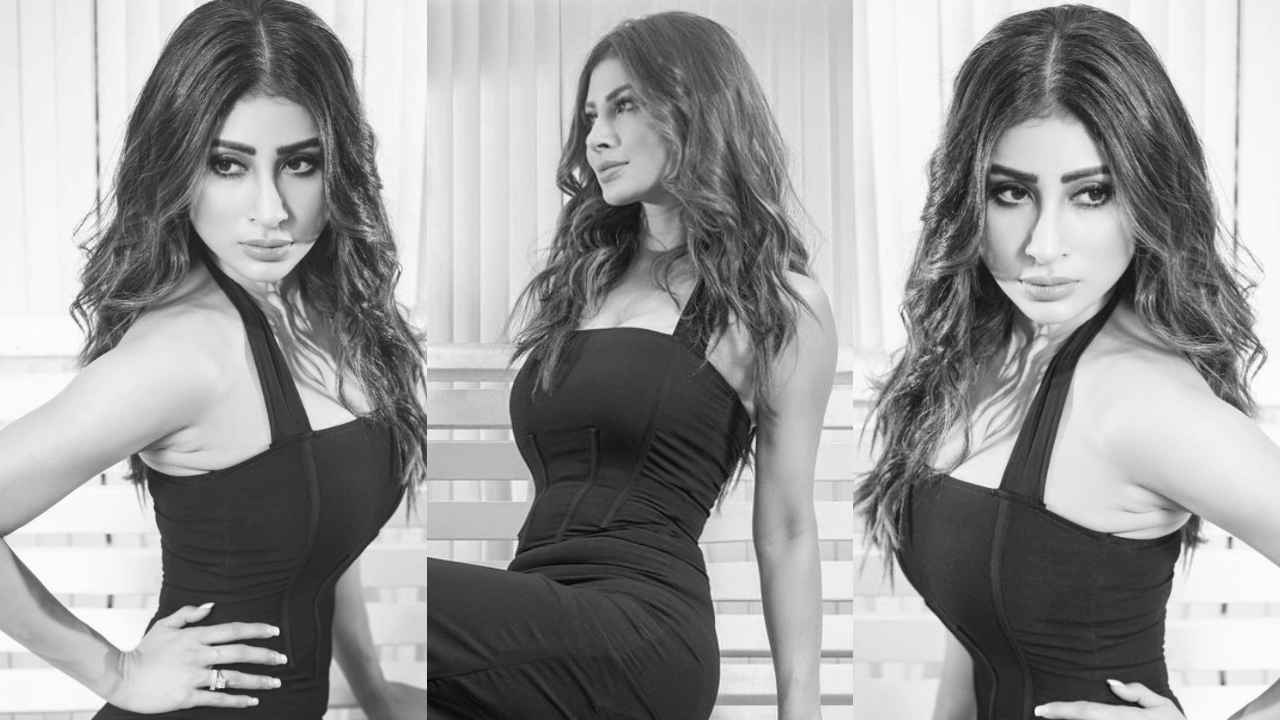 Mouni Roy's choice of the Versace black pointed gold-tone heeled pumps was a remarkable addition to her ensemble, showcasing her penchant for luxury and attention to detail. These pumps, valued at Rs. 1,10,100, are more than just footwear; they are a statement piece that adds an element of opulence to her look.
The inclusion of the iconic Versace Medusa motif on the pumps is a testament to the brand's legacy and instantly adds a touch of recognizable prestige to the outfit. The Medusa motif is synonymous with Versace's heritage and serves as a symbol of luxury and sophistication.
The elegant pointed design of the pumps not only adds a sense of sophistication but also works to visually elongate her legs, creating a flattering and elegant silhouette. This choice aligns with Mouni's desire to enhance the overall proportions of her outfit, contributing to a cohesive and balanced look.
The gold-tone detailing on the pumps harmonizes beautifully with the dress's color palette, creating a sense of cohesiveness and adding a touch of glamour. The combination of black and gold is a classic and timeless pairing that exudes luxury and refinement.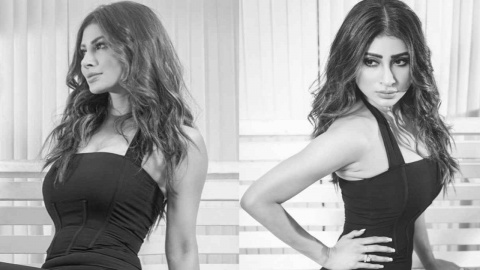 Mouni Roy's choice of the Versace pumps showcases her ability to select accessories that complement and elevate her outfit. By opting for these exquisite pumps, she not only adds a touch of high fashion but also demonstrates her understanding of how accessories can contribute to the overall impact of a look, further solidifying her status as a style icon.