Samantha Ruth Prabhu Radiates Joy in Anita Dongre Gharara Set – The Perfect Choice for Raksha Bandhan Revelries!
As Raksha Bandhan approaches, anticipation for the festive week grows, with schedules filling up with family gatherings and celebratory meals. If you're finding yourself unsure about what to wear for these occasions, let Samantha Ruth Prabhu's recent look serve as the perfect inspiration to guide your festive outfit choice.
Samantha's latest ensemble offers a glimpse into a stylish option that you can consider investing in for the upcoming festive season. Her outfit not only reflects her impeccable fashion sense but also provides a versatile template for creating a memorable and elegant look.
Festive occasions call for outfits that strike a balance between tradition and contemporary flair, and Samantha's look accomplishes just that. Her choice showcases how to blend cultural elements with modern trends seamlessly, ensuring you stand out with a unique yet sophisticated appearance.
With Samantha's outfit as a reference point, you can explore the art of combining traditional motifs or patterns with a modern silhouette. This fusion approach adds a touch of uniqueness to your look while maintaining the festive spirit. It also offers the flexibility to transition smoothly between various events, whether it's a casual family brunch or a more formal dinner gathering.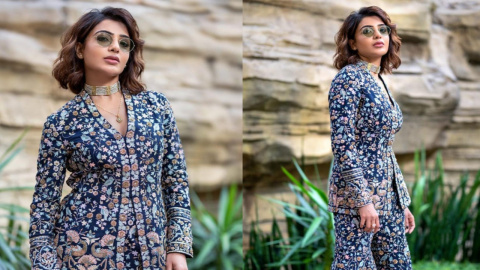 Accessorizing is key when it comes to completing a festive ensemble, and Samantha's choice highlights the importance of selecting pieces that complement your outfit without overpowering it. Her outfit allows for statement jewelry that adds a touch of elegance without overshadowing the overall look.
In terms of hair and makeup, Samantha's style exudes a balance between simplicity and sophistication. Her approach to hairstyling and makeup underlines the idea that enhancing your natural beauty can have a powerful impact on your overall appearance, aligning perfectly with the celebratory vibes of Raksha Bandhan.
Samantha Ruth Prabhu continues to captivate us with her enchanting presence, this time in a breathtaking gharara set crafted by Anita Dongre. Valued at Rs 2,40,000, this stunning ensemble showcases resham and zardosi embroidery that overlays the fabric. With a layered design featuring a floor-length gharara and a long jacket, the outfit masterfully strikes a harmonious balance between elegance and edginess. Styled by Pallavi Singh, Samantha's choice in gharara set emanates a regal allure, making it an ideal investment for upcoming Rakhi celebrations.
Anita Dongre's creation stands as a testament to her craftsmanship and artistry, as it seamlessly blends traditional techniques with contemporary design elements. The resham and zardosi embroidery contribute to the intricate and luxurious texture of the ensemble, elevating its overall appeal and lending an air of sophistication.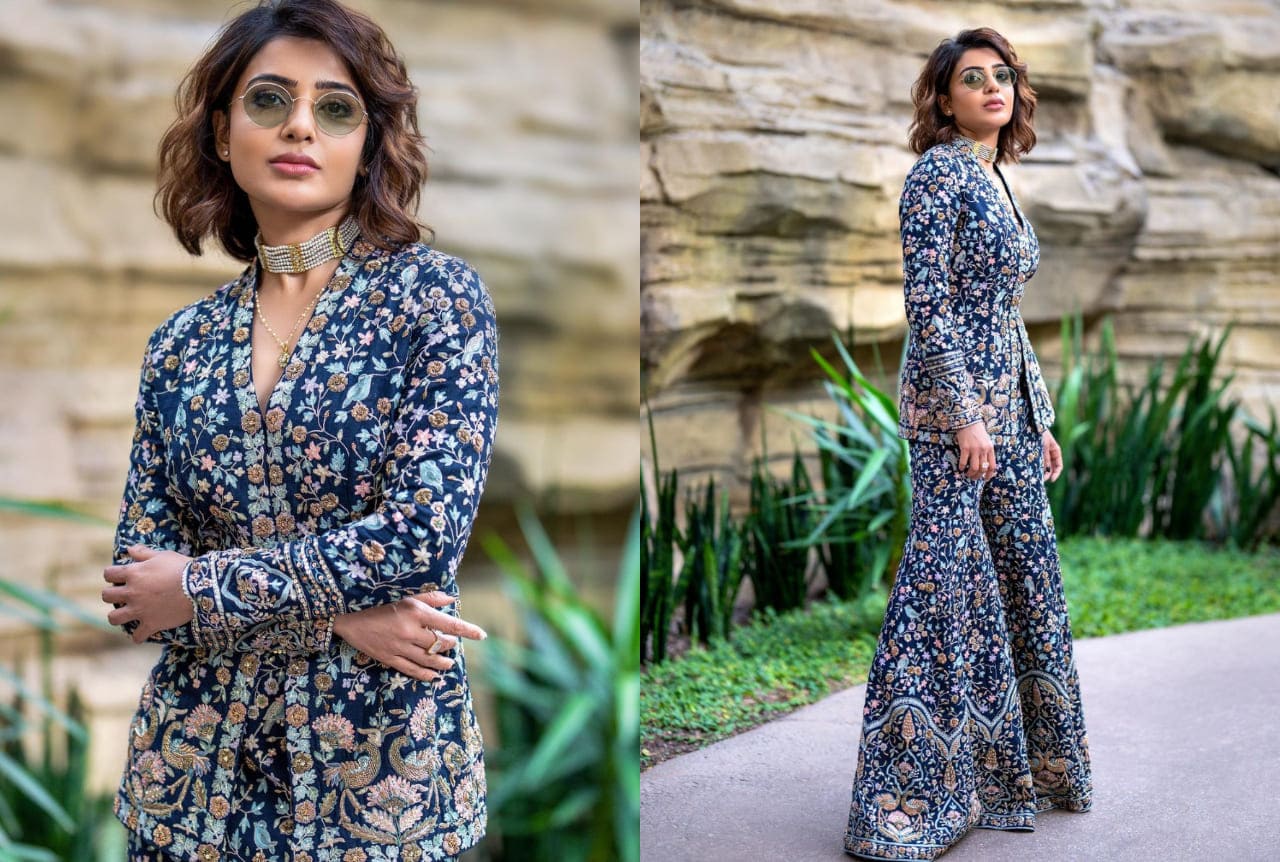 The layered design of the gharara set adds depth and dimension to the outfit, while the combination of the floor-length gharara and the long jacket introduces a touch of drama and grandeur. Samantha's choice reflects her keen eye for fashion and her ability to choose ensembles that resonate with both traditional and modern sensibilities.
Pallavi Singh's styling expertise shines through, as she ensures that the gharara set enhances Samantha's natural beauty while also capturing the essence of the occasion. The regal charm exuded by the ensemble makes it an exceptional choice for Rakhi celebrations, where elegance and festivity coalesce.
When it comes to makeup, Samantha Ruth Prabhu consistently emphasizes achieving a flawless and radiant appearance. Her recent appearance in the Anita Dongre gharara set was no exception. Samantha's makeup choices beautifully complemented the elegance of her outfit, and her attention to detail was evident in every aspect of her look.
Starting with a perfect coverage of foundation, Samantha ensured that her skin appeared flawless and even-toned. This serves as the canvas for the rest of her makeup, providing a smooth base upon which other products can be applied seamlessly.
A hallmark of Samantha's makeup style is her skillful use of blush. In this appearance, she incorporated lots of blush, enhancing her cheeks with a natural flush of color. Blush adds a touch of warmth and vitality to the face, contributing to the overall radiant and healthy look.
Her eye makeup was refined yet impactful. Samantha opted for mascara, which emphasized her lashes and added a touch of glamour to her gaze. While her makeup remained subtle, the mascara effectively accentuated her eyes and contributed to the overall allure.
For her hair, Samantha chose to style it in loose, open waves. This relaxed yet elegant hairstyle complemented the regal charm of the gharara set. The open waves added movement and volume to her hair, enhancing the overall visual appeal.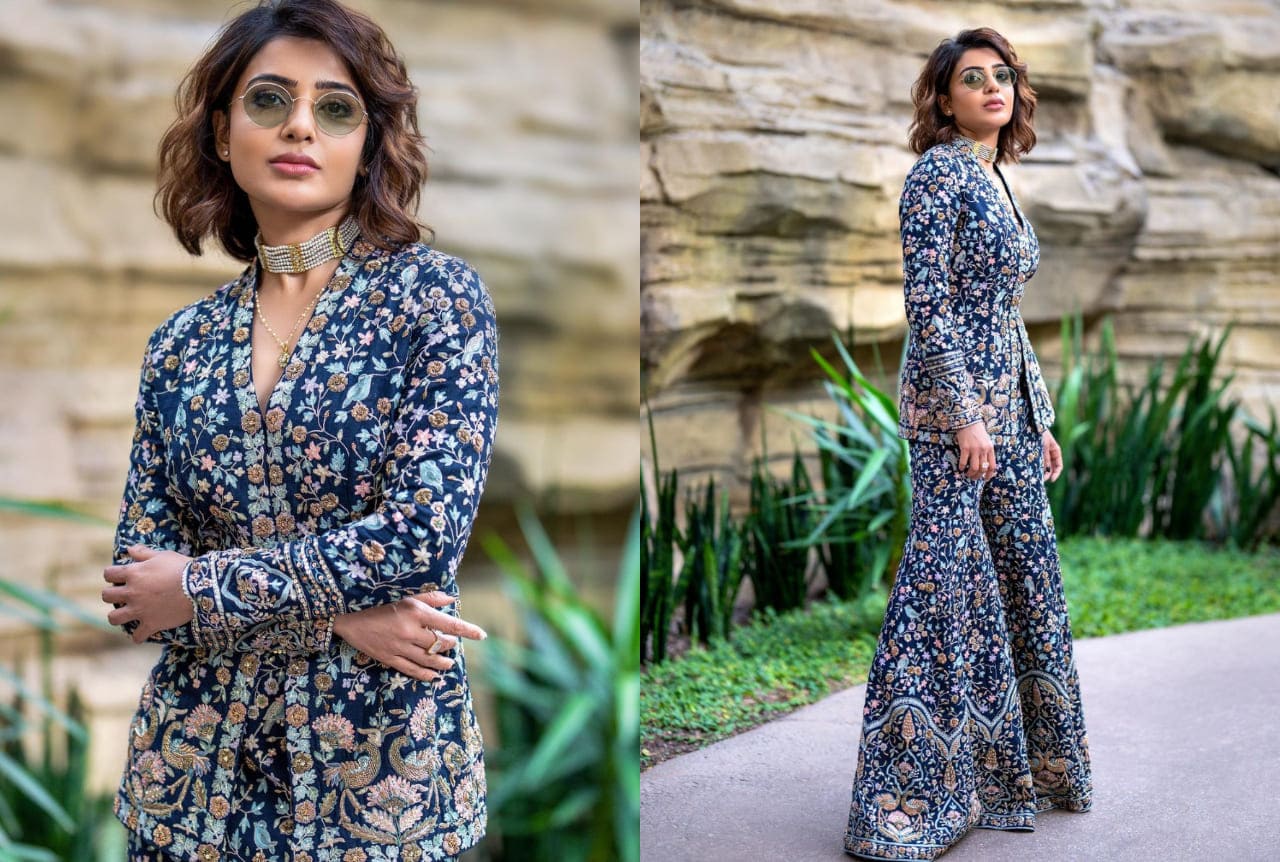 Samantha Ruth Prabhu's makeup and hairstyling choices consistently reflect her commitment to achieving a flawless and radiant appearance. Her focus on foundation, well-applied blush, impactful mascara, and elegantly styled hair all come together to create a look that enhances her natural beauty while perfectly complementing her ensemble. As always, Samantha's attention to detail and dedication to a polished appearance shine through, making her a true style icon in the world of fashion and beauty.
Samantha Ruth Prabhu's style prowess was once again on display as she effortlessly elevated her ensemble with a key accessory: sunglasses. The Shaakuntalam actress showcased her knack for enhancing any outfit with a carefully chosen addition, demonstrating her eye for detail and fashion finesse.
While her sunglasses added a touch of chic and glamour to her look, there was one element that seemed a tad excessive: the choker. In hindsight, it could have been omitted to allow the outfit itself to take center stage. The ensemble possessed its own charm and sophistication, and letting it speak for itself might have been a more understated approach.
Nonetheless, Samantha's reputation for possessing impeccable fashion sense and exuding effortless charisma remains intact. She consistently serves as a trendsetter, effortlessly navigating various styles and looks with unparalleled ease and confidence. Her ability to pull off any outfit, whether it's a statement ensemble or a more subtle look, showcases her innate style sensibilities and self-assured demeanor.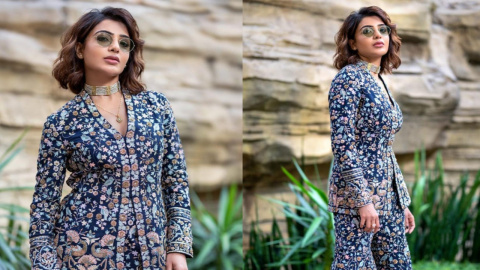 In conclusion, Samantha Ruth Prabhu's recent fashion choices once again highlight her mastery in accessorizing and refining her outfits. While the addition of sunglasses proved to be a stylish touch, the choker, though slightly excessive, didn't detract from her overall elegance. Samantha's fashion journey continues to inspire and resonate with fans, cementing her status as a true fashion icon.