Radiant Malaika Arora Shines Bright Like the Sun in a Glamorous Yellow Iris Serban Gown!
Malaika Arora's recent appearance in a yellow Iris Serban gown truly exemplified her impeccable fashion sense. The Bollywood diva, known for her ability to make heads turn with her style, looked absolutely radiant in this vibrant ensemble.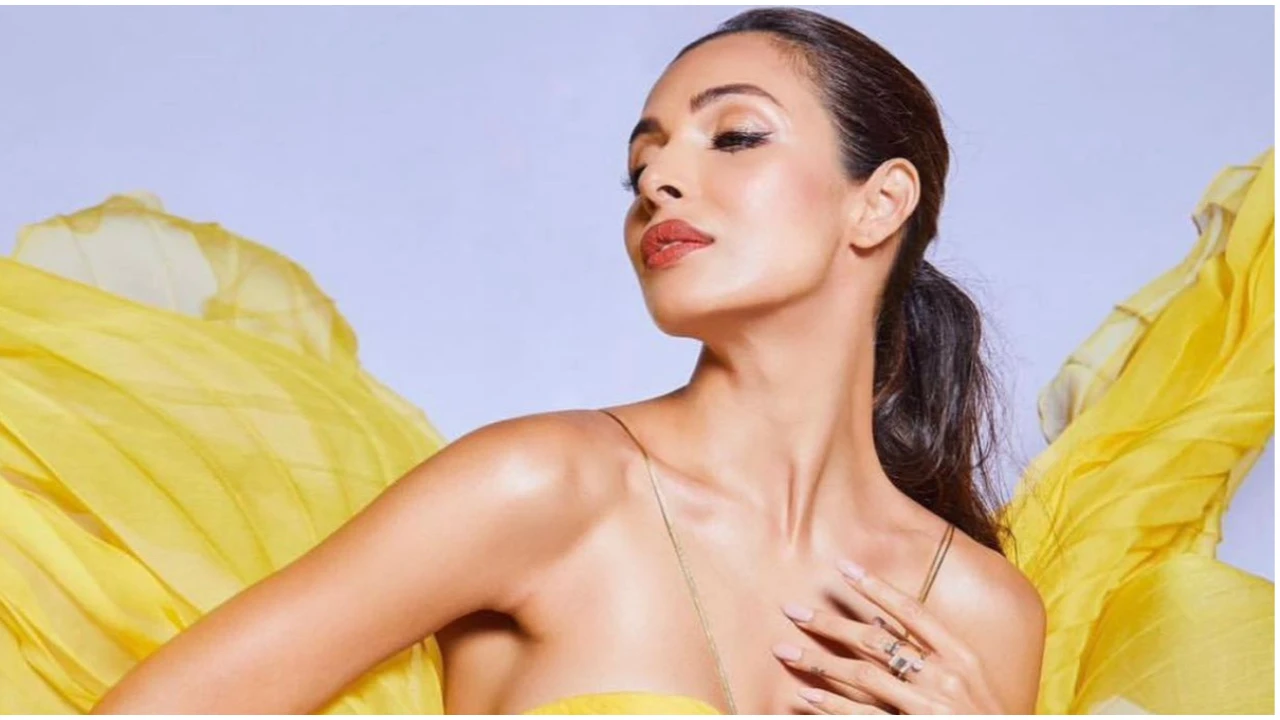 The choice of a yellow gown showcased Malaika's fearless approach to fashion and her willingness to embrace bold colors. The sunny hue perfectly complemented her radiant personality and added a vibrant touch to her overall look.
The Iris Serban gown, with its impeccable craftsmanship and exquisite design, accentuated Malaika's figure and highlighted her elegance. The flowing silhouette and the choice of luxurious fabric created a sense of grace and movement, allowing her to effortlessly command attention.
What truly set Malaika apart was her confidence and poise. With every step she took, she exuded charm and charisma, elevating the impact of the ensemble. Her ability to carry herself with such grace added an extra layer of allure to her appearance.
Malaika Arora's fashion choices consistently reflect her impeccable sense of style and her ability to make bold statements. Whether it's on the red carpet or at public events, she never fails to leave a lasting impression. Her confidence, combined with her fashion-forward mindset, has established her as a true style icon.
Malaika Arora's yellow silk pleated gown, Lera, by Iris Serban. The cost of the gown, at approximately Rs. 87,518, reflects the craftsmanship and the luxury associated with high-end designer pieces.
Indeed, Malaika Arora looked stunning in the Lera gown, and its design flawlessly accentuated her flawless complexion and enviable figure. The pleated silk fabric added elegance and movement to the ensemble, creating a visually captivating effect.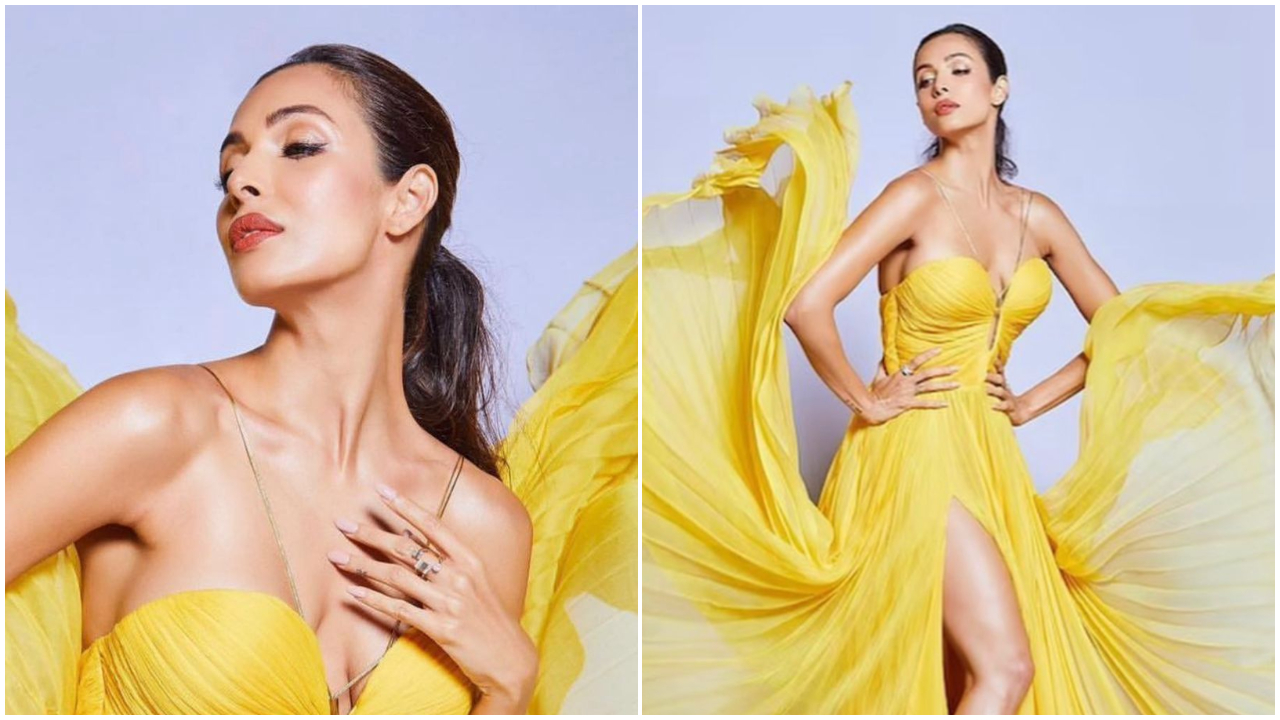 The choice of the gown further demonstrates Malaika's impeccable fashion sense and her ability to select outfits that complement her features and personal style. The vibrant yellow color added a touch of radiance, highlighting her natural beauty and exuding a warm and joyful aura.
Malaika's confidence and poise, as always, elevated the impact of the gown. Her ability to carry herself with grace and charm further enhanced the overall appearance, making her a true showstopper.
The flowing silhouette of the gown Malaika Arora wore accentuated her curves in a graceful and elegant manner. The well-designed cut and drape of the dress complemented her figure, creating a flattering and feminine silhouette.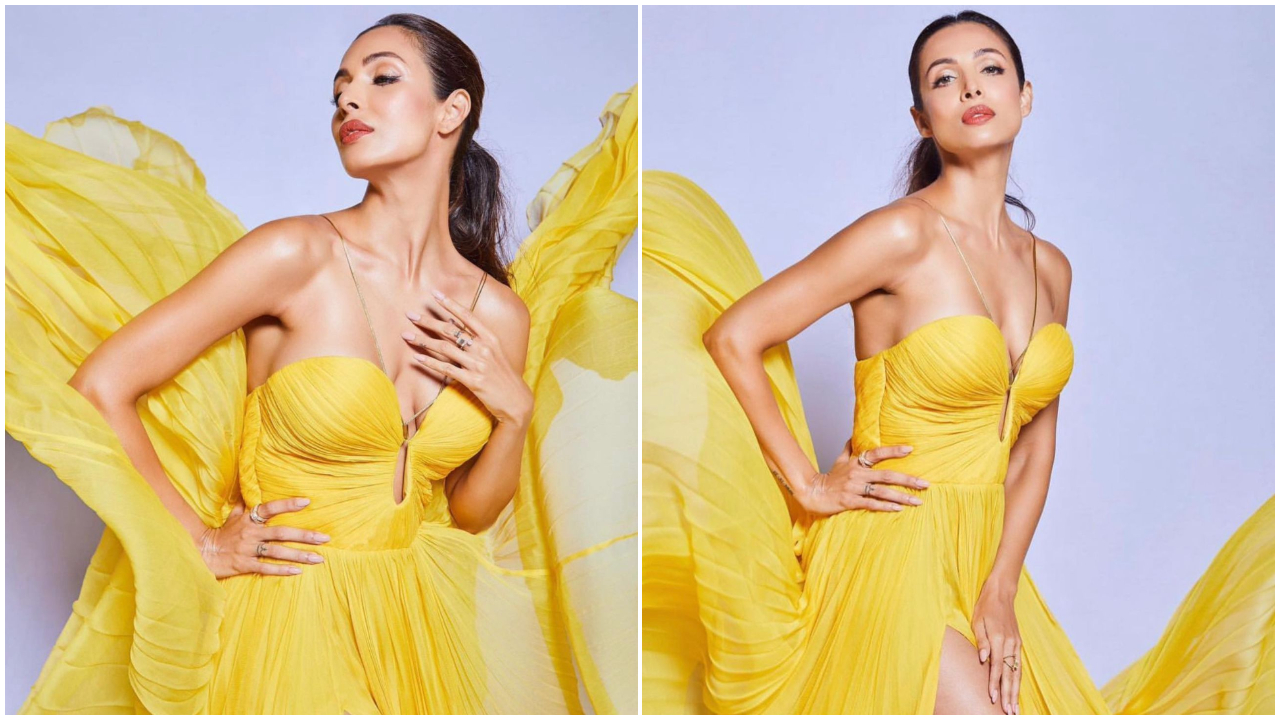 The gown's intricate detailing added a touch of sophistication and visual interest to the ensemble. Whether it was delicate embellishments, intricate lacework, or intricate embroidery, the attention to detail showcased the craftsmanship and artistry involved in creating the dress.
The plunging neckline of the gown added a hint of sensuality and allure to the overall look. It drew attention to Malaika's décolletage and added a touch of drama, creating a focal point that balanced elegance with a touch of boldness.
Malaika's styling, executed by Tanya Ghavri, showcases her fashion-forward approach and attention to detail. By pairing the yellow gown with minimalistic yet statement accessories, the focus remains on the dress itself, allowing it to take center stage.
The choice of the gold metallic heels from Jimmy Choo complements the vibrant yellow color of the gown, adding a touch of glamour and sophistication. The strappy design of the heels further enhances the overall aesthetic, creating an elegant and elongating effect.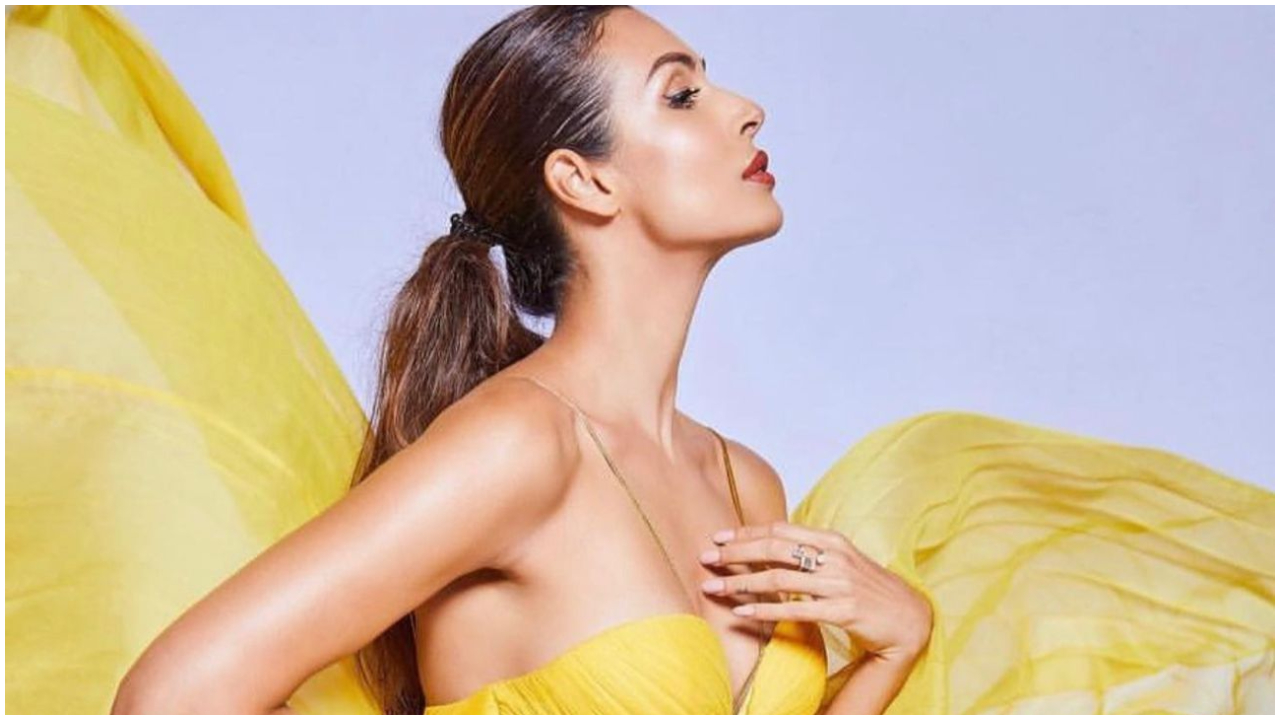 By opting for minimalistic accessories, Malaika Arora's styling ensures that the attention remains on the gown and her overall look. This approach showcases her understanding of balance and the ability to let the main ensemble speak for itself.
Malaika Arora's choice of makeup and hairstyle perfectly complemented her overall look, adding to her effortlessly glamorous appearance. Her makeup focused on achieving a fresh and radiant complexion, enhancing her natural beauty.
The dewy complexion technique employed by Malaika created a luminous and glowing effect. It involved using products that imparted a natural sheen to the skin, giving her a healthy and radiant glow.
Her cheekbones were highlighted to add definition and dimension to her face. This technique accentuated her facial features and added a subtle sculpting effect, enhancing her overall makeup look.
For her eyes, Malaika opted for a subtle smokey effect, which added depth and intensity without overpowering the rest of her features. The soft smokey eye look further emphasized her natural beauty, creating a seductive and alluring gaze.
Mascara was applied to her lashes, adding length and volume to frame her eyes. This step helped to enhance her lashes and complete the eye makeup, giving her a captivating and mesmerizing look.
Malaika's hair was styled in a sleek ponytail, which added a touch of sophistication to her overall appearance. The sleek and polished nature of the ponytail exuded elegance and showcased her facial features.
Malaika Arora's confidence and poise are truly captivating, and they add an extra layer of charm to her overall appearance. Her grace and charisma shine through with every step she takes, making her a true standout.
Throughout her career, Malaika has consistently made fashion choices that inspire and influence many. Her recent appearance in the yellow Iris Serban gown is yet another example of her impeccable taste and ability to make a lasting impression.
By opting for a vibrant color like yellow, which symbolizes happiness and positivity, Malaika effortlessly stood out from the crowd. The bold choice showcased her fearless approach to fashion and her ability to embrace vibrant hues with grace and elegance.
Malaika's fashion choices go beyond just wearing a beautiful gown; they reflect her personality and outlook on life. Her ability to exude confidence and radiate positivity makes her an inspiration to many who admire her style.
Whether it's on the red carpet, at public events, or in her daily life, Malaika Arora consistently manages to leave a lasting impression with her fashion choices. She continues to set trends, push boundaries, and inspire others with her unique sense of style.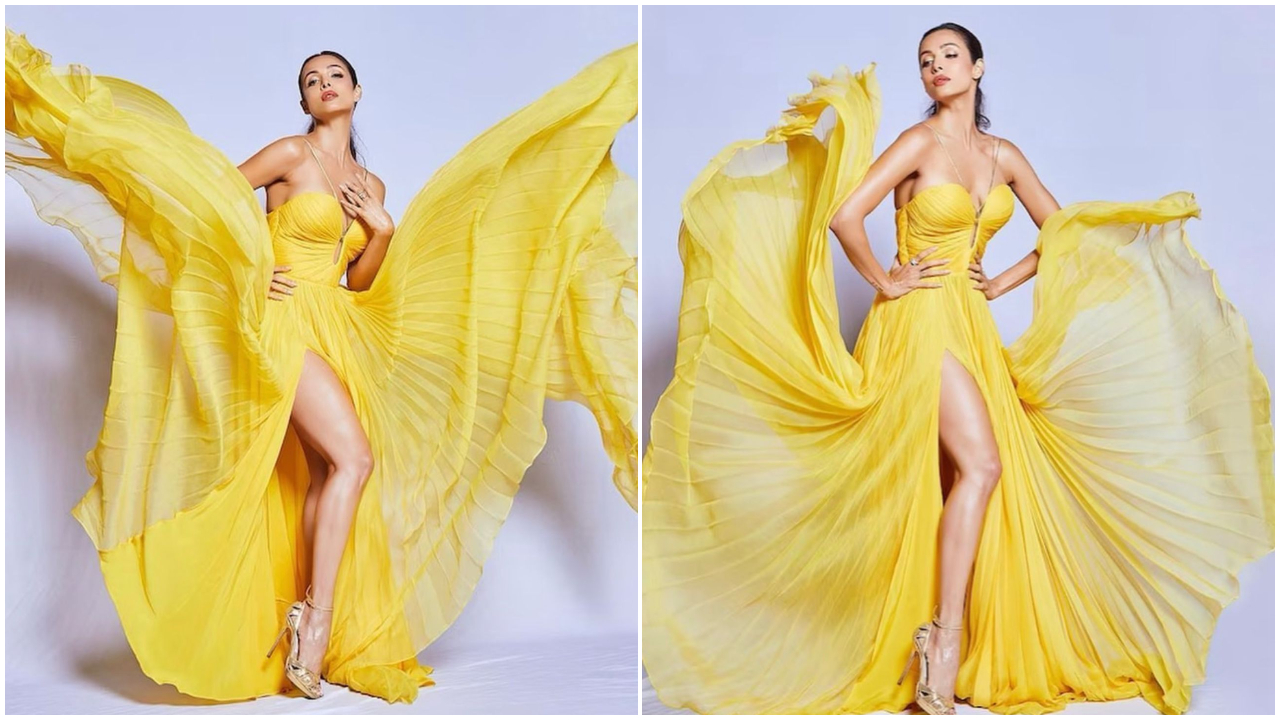 In conclusion, Malaika Arora's confidence, poise, and impeccable fashion choices make her a true icon in the industry. Her recent appearance in the yellow Iris Serban gown perfectly exemplifies her ability to stand out from the crowd and make a lasting impression. Malaika's fearlessness in embracing vibrant colors reflects her positive outlook on life and serves as an inspiration to many.