Mahira Khan chooses Faraz Manan's embroidered ice blue lehenga with a delicate veil for her fairytale wedding!
In the South Asian entertainment industry, where beauty is abundant, Mahira Hafeez Khan stands out as a true class apart. The fabulous actress, best known for her role in the movie "Raees," possesses a unique blend of talent, skill, beauty, and a chic fashion sense that sets her apart from the rest. Her presence on and off the screen is nothing short of captivating, leaving a lasting impression on her fans and admirers.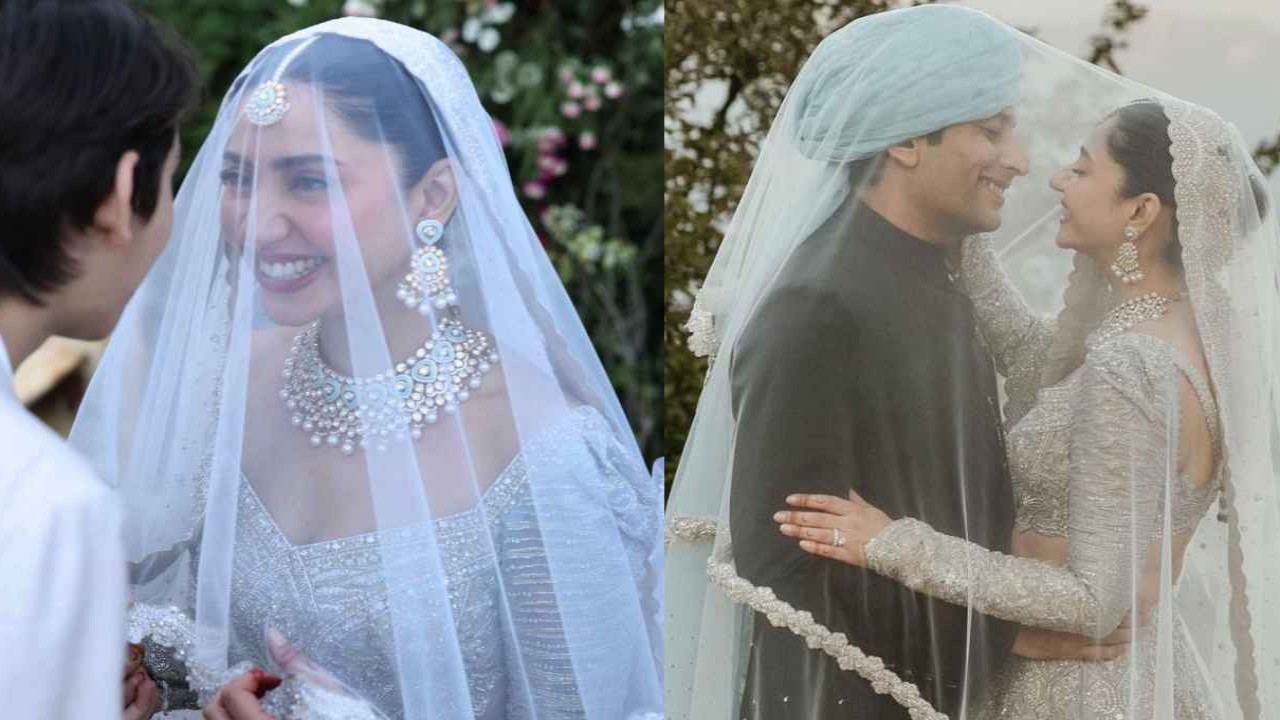 Recently, Mahira Hafeez Khan embarked on a new chapter in her life by tying the knot with her beau, Salim Karim, in an intimate wedding ceremony that could only be described as fairytale-like. The Jo Bachay Hain Sang Samait Lo actress embraced pastels for her big day, a choice that left everyone in awe and caused hearts to skip a beat. Pastels are often associated with softness, romance, and elegance, and Mahira's decision to wear them for her wedding was a testament to her impeccable taste.
As she made her way down the aisle, Mahira Khan radiated an ethereal beauty that perfectly complemented the fairytale ambiance of the event. Her choice of pastels, combined with her grace and style, created a visual masterpiece that was not only a celebration of love but also a celebration of her fashion-forward sensibilities. Mahira Khan's wedding day was a moment that will be remembered for its beauty and sophistication, and it showcased her as a true icon in the world of South Asian entertainment.
For her fairytale-like outdoor wedding ceremony, Mahira Khan made a breathtaking choice in her bridal attire. She opted for an ice blue lehenga set, a creation by none other than the legendary designer, Faraz Manan. This choice highlighted her impeccable taste and further solidified her status as a fashion icon in the South Asian entertainment industry.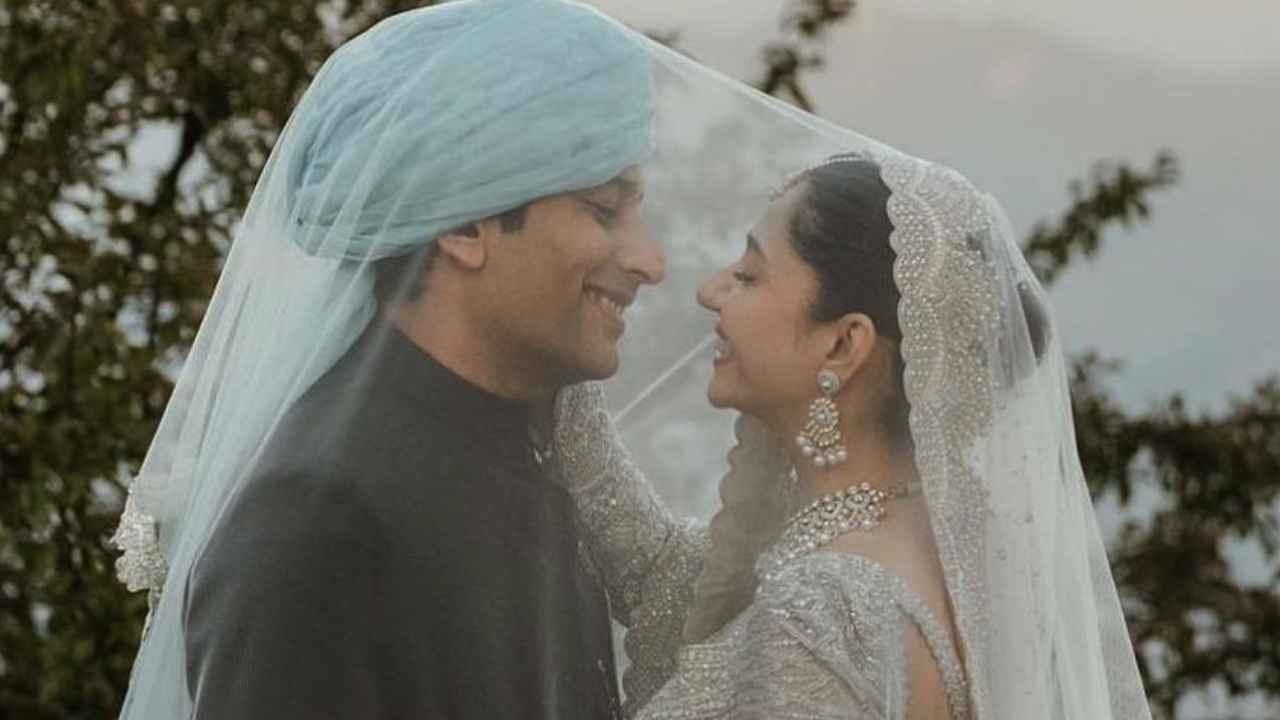 The bridal attire chosen by the gorgeous diva was nothing short of beyond-beauteous. It featured an incomparable choli, a traditional and intricately designed blouse that added a touch of traditional charm to her ensemble. The choli's craftsmanship and detailing were a testament to Faraz Manan's expertise in creating bridal masterpieces.
The lehenga skirt, with its heavy floor-length design, had a sequined waist that shimmered in the outdoor wedding's romantic setting. The A-line style of the skirt allowed Mahira to move with grace and elegance, making her look like a vision. A delicate dupatta completed the ensemble, enhancing the overall bridal beauty.
Mahira Khan's bridal ensemble was a true masterpiece in every detail, and her choice of a matching full-sleeved blouse added a touch of sultry elegance to her overall look. The blouse featured a wide and sultry sweetheart neckline, a design element that not only accentuated her perfectly toned jawline but also added a sense of romantic allure to her bridal attire. The sweetheart neckline is a timeless and flattering style that has the ability to make the bride look both graceful and alluring, and Mahira wore it with sheer perfection.
In addition to the captivating neckline, the blouse also had a plunging back, further enhancing the outfit's overall allure. The plunging back design is a bold yet sophisticated choice that exudes confidence and sensuality. It showcased Mahira Khan's impeccable style and her willingness to push the boundaries of tradition while still maintaining an air of elegance.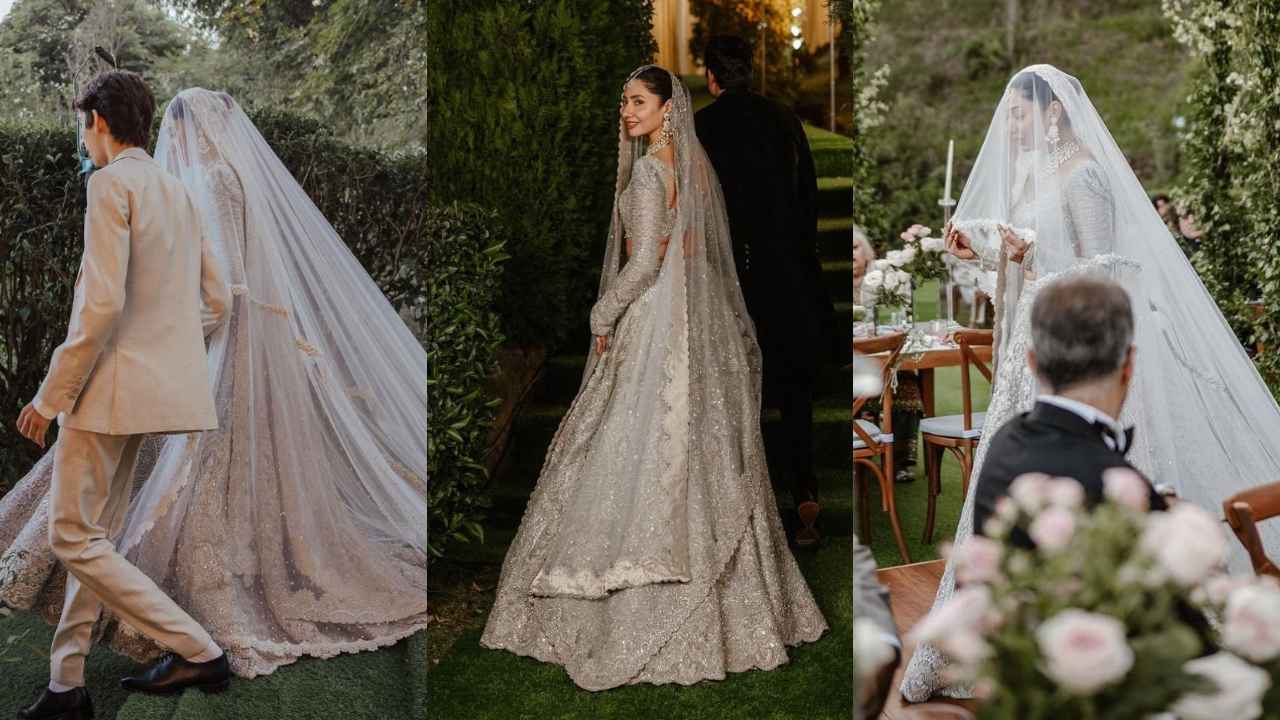 Mahira Khan's bridal lehenga was indeed an exquisite piece of art, adorned with intricate details that added to its overall beauty. The lehenga featured a cropped scalloped hemline, a design element that provided a contemporary twist to the traditional ensemble. This modern touch showcased Mahira's unique style and her willingness to experiment with her bridal attire. The scalloped hemline added a sense of playfulness and sophistication to the lehenga.
What truly made the lehenga a sight to behold was the intricate bead and sequin embellishments, as well as the detailed kadhai work. These embellishments and the kadhai work contributed to the lehenga's overall beauty, adding a touch of opulence and charm. They glistened and sparkled in the wedding's romantic lighting, creating a sense of grandeur and luxury.
It wouldn't be an exaggeration to say that Mahira Khan has undeniably set the bar high for every bride-to-be in search of wedding attire goals. Her choice of bridal ensemble was a masterpiece, marrying tradition and modernity with intricate detailing and contemporary design elements. It showcased her as a bride who not only appreciates the cultural heritage of wedding attire but also isn't afraid to infuse her own unique and alluring style into the mix.
Mahira Khan's dreamy bridal look was taken to a whole new level with her choice of exquisite diamond accessories, which added an enchanting allure to the ensemble. The talented diva opted for a beyond-spectacular diamond choker-like traditional necklace that encircled her neck, creating a sense of regal elegance. The intricate design and the sparkling diamonds of the necklace enhanced her bridal attire's charm and made her look like a true queen on her special day.
To complement the grandeur of the diamond necklace, Mahira chose heavy matching jhumkas, traditional Indian earrings with elaborate designs and diamonds that dangled gracefully from her ears. These jhumkas added a touch of opulence and tradition to her ensemble, creating a harmonious blend of contemporary and classic styles.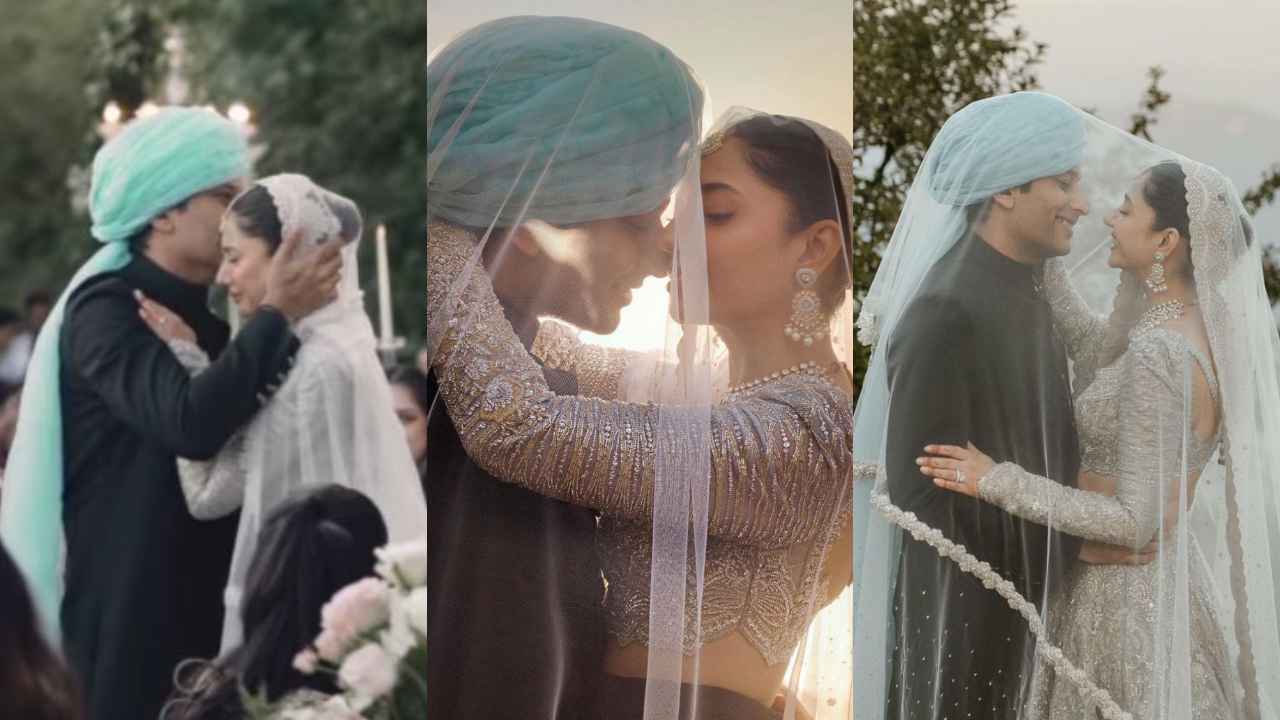 Adding the final touch of royalty, Mahira Khan adorned her forehead with a glorious maang tikka. The maang tikka is a traditional Indian headpiece that graced her forehead like a queen's crown, symbolizing grace, beauty, and marital bliss. It added a regal and mesmerizing quality to her bridal look, making her appear like a true queen about to embark on a new chapter in her life.
Mahira Khan's choice of diamond accessories was a testament to her impeccable style and her ability to transform her bridal attire into a work of art. The combination of the diamond choker-like necklace, heavy jhumkas, and a glorious maang tikka elevated her bridal look to one of unmatched beauty and grandeur. Her wedding day became a true fairy tale, a celebration of love and style, and a moment that will be remembered and cherished as an iconic bridal look for years to come. Mahira Khan truly looked like a queen on her special day.