Manushi Chhillar merges Micheal Kors with Christain Louboutin to create an expensive party-ready look
Manushi Chhillar is indeed a talented actress known for her role in "The Great Indian Family," and she consistently makes style statements with her exceptional fashion sense. Her recent appearance in a dark blue, form-fitting midi-dress by renowned designer Michael Kors highlights her ability to command attention and captivate with her style.
Michael Kors Dress: Michael Kors is synonymous with luxury and timeless elegance, and Manushi's choice of a dark blue midi-dress from this renowned designer speaks volumes about her fashion acumen. The form-fitting silhouette not only showcases her figure but also exudes confidence and sophistication.
Manushi's ability to effortlessly carry a designer piece like this demonstrates her understanding of fashion and her ability to select outfits that complement her personality and grace. This dark blue dress is undoubtedly a statement piece that highlights her as a fashion-forward icon in the industry.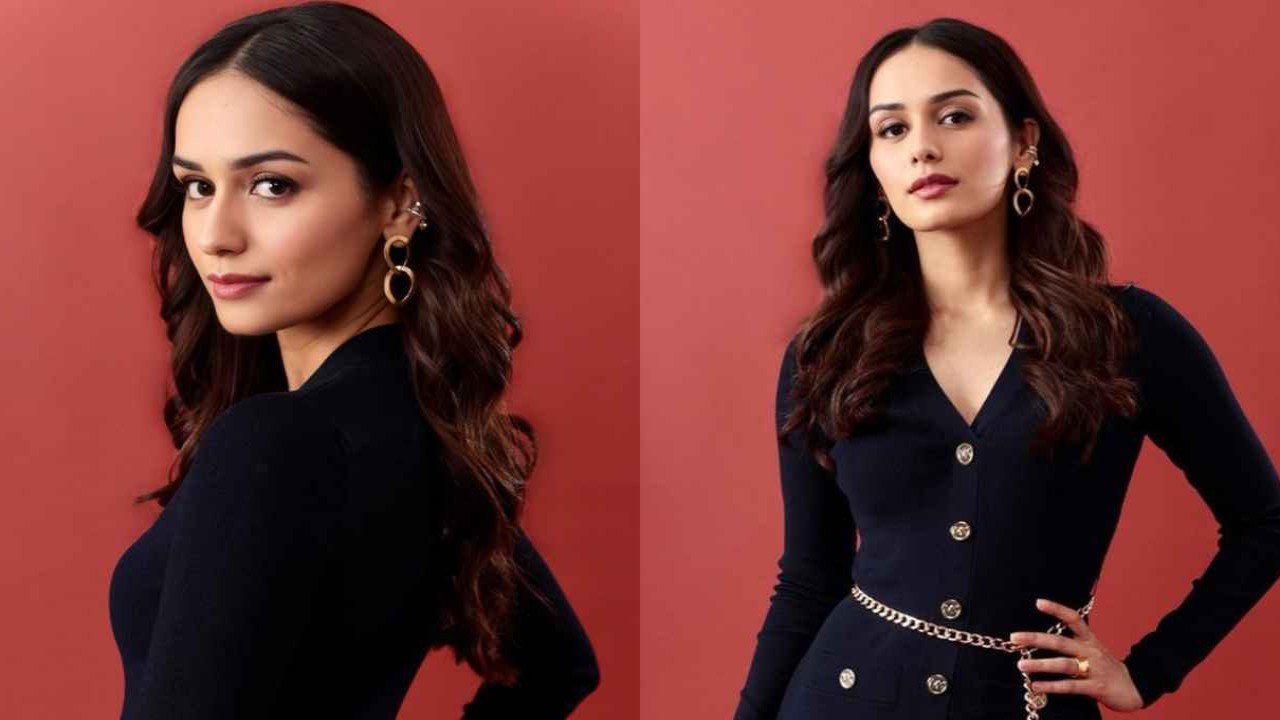 In essence, Manushi Chhillar's recent appearance in this Michael Kors midi-dress reaffirms her status as a style icon. Her impeccable fashion choices continue to impress and inspire fashion enthusiasts, solidifying her position as a prominent figure in the world of fashion and entertainment.
Manushi Chhillar's choice of a fitted dark blue bodycon dress from Michael Kors is indeed a masterpiece that accentuated her curves and exuded elegance and sophistication. Let's delve into the details of this stunning dress:
Fitted Bodycon Dress: The bodycon silhouette of the dress is designed to highlight and celebrate Manushi's curves. It creates a flattering and chic look that emphasizes her figure with confidence and style.
Calf-Length: The calf-length design adds a touch of modesty and refinement to the dress. It strikes a balance between sophistication and modernity, making it suitable for a variety of occasions.
Dark Blue Hue: The dark blue hue of the dress is not only visually striking but also complements Manushi's complexion beautifully. It adds depth and richness to her overall appearance, enhancing her natural beauty.
V-Neckline with Gold Buttons: The v-neckline with gold buttons in the front adds a touch of glamour and detail to the dress. This design element draws attention to the neckline and creates an interesting focal point.
Timeless Full-Sleeved Design: The full-sleeved design of the dress adds a timeless and classic element to the ensemble. It provides an extra layer of elegance and sophistication.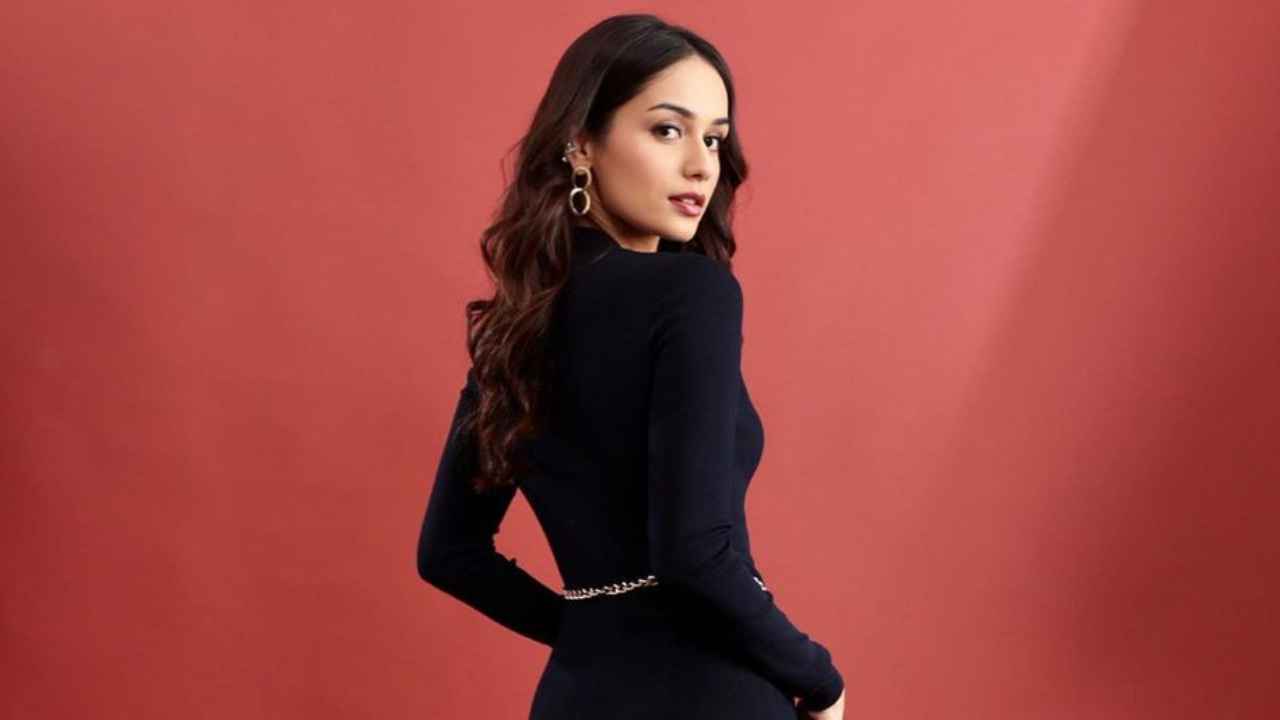 Price Tag: With a price tag of Rs. 31,000, this Michael Kors dress truly reflects the quality and craftsmanship associated with the brand. It elevates Manushi's look to that of a true diva, showcasing her as a fashion-forward icon.
Manushi Chhillar's choice of this Michael Kors dark blue bodycon dress is a testament to her impeccable fashion taste and her ability to effortlessly carry such a statement piece. The dress not only accentuates her curves but also enhances her overall beauty and style. Manushi continues to set the bar high in the world of fashion and remains a fashion diva to watch.
The additional details and features of Manushi Chhillar's Michael Kors dress further enhance its appeal and establish it as an investment in timeless style:
Logo-Embossed Appliqué: The logo-embossed appliqué at the back of the dress adds a touch of brand identity and sophistication. It's a subtle yet distinctive feature that showcases the designer label, reinforcing the dress's high-quality craftsmanship.
Snap Pockets: The inclusion of two snap pockets in the dress combines style with practicality. These pockets not only contribute to the overall design but also provide functionality, allowing Manushi to carry small essentials with ease.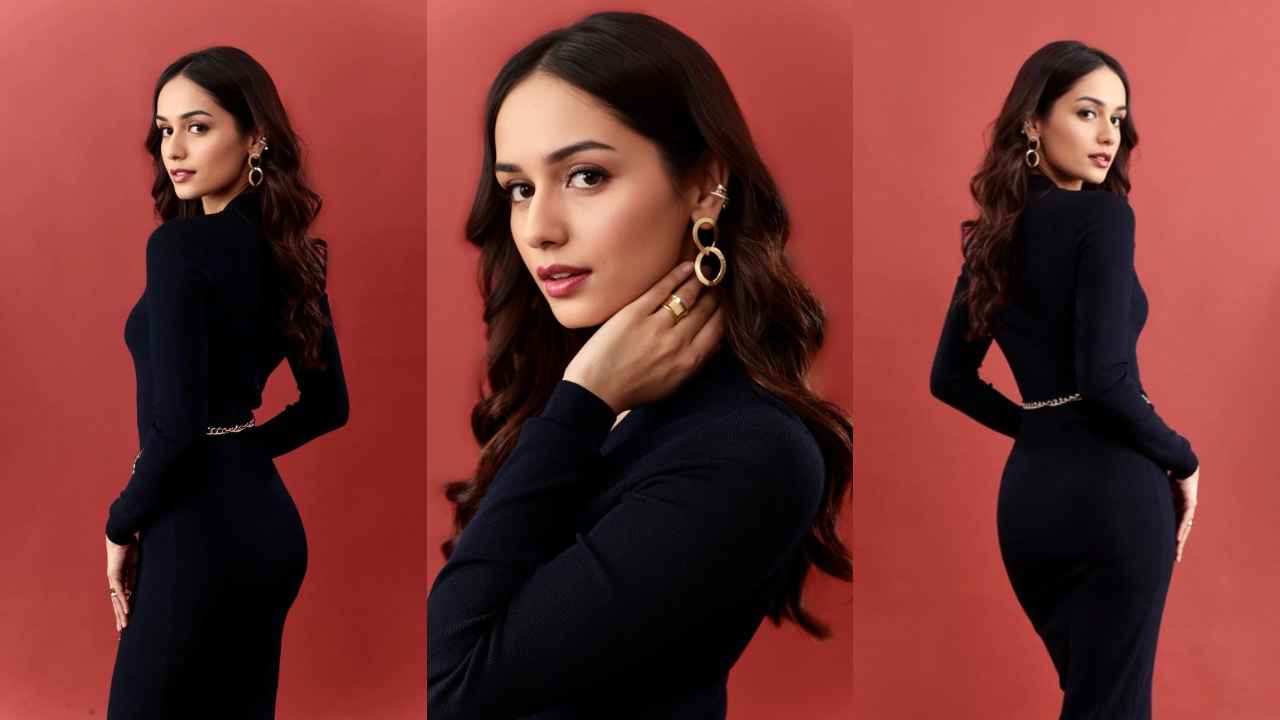 Ribbing at the Neckline and Hem: The ribbing at the neckline and bottom hem adds texture and depth to the dress. It creates a structured and polished look, enhancing the dress's overall appeal.
This dress, with its combination of design elements and attention to detail, is indeed more than just a fashion statement. It represents an investment in timeless style, as it exudes sophistication, quality, and brand recognition. Manushi Chhillar's fashion choices continue to set her apart as a style icon with a keen eye for both aesthetics and craftsmanship.
Manushi Chhillar's fashion choices always reflect her commitment to going beyond the ordinary, and her styling choices for this Michael Kors dress are no exception. Let's explore how she elevated the outfit's allure with her exceptional styling:
Statement Gold Chain Belt: Sheefa J Gilani's addition of a statement gold chain belt that cinched the waist was a masterstroke. This belt not only accentuated Manushi's hourglass silhouette but also added a touch of glamour and drama to the outfit. It served as the perfect accessory to elevate the dress's allure and create a focal point.
Gold Strappy High Heels: Manushi's choice of gold strappy high heels from Christian Louboutin complemented the overall look beautifully. The gold heels not only matched the belt but also added height and elegance to her appearance. They provided a cohesive and polished finish to the ensemble.
Gold Layered Link Loop Earrings: The gold layered link loop earrings from Meghana Sareen Jewels added a sense of continuity to the outfit. Their design echoed the chain belt, creating a harmonious visual connection. These earrings not only framed her face but also added a touch of sophistication and modernity.
Golden-Colored Rings: The matching golden-colored rings from E3K Jewellery contributed to the overall theme of gold accents. They served as delicate yet significant details that enhanced the cohesiveness of the look.
Matching Ear Cuff: The addition of a matching ear cuff from Ishhaara Jewellery added a contemporary and edgy element to the ensemble. It showcased Manushi's willingness to experiment with jewelry and her ability to incorporate trendy pieces into a classic outfit.
Manushi Chhillar's styling choices for this Michael Kors dress were nothing short of exceptional. She and her stylist, Sheefa J Gilani, demonstrated their fashion prowess by carefully selecting accessories that not only enhanced the dress but also created a cohesive and captivating look. Manushi continues to be a fashion trendsetter, inspiring fashion enthusiasts with her impeccable style and attention to detail.
Manushi Chhillar's choice of hairstyle and makeup for this look perfectly complemented and elevated her entire ensemble. Let's delve into the details: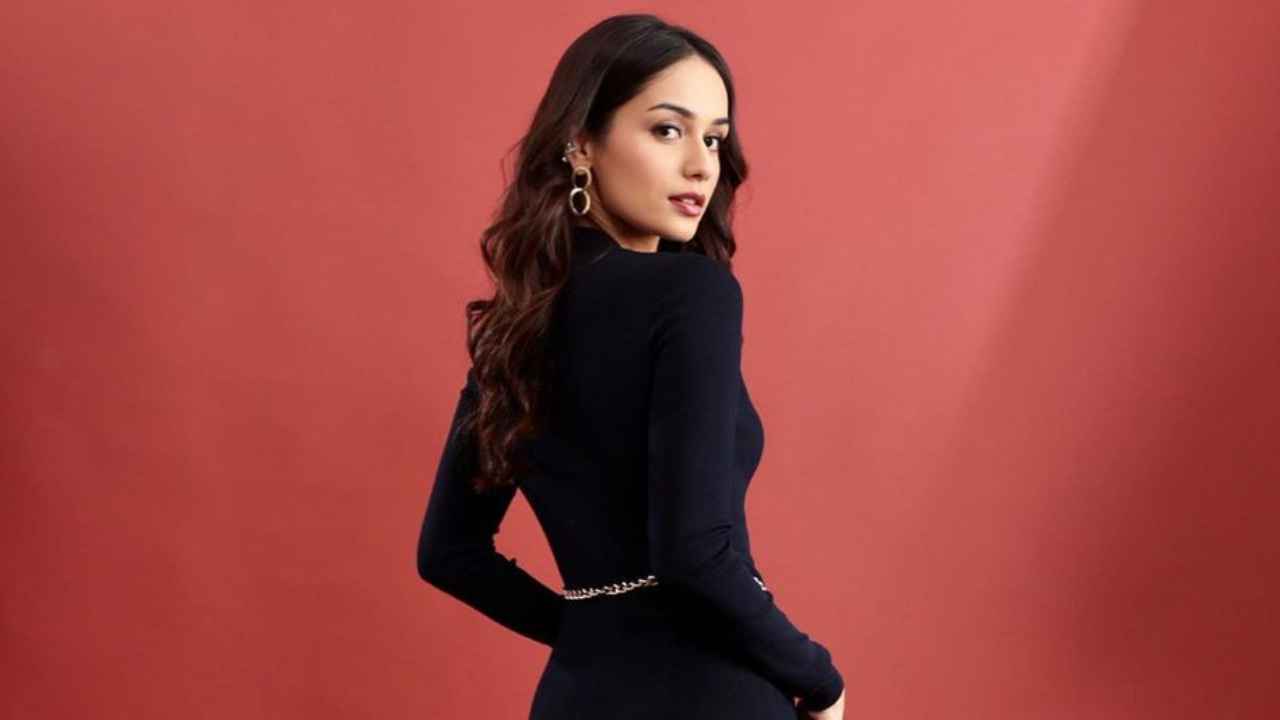 Lustrous Ebony Locks: Her lustrous ebony locks, styled in gentle curls that gracefully draped over her shoulders, added a touch of romanticism and timeless elegance to her appearance. The flowing curls not only framed her face but also created movement and texture, enhancing the overall allure of the outfit. This choice of hairstyle exuded heart-fluttering admiration and showcased her natural beauty.
Glamorous Makeup: Manushi's glamorous makeup further underscored her stunning look. The makeup elements you mentioned, including understated eyeshadow, blush, contour, mascara, and a rich pink lipstick, worked harmoniously to enhance her features without overpowering her overall ensemble.
Understated Eyeshadow: The choice of understated eyeshadow added depth and dimension to her eyes while maintaining a natural and effortless allure.
Blush: The application of blush added a healthy flush of color to her cheeks, creating a radiant and youthful complexion.
Contour: Contouring subtly defined her facial features, adding structure and sophistication to her look.
Mascara: Mascara emphasized her lashes, creating a mesmerizing and alluring gaze.
Rich Pink Lipstick: The choice of a rich pink lipstick added a pop of vibrant color to her lips. This bold yet harmonious choice perfectly matched the gold accents in her outfit and showcased her confidence and style.
In summary, Manushi Chhillar's choice of hairstyle and makeup was a masterclass in understated elegance and sophistication. Her flowing ebony locks and glamorous makeup harmonized flawlessly with her overall ensemble, enhancing her natural beauty and making her a vision of timeless and captivating allure. Manushi continues to set the bar high in the world of fashion and beauty, inspiring others with her impeccable sense of style and attention to detail.